Dia's name is synonymous with Dia:Beacon to those of us in the Hudson Valley. The 240,000-square-foot converted Nabisco box factory, which opened in 2003, and houses the foundation's permanent collection of contemporary art, including works by Andy Warhol, Richard Serra, Dan Flavin, and Agnes Martin, is a powerhouse of a museum. The Dia Art Foundation, which curator Philippe Vergne took over as director of in the fall of 2008, also oversees a vast portfolio of other projects, including site-specific installations like Walter De Maria's The Lightning Field in the New Mexico desert, and the Foundation's planned Manhattan exhibition space in Chelsea, where they hope to break ground in 2012.
Before joining Dia, Vergne directed the Marseilles Art Museum, helped plan the Paris museum for the Francois Pinault Collection, one of the top private contemporary art collections in the world. Most recently, Vergne was deputy director of the Walker Art Center in Minneapolis, where he curated Kara Walker's first full survey, "My Complement, My Enemy, My Oppressor, My Love," a show of cut-paper silhouettes that sent shock waves through the art world when it moved to the Whitney. Vergne co-curated the 2006 Whitney Biennial, a show the New York Times praised for "radical qualities art used to have when it could still call itself radical and wasn't like a barnacle clinging to the cruise ship of pop culture."
If meeting a knight in person seems daunting—Vergne is a chevalier in France for his contribution to the arts—Vergne is a gentle one, in a black polo shirt with a petite French crocodile over the heart, and black Yves Saint Laurent windshield glasses. He is a tea drinker, with a juicy laugh and fearless dedication to pursuing an idea to its core.
Dia: Beacon is located at 3 Beekman Street in Beacon. (845) 440-0100; www.diaart.org.
Visiting Dia:Beacon, it seemed that the secret history of art is an investigation, or an invention, of a new way of seeing.
We are the advocate for art or artists that question the canon, and then they become part of the canon. I like to make things happen for artists. I see myself as a conduit between the artist, the work of art, and the audience. It just happens that the art I think needs a conduit is not necessarily easy art. That's where the conduit needs to be as conductive as possible.
I like art that makes me look at the world differently. I like [art] when it's experimental, more about the edge. We help people walking the edge.
What's the difference between what Dia's doing, and what a museum does?
Dia is an idea, rather than a museum. An ideal. Dia:Beacon displays Dia's collection, but also performances, as we've done with Merce Cunningham for two years. The history of Dia is centered on commissions: They brought a new language, a new syntax to the aesthetic conversation, by inventing a relationship with artists and going all the way with them. What's on display in Beacon, the Flavins, Sandbacks, Joseph Beuys—all this work is a collection of artists who were the most rigorous artists of their time. Dia committed to them and allowed them to do incredible projects. So it's a museum, it's a collection, but before that was a commission. The word "dia" means through, so there's that conduit again.
Is educating the public part of Dia's mission?
The way American museums and institutions think about art is in direct relationship to education, and that unfolded during the WPA. The European point of view is, you have an aesthetic experience, which is disturbing, pleasurable, unpleasant—then you educate yourself. For years now, Dia has been advocating the idea that the experience of art is unmediated. When you enter the gallery in Beacon, you're not surrounded by explanation. The power of the installations in Beacon, the scale, defies the notion of interpretation; the phenomenological experience is so intense that you have to take it in. You don't see people going to the opera to get educated.
How does Dia:Beacon become relevant to the community of artists working in and around Beacon?
What's very difficult for an artist is a feeling of isolation. In a place like Beacon, you could actually have quality of life, quality of work, one hour from the city, where you can meet people, generate dialogs, and go back to the studio. I'm discovering it, because I didn't know this part of the US before, but the region is absolutely gorgeous. Bard's here, too, so there's a good ecology.
Remember Black Mountain College, this group of artists around Joseph Albers, around an institution [that] brought together Merce Cunningham, Rauschenberg, John Cage—I would love to see Beacon develop like that. It would be great for the city, great for the artists, great for us. If it can happen in Marfa , there's no reason it can't happen in Beacon.
[Editor's Note: Artist Donald Judd traveled to Marfa in the early 1970s and attracted other artists to the town over the next 30 years, inadvertently founding an arts colony and transforming the sleepy Texas town into a world-class destination for the arts.]
How is the art world changing?
It's not a world any more; it's worlds. Unfortunately, it's a world that is not immune from any other world right now. Artists are suffering; critics and art dealers are suffering. Dealers are really important in the chain of what needs to happen for an artist to blossom, and for us to be exposed to the work, so what's happening in the world right now will have an effect on art. It's a time when we need to stick together as much as we can, to have solidarity. At the moment, [when] artists are suffering, institutions like Dia [must] realize that the role of the artist in society is incredibly important.
What is the role of the artist in society?
Enlightenment, somehow. It's about civilization. If we're not, as a culture, able to give space, means, and time to projects we don't understand, then we are regressing. What [Dia] does is about the level of civilization. [Art] is about ideas, about knowledge structure, and even when we think we are vulnerable economically, we have to make the effort to maintain these standards; if not, we are barbarians.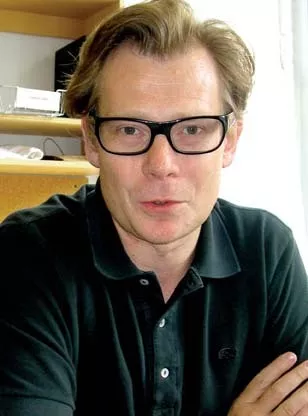 Dia Art Foundation director Philippe Vergne.