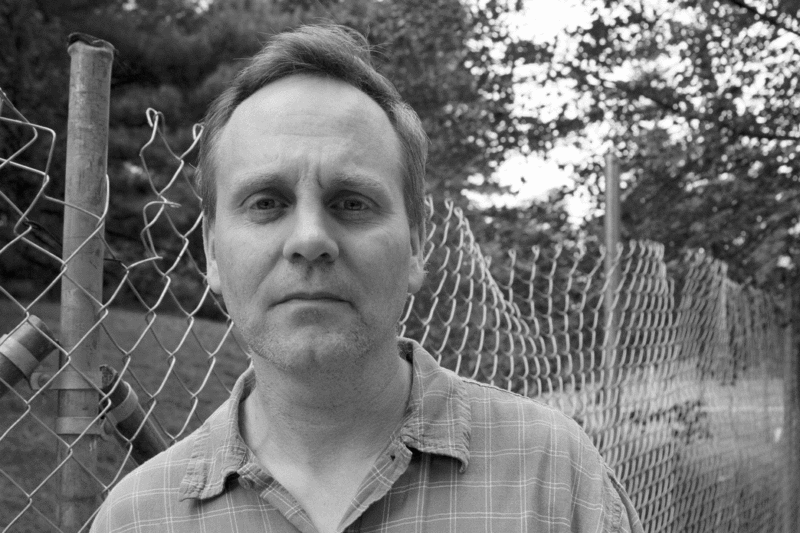 Joshua Adels
Joseph Nevins, author of Dying to Live: A Story of US Immigration in an Age of Global Apartheid.
It is conventional political wisdom in America to secure and fortify the country's borders. Joseph Nevins disagrees. At Vassar College, he teaches courses on geography, mass violence, and the partitioning of the global landscape. Nevins has been conducting interviews and doing research on immigration and the US-Mexico border since the Clinton administration. He is increasingly unsettled by the level of surveillance, fences, underground sensors, weaponry, and laws that comprise the boundary-enforcement apparatus. Today, 338 miles of fencing separate the US and Mexico; the Department of Customs and Border Protection plans to have another 332 miles of fence in place before the end of this year. With a total of 20,000 agents expected by next year, the Border Patrol will have doubled in size since 2001. More than 5,000 migrants have died in attempts to cross the border over the last 10 years; some of them in efforts to return to their US-citizen wives and children. A keen critic of today's border policies, Nevins powerfully asserts that the more fences we fortify, the more deaths we can expect to see in the borderlands. Produced with the assistance of his partner and wife, photographer Mizue Aizeki, Nevins's newest book, Dying to Live: A Story of US Immigration in an Age of Global Apartheid (2008,City Lights Books), is an examination of how and why the US-Mexico borderlands have become what they are and a memorial to the many migrants who have lost their lives there.

What role does geography play in immigration?
We have a tendency to think about history as dynamic—as always moving; but we tend to think of space as something static. While there might be a physical environment independent of human beings, the way we perceive that environment, the way we act toward it, our practices upon it, mean that we are always creating that environment and, in turn, that environment affects us. The places in which we live our lives—places to which we attach meanings that help define who we are—and the connections and divisions between them are all things that we can, and do, create and change. The nature of these places profoundly informs who migrates, to where, and under what conditions.
What are some of the goals of the book?
In putting the book together, what we wanted to do is think through how places become "American," and what it entails for people who aren't "American," or people who are nonwhite, given how much "American" and "white" have historically been tied together. What the book is trying to do is to push the envelope. We need to call into question things we see as sacred and beyond question—national boundaries, immigration laws, and the enforcement apparatus—and try to think more creatively and, to the extent that we embrace human rights, try to think of different ways of seeing the world around us that lead to practices consistent with those human rights.
What can one person, or a small group of people, do for immigrants in this country?
Reach out to your immigrant neighbors and fellow workers and try to befriend them and offer support in any way possible. Let them know that they are welcome and appreciated in your neighborhood, town, or city. In terms of policy, I think it's important to continue building what they call "sanctuary cities," where local officials let it be known that they're not going to cooperate with the Department of Homeland Security in breaking up families and communities by driving people out through deportations. There used to be something called the Sanctuary Movement; during the '80s, churches, synagogues, and some university campuses offered sanctuary to refugees during the Reagan administration. We have the beginnings of a new sanctuary movement today (www.newsanctuarymovement.org), where a small number of places of worship across the country have said that they will offer shelter to families that are under threat of deportation, especially if they have US-citizen children, as a way of keeping the family together.
Do you think that the outcome of the presidential election will effect any major policy changes?
While there are differences between the Democrats and the Republicans on the issue of immigration and boundary enforcement, what's far more striking than the differences are the similarities. The debate is, "Should we have fences or walls that are 10 feet high or 15 feet high—should they be 700 miles long, or 450 miles long?" not, "Should they be there at all?" Having said that, I think there would be more room to move forward on some sort of regularization of status, what we call amnesty or provision, under Barack Obama than under John McCain. But regardless of who wins the election, if we want to see a border regime that is first and foremost about human rights, one that sees people as "human beings" rather than as "foreigners," we have a lot of work to do. And that's not only true in the United States, it's true across the planet—hence the book's subtitle, "global apartheid"; the problems we see in the US-Mexico borderlands are, in many ways, manifestations of a global phenomenon.
Recommended reading?
Read people you think you're going to agree with, but also those you're going to vociferously, strongly disagree with, as a way of sharpening your own analysis and calling into question your own assumptions. That's one of the ways we learn. We have to be willing to make ourselves uncomfortable, to challenge ourselves, to open ourselves to questioning, because otherwise we're just preaching to the choir. If we're not willing to consider the things we strongly disagree with, well, that's really the antithesis of being a thinking person.