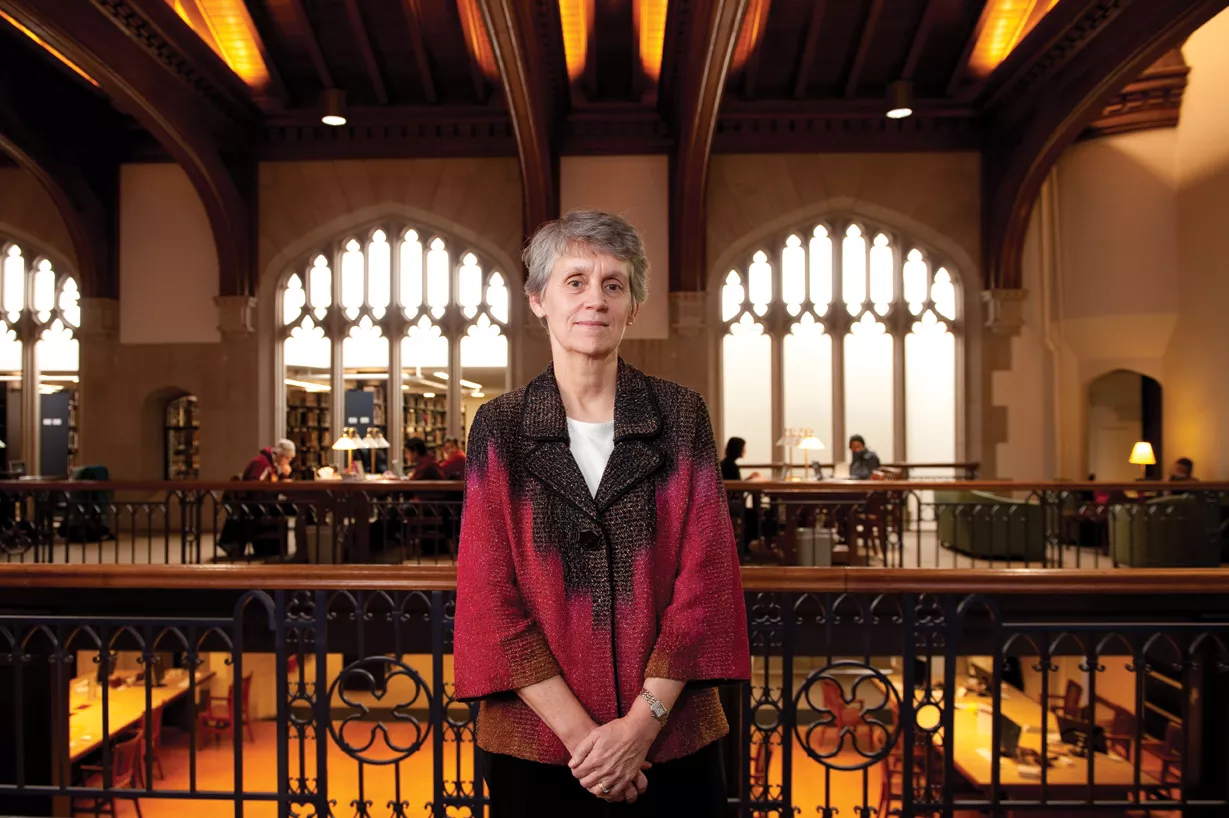 Vassar College President Catherine "Cappy" Hill in the campus library.
When brewer Matthew Vassar first addressed the trustees of the women's college that he founded in 1861, he laid out an impassioned plea for equal education. "The mothers of a country mould the character of its citizens, detemine its institutions, and shape its destiny," Vassar said. "Next to the influence of mother is that of female teacher." In the 150 years since its founding, Vassar College has evolved from a small teacher's training school for women (Vassar went coed in 1969) to one of the most selective institutions of higher education in the country, consistently ranked among the top liberal arts colleges by US News & World Report and Princeton Review. The school also consistenly ranks among the top 10 colleges producing undergraduate Fulbright fellows in the country.
The accomplishments of Vassar grads include Pulitzer prizes (Elizabeth Bishop, 1934) and Oscars (Meryl Streep, `71), as well as a surfeit of cultural output from the likes of filmmakers (Noah Baumbach, `91) and actors (Lisa Kudrow, `85; Hope Davis, `86). Vassar's humanities programs tend to overshadow its scientific curriculum, yet the first faculty member hired by Matthew Vassar was breakthrough astronomer Maria Mitchell, and the school's interdisciplinary science programs are on the cutting edge in robotics and bioinformatics. A state-of-the-art science building that will house all of Vassar's science departments is planned to break ground in 2013.
2011 is Vassar's sesquicentennial. In late November I spoke with Vassar College President Catherine "Cappy" Hill about the school's next 150 years.
—Brian K. Mahoney
What's a typical day for a Vassar College president like?
I tend to have two lives, one of which is on campus and one is off campus. When it's an on-campus day, it's a day of meetings from the minute I get to my office—frequently through a dinner, sometimes something in the evening after dinner. Those meetings are with other administrators, they're with faculty, and they're with students. Then I probably spend a week of every month on the road meeting with alums and doing some public service things; I'm on a couple of nonprofit boards that relate to higher education. So that's most of my life; I also have a family and a dog.
Only recently did I get a real appreciation of the sciences at Vassar. Now I have the sense that a lot of changes are coming down the pike, with a new science building and renovations of facilities being planned.
We have this incredible collection of period-piece buildings, and over the last 20 to 25 years we've been slowly going through them and renovating them. Our library is spectacular. The Frances Lehman Loeb Art Center is wonderful. In the past decade we renovated an incredibly eclectic building, Kenyon Hall, over on the other side of campus, which has electronic classrooms that our faculty and students use intensively. Kenyon also has a world-class volleyball court as well as squash courts and our dance studios and performance space, so it's this very diverse, wonderful building. But we are behind on the sciences. Not in terms of the curriculum, but we've got a very charming but outdated physics building that could be used for a Back to the Future movie set. Our chemistry building is not that old but unfortunately has been more or less dysfunctional from the day it opened. Our psychology department is in a building on the other side of campus from most of our science departments, whereas psychology now is really a part of our interdisciplinary science programs to a very large extent. So rather than just renovate the existing buildings and have them not be adequate for what's going on in the curriculum, we have a new plan that renovates some of them and adds an exciting new building. This new building will literally form a bridge between parts of our campus and connect to our existing biology building, Olmsted Hall. So we'll have a more integrated science area on campus with a large share of the square footage in both Olmsted Hall and this new bridge building.
In a recent Letter from the President posted online you wrote that Vassar's endowment is down $100 million.
Actually from its highpoint of $870 million it's now down to about $700 million.
How does that affect the way the college operates?
Well, we use that endowment primarily to support operating expenses. We try to spend annually about 5 to 5.5 percent of it as a ballpark goal. In down years we may spend a higher percentage than that; in good years we try not to spend as much. So we've really had to adjust our budget to the decline in the endowment. Now the run up to its high point had been pretty steep, because the stock market did so well. It hadn't been sitting at $870 million for long, however. It got up there in the last couple of years, which meant that we had to scale back our spending. It took two years to do that. These were not easy decisions. It's much easier to increase a budget than it is to decrease a budget.