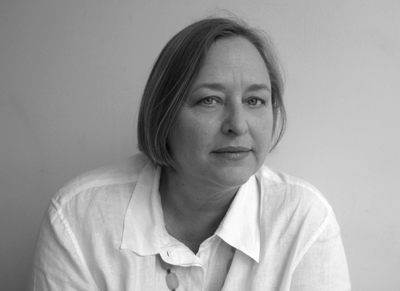 Carrie Haddad is quick to point out that the antique dealers were first, when asked about the inciting incident for Hudson's ongoing retail renaissance. "My art gallery would never have been a success without the antiques dealers," says Haddad. "Their clients became my clients." Carrie Haddad Gallery opened in 1990, shortly after the former dancer moved to Columbia County from Manhattan with her husband and two kids. The city's first gallery, it has served as an anchor for the repopulation of Warren Street's once boarded-up storefronts. Hudson now boasts two dozen galleries and a fl ourishing tourism economy, supporting more than 50 antique stores, as well as numerous restaurants, boutiques, and bed and breakfasts. Hand in hand with the business revival has come an infl ux of new residents, who have helped turn the city into a cultural hub.
A founding member of Historic Hudson, Haddad has worked to help the city preserve its unique architectural character as it redevelops. (She was also the only member of the Hudson Development Corporation board to vote against the siting of the St. Lawrence Cement plant.) This past November, Haddad was elected Alderman for the city's First Ward, a post she will serve in until 2010.

What was Hudson like in the late 1980s?
When my wave of newcomers came to Hudson in the '80s, we all started doing our thing here, the city was in a real slump—like so many manufacturing towns on the East Coast. Many who grew up here split if they wanted to make any money—so we had a kind of blank slate to create things, to make things happen here. And the people who lived here, I think they really were excited about it. Hudsonians are friendly and generous
people. But then there was this core of good 'ol boys who controlled everything, and they were less excited. They never embraced the people who moved here and spent money and improved the properties and opened shops and started additional community programs. And it's still like that, but I see things starting to change.

How did you come to open an art gallery?
I bought a building in Hudson in 1989. My thinking was: My kids are going to grow up, I don't have any money, at least I'll have a building I can sell to pay for their college. I had a tenant for awhile, he moved out, and I was talking with a friend of mine, Howard Crouch, an artist, and he said, "Why don't you make it an art gallery?" I said, "I don't know anything about an art gallery." Though I had been to plenty of art galleries in
SoHo—that was our playground for the kids, going into Leo Castelli or Mary Boone. I was terrifi ed, so we made it a cooperative. There were 15 artists, they each paid me $30 a month—which was enough to cover expenses. The first day we opened it was a success. People loved it, we were the only gallery in Hudson.
How did you find artists to show at first?
There are so many great artists up here. We were like a magnet. I had my pick of the litter. When artists wanted to show somewhere around here, there weren't very many places to go. It was pretty easy to pick. What a great business! You don't have to buy your inventory, you get a lot of free advertising, and what you don't sell the artists take back. And it's no so demanding so you don't have any free time, which has allowed
me to involve myself in the community of Hudson.

Why get involved in politics?
I want to get involved and be misquoted in the paper, be manipulated, get my head bashed in. [Laughs] I love this town. This town has such a history of crooked politics and graft. If you don't get involved, you're not going to prevent that, you're just going to let the same old people run the show. Nothing's going to change
unless you get involved.