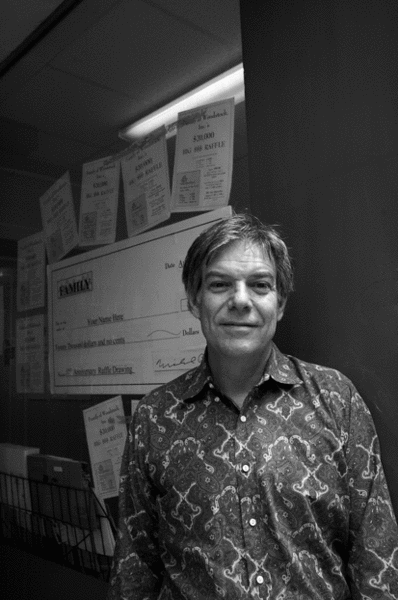 Michael Berg has committed more than 35 years to the human services agency Family of Woodstock. Berg began volunteering with the agency in 1971, joining the board of directors shortly thereafter. In 1972, Berg accepted a full-time position as Family's treasurer, and became executive director in 1982, a position he has now held ever since. Family has flourished under Berg's guidance, providing crisis intervention services, emergency shelter and food programs, dependent care programs, and case management programs for people recovering from drug dependence and domestic violence—almost always free of charge. Berg's dedication to these issues has led him to hold numerous leadership positions for a variety of organizations; he's the chair of the Ulster County Legislative Affordable Housing Consortium, is on the board of directors for School-to-Work (a program designed to integrate classroom and vocational education), and has participated on the domestic violence advisory board for the New York State Department of Social Services.
Chronogram:What takes your breath away?
Michael Berg: Living in a place where you can come in contact with wild animals. Recently, on a walk near my house, I saw four fox cubs sunning themselves on the rocks. They weren't afraid and I was able to come fairly close to them. Also, the sight of an eagle in flight always leaves me in awe.


Why did you choose to live in the Hudson Valley?
My parents bought a second home in Woodstock in 1957, and my brother, a highly skilled sculptor, has lived here most of the time since. I came up in the summer of 1970 to start a factory with him and never left. However, I still wish I had my loft in Lower Manhattan, and still miss New York City.


What are some of the things you would like to see change about this area. What are some things you'd like to stay the same?
I would like the community to come together to commit to building housing that would allow young families, starting out in employment, to remain in the community. We must balance open space with affordable family housing. In the process, we must keep the wonderful balance of rural and cosmopolitan, and the diversity that makes the Hudson Valley so rich.


What must happen to give you the feeling that a day has been well lived?
I, unfortunately, have become a workaholic, and so I generally value days where I get a lot done. But the sense of well-lived is much more personal. Increasingly, taking a long bike ride, or spending quiet time, is very precious to me. Working with my hands also makes me feel good.


What ordinary thing is very hard for you to do?
Take time off for myself.