Roy Gumpel
Chef Devon Gilroy
Here's an open secret: Boutique hotels with farm-to-table restaurants nested within them have popped up all over the Hudson Valley in the past few years. There's the Roundhouse in Beacon, Diamond Mills in Saugerties, Buttermilk Falls in Milton, and Wm. Farmer and Sons opened last fall in Hudson. There's a similar formula at work at these upscale properties: Transform an existing space (usually involving a rough-hewn beam reveal), throw in luxe amenities on the accommodation side, and add a top-notch eatery, possibly with ingredients grown on site.
The most exotic addition to this category is The Corner, which is on the ground floor of the Hotel Tivoli, a 10-room boutique accommodation owned by artists Brice and Helen Marden. The Mardens, who own an estate, Rose Hill, overlooking the Hudson River just down the road, bought the 100-year building, formerly the Madalin Hotel, in 2013. The couple spent the next year overseeing renovations and assembling an array of mid-century furniture (much of it sourced in Hudson), as well as some kaleidoscopic starbursts Murano chandeliers. Add in Berber rugs from Morocco (the Mardens have travelled extensively there), art by the couple's creative friends (Robert Rauschenberg, Julian Schnabel, Roy Lichtenstein, Kiki Smith, and Francesco Clemente among them), a fat slab of Italian marble for the bar and thinner versions for the tables in the dining room, and their establishment was well on its way. All the Mardens needed now was a chef.
Roy Gumpel
The bar at The Corner
Enter Devon Gilroy. The 31-year-old chef, burned out after a decade at some of New York City's best restaurants, including A Voce and Chanterelle, was looking to move upstate when he answered an ad on
GoodFoofJobs.com
for a "Restaurant Opening Outside Rhinebeck." After Gilroy was hired as executive chef, he reached out to his old friend from Chanterelle, Janett Pabon, to run the front of the house.("Janett was the server that got Chanterelle four stars in the
New York Times
," says Gilroy.) The Corner opened on August, 15, 2014.
Walking into The Corner, you get the feel of a neighborhood place where the neighbors are college professors, well-heeled students, second-home owners, and young artists. On the right is the bar room, with its stunning chandelier and expanse of marble. "The bar is a central part of the restaurant," says Pabon, "it's a starting point as well as an end point." The cocktail program was designed by Employees Only, a neo-speakesasy in the West Village run by the chef's father, famed restaurateur Billy Gilroy. The Rose Hill ($10) is a delightful pisco concoction gently spiced with ginger and leavened with St. Germain elderflower liqueur. There are a dozen 15 wines by the glass ($10-$18) that tend toward small production vineyards. The wine list, put together by Michael Albon of Hudson Wine Merchants, reflects a tendency toward natural and biodynamic growers perhaps you've never heard of, but the wait staff is quite knowledgeable and helpful about how to pair these mostly light- to medium-bodied wines (a number of good bottles available for under $45) with Gilroy's Moroccan-inspired Mediterranean cuisine executed with local ingredients.
Roy Gumpel
The Corner's signature dish, Moroccan chicken
The menu changes frequently, but if you can, start with the chickpea fritters ($12), crisp dumplings spiced with harissa, toasted cumin, and lime, served atop a mound of spaghetti squash—delicate and lightly spiced in a wonderfully unfussy way. (This, like the casual, friendly demeanor of the staff restaurant reflects the restaurant's insouciant vibe, belying their composure and attention to detail.) As you're noshing, don't skip the Moroccan street bread, a small round loaf halfway between a pita and a brioche that is tangy and light and leaves ciabatta in the dust. The restaurant's signature dish is the Moroccan chicken ($23), a savory delight that's served with green olive and preserved lemon and spiced with ras el hanout, the savory garam masala of North African cuisine. Like much of Gilroy's ingredients, he sources the chicken locally, from Fazio Farms in Modena. (In season, the restaurant also grows some of its own herbs and vegetables on the Mardens' estate.)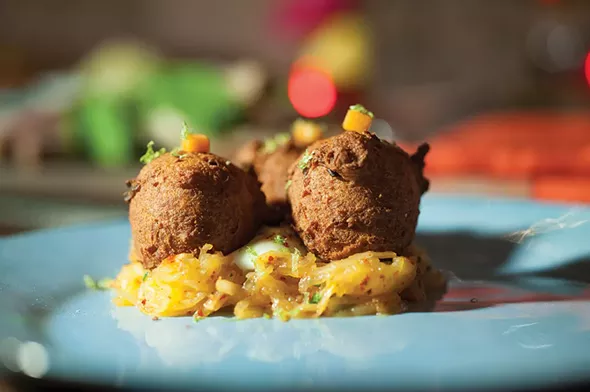 Roy Gumpel
Chickpea fritters on spaghetti squash
The menu contains bistro staples like steak au poivre ($32), a charcuterie plate ($15) and a dry-aged burger ($15), as well as seasonal game (rabbit saddle crepinette, $28) and fish dishes like day boat cod with black trumpet mushrooms, foraged by the chef himself ($31). This is simple food—carefully planned, thoughtfully sourced, and meticulously prepared—that's refined but eminently approachable.
DEVON GILROY IN HIS OWN WORDS
Competition
In the city, I had been operating really busy restaurants. But I never felt like my role was that important. Up here I feel like I have more impact on the community than in the city. Because in the city, you're just competing with everybody else who's competing, you know, to stay busy, to stay relevant, to do creative things. You don't have much mentorship, because you're competing with somebody who could be your mentor. You have guys in their 20s competing with guys in their 50s.
Tivoli
I didn't know how to drive when I moved up here. I have my license now but I'm still working on it. Before my trip to Spain and Morocco last January, I realized I'd need to rent a standard car overseas. So this neighborhood guy says, "Come on over, I'll teach you how to drive standard." And I'm like, "Where am I? How is this possible?" So that's amazing for me, to be able to be in a community where I can talk about what's going on and somebody can be like, "Hey, come on over, I'll help you out." And I can do the same for them. Come in, have a hamburger.
Foraging
I'm an avid forager and mushrooms show up in many of my dishes. I forage mainly on Rose Hill [the Marden's property]. I've learned by trial and error, plus I've had an amazing mentor, Amy Lawton, the chef at Murray's [a restaurant in Tivoli]. She's a master forager, one of the best. I was into foraging for a few years before I moved here, at a novice level. And then when I came here and we became friends, we started going out together and looking in the woods and she started teaching me what grows where.
Responsibility to Farmers
Working in the city, I didn't have as intimate a relationship to the food I cooked as I do now. It would just show up, I would unwrap it and I would go, "That's beautiful, I'm gonna cook it." But now I have personal relationships with growers, like Miriam [Latzer] from Good Flavor Farm. She says, "Tomorrow I'm going to cut garlic scapes." The next day she shows up and the garlic scapes are stunning, you can still see the wet end where they've been cut. And I can just fry them for a second, and I don't have to do anything too crazy and it's gonna be good. It's gonna be really good. I think chefs have a responsibility to support the local farmers, to help them not have to go to the city and move that product down.
Yelp
I think it's a good thing. Sometimes it exposes some really good stuff, and you see something that you do need to work on, and it's going to push you to do a better job. I think it keeps you on. If you ignore Yelp and you continually get bad reviews, it's a sign that you're not doing a good job. You have to look at it and do a better job. Maybe you need a new chef, maybe you need a new general manager, maybe you need to look at your floor staff, why are they not inspired? Even though I think it empowers people who don't necessarily know what they're talking about a lot of the time, I respect it because it's still tapping into the community.
The Corner
53 Broadway, Tivoli
The Corner serves dinner Sunday through Thursday, 5:30-9:30pm and until 10pm on Friday and Saturday. Brunch is served 11am-3pm on Saturday and Sunday. (845) 757-2100; Hoteltivoli.org.