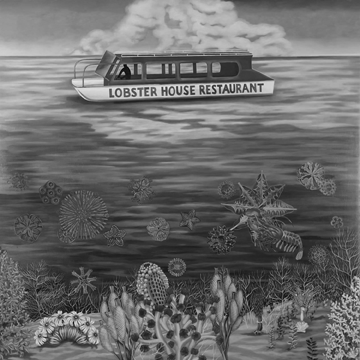 Lisa Krivacka, oil on wood, 2006
Though some might view images of cooling towers, house fronts, giant generators, or baton twirlers as hackneyed Americana, Lisa Krivacka sees them as artistic gold. Krivacka finds images for her artwork in anonymous amateur photos, magazines, travel guides, and most importantly, postcards. "I would go to flea markets and see really quirky postcards and I became interested in the more banal ones. Why would someone make a postcard of the state highway building of Columbia, South Carolina?" Krivacka said. "I really seek out the humor."
Krivacka's paintings are renderings of mostly vintage postcards advertising restaurants, hotels, or anything that stands out to her as interesting or odd. Her fascination with illustrating postcards could be due to the fact that she traveled little during her childhood; her father's job—as an employee of the Vacationland Motor Hotel in her hometown of Clarksville, Tennessee—kept her at home as he made vacations possible for others. It's as if Krivacka is living out her lost vacations vicariously through her paintings, scribbling "Wish you were here" on the back of the postcards she never got to write as a child.
Despite the surrealist quality and bright colors in Krivacka's work, a noticeable eeriness pervades a tension that Krivakca likes to play with in her postcard renderings. "You can take an innocent-looking postcard that's advertising a room but yet, there is something that could be very creepy about that room." She references Paul Dennis Reid Jr., who murdered seven people in 1997 in a string of restaurant robberies while living at the Vacationland Motor Hotel, and who is currently awaiting execution in Tennessee.
While her work has been characterized as ironic, Krivacka explains that this is never a conscious intention. "I think it's just there in the resource material that I use and I'm just bringing it out, what I find to be the quirkiness about it, that the person who actually generated it in the first place was probably unaware of," she said.
Lobster House is based upon an image Krivacka purchased 10 years ago at a postcard show at the New Yorker Hotel advertising a restaurant of the same name that once existed in Jacksonville, Florida. The piece was painted shortly after Krivacka moved to Germantown, where she currently lives. "I wanted to do something aquatic, and I had that postcard of the basic lobster house boat with that shadowy man driving it," Krivacka said. At the same time, she was looking at the scientific illustrations by Ernst Haeckel from the 1800s. "I was fascinated in his kind of beautiful, otherworldly drawings of these actual microscopic creatures in the sea—they added to the element of mystery and scariness in a way."
Thirty of Krivacka's paintings will be displayed in "Almost Utopia," a solo show at the Frederieke Taylor Gallery in Chelsea through August 8. Krivacka is represented by the Leo Fortuna Gallery in Hudson. www.frederieketaylorgallery.com; www.leofortuna.com; Portfolio: www.lisakrivacka.com.