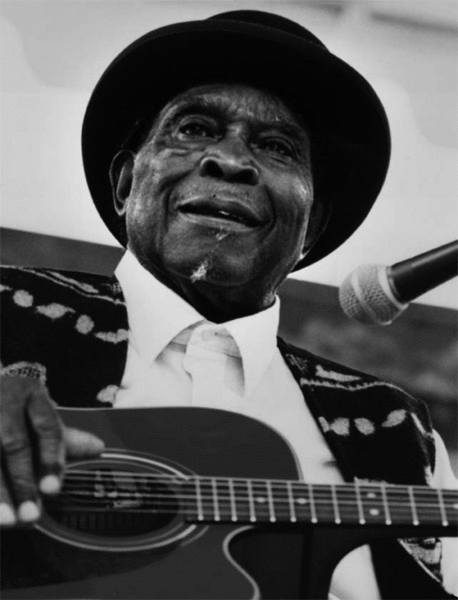 David "Honeyboy" Edwards plays the Rosendale Cafe on September 8.
When one thinks of the masters of the blues, the names Robert Johnson, Sonny Boy Williamson, Lightnin' Hopkins, and Big Bill Broonzy may come to mind, but these giants need to be conjured via recordings, photos, tall tales, and archives. Not so with David "Honeyboy" Edwards, the 92-year-old national treasure and veritable Zelig of blues history, master of both Delta and Chicago blues, and peer of all of the above and more.
Not only is Honeyboy Edwards alive, kicking, and sharp as a fresh toothpick, he's on the road, making a rare and not-to-be-missed stop at the Rosendale Cafe on September 8.
"It feels like someone has placed an invaluable piece of art in my hands," enthuses cafe owner Mark Morganstern. "A Ming vase, a Renoir, something that I will treat with great care, respect, and much gratitude."
Edwards's story is as rich as the Mississippi soil from which he hails. The son of a sharecropper, he left home at age 17 on a hoboing apprenticeship with bluesman Big Joe Williams. "I didn't want to be in that field from sun to sun, can to can't, can see to can't see. I was going to make it with the guitar," Edwards asserts in his award-winning autobiography, The World Don't Owe Me Nothin'.
From Williams the teenager learned how to work sidewalks, juke joints, and good-time houses with not much more than a Sears, Roebuck acoustic guitar, guts, and charm. After his mentor attacked him in a drunken rage, Edwards lit out on his own, jamming and sharing whiskey with Robert Johnson—he was with the archetypal figure the night Johnson was poisoned by a cuckolded husband—and eventually counting Howlin' Wolf and Sonny Boy Williamson as bandmates. All the while, Edwards honed his own distinctive style, a mix of herky-jerky rhythms designed to make folks move on a sawdust-covered dance floor, and vocals that go from a keening wail to a guttural whisper, thick with desire, experience, and celebration. Adept on both acoustic and electric, slide and fingerpick, dressed to the nines and seated in the middle of the stage—usually accompanied by a harmonica player—Edwards transcends any notions of hip; he's a blues Buddha, outclassing most everything pop culture can dish out.
Songcatcher par excellence Alan Lomax recorded Edwards for the Library of Congress in 1942, making sure he got stories as well as songs from the gifted raconteur; to this day Edwards will regale audiences with tales of derring-do on the streets of Clarksdale and Chicago and every railroad tie inbetween. "The blues is a leading thing," he says, "something on your mind that keeps you moving."
And move he did, from the Delta to Chess Records in Chicago, where he alighted in 1953, plugging in and taking part in the nascent electric blues movement.
Edwards has lived to tell and sing about it all, engaging audiences worldwide, winning numerous accolades and even an NEA fellowship. His appearance in Rosendale is a chance to witness in the flesh the power of music and the resilience and undimmed joy of the human spirit.
David "Honeyboy" Edwards will perform on September 8 at the Rosendale Cafe in Rosendale. (845) 658-9048; www.rosendalecafe.com.