Page 2 of 3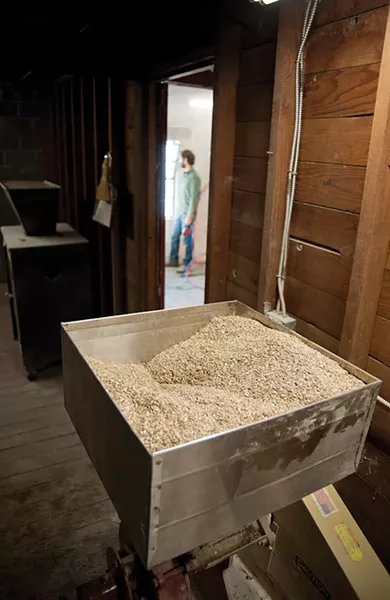 Roy Gumpel
Hudson Valley rye grain awaits milling.
The mash is then distilled in a direct-fired, hand-hammered copper still made by the Hoga company of Portugal, which is encased in a masonry jacket that was co-designed by a local mason. "We direct-fire, which will give you a completely different character," says Williams. "Almost all other distilleries use a steam jacket. The risk you run is burning the mash, and we've got that figured out. But when we clean out the still, there will be a layer that didn't quite burn, which will give a completely different character to the product. You're getting unique flavor compounds that give an almost caramel quality."
MacDonald, who, along with Kinstlik is the distillery's co-founder, is a dreamer. Although he registered the domain name for Coppersea's website in 2003, it took most of another decade to realize his dream of starting a small, hands-on distillery employing traditional practices. "For me, it all started when I decided to 'be the thing you want to be.' Instead of telling people I was trying to open a distillery, I told them, 'I'm opening a distillery.'
"I became fascinated with distilling when I was a kid. My family, which was sort of an old-New York/Tammany Hall/Irish-gangster family, talked about it a lot. The old guys used to talk about how their dad had been a whiskey runner during Prohibition. I was living in Upstate New York in the 1970s and there was moonshine around. I was curious and tried to figure out who was making it and how to make it. I was probably 15 when I first stood by a still and watched it run and carried buckets of water. In 1975, there were a few folks that I knew of making moonshine in the Woodstock area. To a certain extent, I try to disassociate myself and my knowledge from that stuff. I talk about what I know and how I learned it as being part of 'folk tradition.'"
Roy Gumpel
Christopher Williams dumping fermented mash in the still.
The Proof is in the Pudding Christopher poured samples of Coppersea's raw rye, cherry, and their award-winning peach eau de vie, and—this writer's favorite—a "Slivovitz"—plum eau de vie traditionally from Central and Eastern Europe. Those herbaceous green notes were indeed detectable in the raw rye, and tasting it so close to the source gave one a sense of understanding that lies at the heart of what makes a handcrafted product unique. Each of the eaux de vie offered a big nose full of fruit, with notes of almond in the cherry. And the Slivovitz rivaled any that your Moravian uncle might make.
The gentlemen of Coppersea Distillery can be found at the Kingston Farmers' Market every Saturday, where they have the Raw Rye available. "This was the first year that farm distilleries were allowed to sell at farmers' markets. One of the reasons we haven't filled too many barrels for aging is the popularity of the Raw Rye," says Williams. "We knew it was good, but we thought it would take more of a learning curve to catch on. We went to the Kingston Farmers' Market the first couple of weeks and sold out of the cases that we brought. Our expectations were very modest—I thought, 'Okay, we can communicate the brand, learn how to talk about it properly and if we sell three bottles in one day, I'll be stoked." And we were selling out—we had to miss three markets in a row just to get stocks back up, because our process is slow. The demand is there and the product is great, so it's difficult to put it aside—but now we're finally getting a rhythm going where we'll be able to begin working mashes intended for barreling into the rotation."
"The cognoscenti in the liquor industry is losing interest in white whiskies, and when we showed up at [the venerable Manhattan wine and spirits merchant] Astor Wine and Liquors with our raw rye, they were a bit skeptical," WIlliams says. "But they tried it and said, 'We'll take it.' Getting shelf space at Astor is not easy, and we've re-upped them three times now. We're running slightly under capacity right now; in the summer, we run our eau de vie, which is currently our only award-winning product. According to the American Distillers Institute, we make the best eau de vie of any kind in America. At the last ADI conference, we got best in category for our peach eau de vie, against maybe 60 other products. What's fun about this is that there are so many permutations—it's what's fun about distilling in general. We can fill a barrel with Peach Eau de Vie, and then we can take that barrel and make a peach eau de vie barrel-aged whiskey."