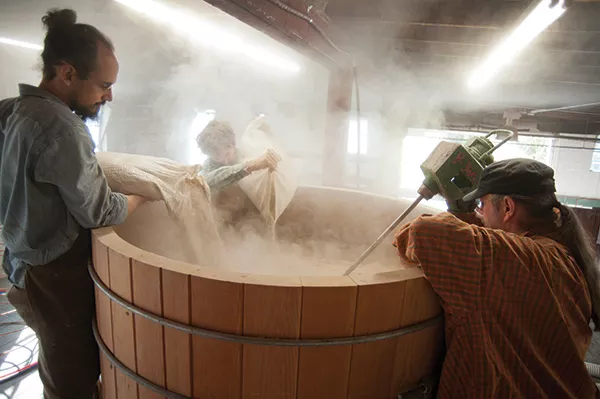 Roy Gumpel
Distillery Manager Christopher Williams, assistant Sam Zurofsky and Master Distiller Angus MacDonald starting a rye whiskey mash.
Dotted as it is with monasteries and old orchards, and with magnificent views of the Hudson River and the estates of Dutchess County on the other side, one can easily imagine life in the 1800s on the bucolic stretch of Route 9W that hugs the river as it passes through the town of Esopus. A newcomer to this stretch of highway, Coppersea Distillery in West Park feels right at home in this setting. Angus MacDonald and Christopher Williams, the boots on the ground at Coppersea, together with their business partner Michael Kinstlick, are reviving traditions of distilling that go back to the 19th century and well beyond. Housed in what was once a print shop for the Holy Cross monastery, MacDonald and Williams refine an ancient art once practiced only by alchemists, converting ordinary grain into liquid gold.
According to Williams, the name "Coppersea" is an oblique reference to the era when the region was peppered with small farms, each growing at least some fruit and grain for distillation in the little copper stills they kept in their barns; the region would have been a veritable "sea of copper."
The craft distilling industry is undergoing explosive growth right now, according to Kinstlick, who has authored a white paper on the subject, a link to which can be found on the distillery's website (Coppersea.com). In 2000, there were approximately 25 craft distilleries in the United States; today, the number approaches 250. Much of this growth can be attributed to a change in the law that permits small distilleries to operate under the designation of "farm distillery." This legislation was spearheaded by Ralph Erenzo of Tuthilltown Distillery in Gardiner, a pioneer in the craft distilling movement that produced the first legal whiskey in New York State since Prohibition as well as its very first Bourbon.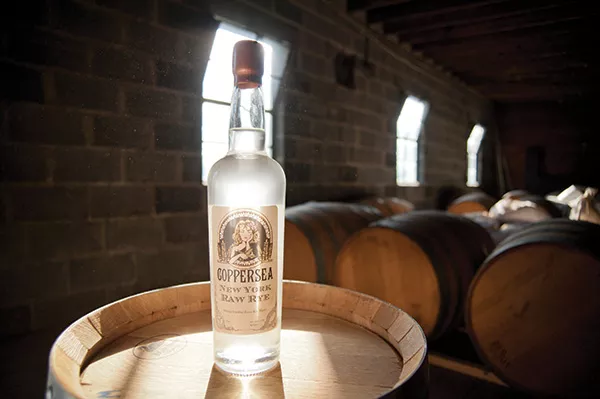 Roy Gumpel
Coppersea's Raw Rye Whiskey among barrels of aging whiskey..
Water of Life The word whiskey comes to us from the Gaelic uisce beatha, meaning 'water of life' or, perhaps more accurately, "lively water." In Latin, aqua vitae was the name given to any distilled spirit. What we now call whiskey is really the result of centuries of experimentation, innovation and, to a great extent, what might be called "happy accidents." But the basic process of distilling spirits from fermented mash remains as primal as it was when it was first practiced in the monasteries of Medieval Europe in the 13th century.
Coppersea's flagship product is their Raw Rye Whiskey, which begins with a "green malt" process that, according to Williams, the distillery's manager, hasn't been practiced much in the past 300 years. The grain is set out in a layer an inch or two thick on the floor, where it is watered down and allowed to sprout, releasing enzymes that convert the complex starches in grains like rye and corn into simpler sugars that are made available to be consumed by yeast. "There's an ideal moment in time when the enzymes become fully bio-available but they haven't gone to work on the starch," explains Williams. "When you kiln it to different degrees to arrest this process, you get different flavors. But ours tastes like 'sprouts'—it has a decidedly herbaceous, green note, more like tequila. For a batch, we do 500 pounds, called a 'piece of malt' when it's on the floor. We can use any grain—if you don't malt your own grain, you're limited by what's available." In keeping with their farm distillery designation, all of the grain used by Coppersea is grown in New York State, most of it locally in Ulster, Dutchess, Delaware, and Albany counties.
In our state, rye is very often planted as a cover crop that is usually plowed back into the soil. With its emphasis on producing rye whiskey, Coppersea is able to get more from this abundant resource. Rye whiskey was the traditional whiskey of New York State, which, according to MacDonald, was the third or fourth largest whiskey producing state. "If you walked into a bar in Ulster County in the 1800s and asked the bartender for whiskey, they would have poured you rye," he says.
"Farmers are growing the grain, but they're not necessarily growing it well," says Williams. "Traditionally, the grain distilleries would have received the stuff that the bakers didn't want. But the farmer that did the rye that we just put down is working with us to rediscover heirloom rye varietals—hopefully this helps to bring up the whole industry."
The malted grain is combined with more grain, water, and yeast in 500-gallon Douglas fir vats made by the Hall-Woolford Company in Philadelphia, which makes such barrels for water towers and also sells them as hot tubs. "The mash is open-fermented, which allows ambient yeast from the area to float in. We want that—it's going to give it character, terroir, which is what we're going for," says Williams. And, in a process equally familiar to bakers, the yeast eats the sugar and releases alcohol and carbon dioxide. Coppersea is one of very few distilleries in this country that malts its own grain, and one of only a handful to use green malt.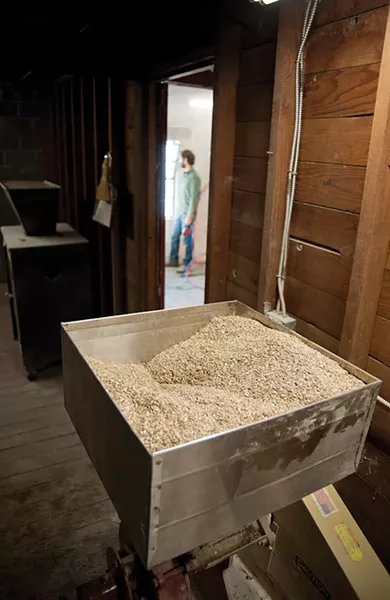 Roy Gumpel
Hudson Valley rye grain awaits milling.
The mash is then distilled in a direct-fired, hand-hammered copper still made by the Hoga company of Portugal, which is encased in a masonry jacket that was co-designed by a local mason. "We direct-fire, which will give you a completely different character," says Williams. "Almost all other distilleries use a steam jacket. The risk you run is burning the mash, and we've got that figured out. But when we clean out the still, there will be a layer that didn't quite burn, which will give a completely different character to the product. You're getting unique flavor compounds that give an almost caramel quality."
MacDonald, who, along with Kinstlik is the distillery's co-founder, is a dreamer. Although he registered the domain name for Coppersea's website in 2003, it took most of another decade to realize his dream of starting a small, hands-on distillery employing traditional practices. "For me, it all started when I decided to 'be the thing you want to be.' Instead of telling people I was trying to open a distillery, I told them, 'I'm opening a distillery.'
"I became fascinated with distilling when I was a kid. My family, which was sort of an old-New York/Tammany Hall/Irish-gangster family, talked about it a lot. The old guys used to talk about how their dad had been a whiskey runner during Prohibition. I was living in Upstate New York in the 1970s and there was moonshine around. I was curious and tried to figure out who was making it and how to make it. I was probably 15 when I first stood by a still and watched it run and carried buckets of water. In 1975, there were a few folks that I knew of making moonshine in the Woodstock area. To a certain extent, I try to disassociate myself and my knowledge from that stuff. I talk about what I know and how I learned it as being part of 'folk tradition.'"
Roy Gumpel
Christopher Williams dumping fermented mash in the still.
The Proof is in the Pudding Christopher poured samples of Coppersea's raw rye, cherry, and their award-winning peach eau de vie, and—this writer's favorite—a "Slivovitz"—plum eau de vie traditionally from Central and Eastern Europe. Those herbaceous green notes were indeed detectable in the raw rye, and tasting it so close to the source gave one a sense of understanding that lies at the heart of what makes a handcrafted product unique. Each of the eaux de vie offered a big nose full of fruit, with notes of almond in the cherry. And the Slivovitz rivaled any that your Moravian uncle might make.
The gentlemen of Coppersea Distillery can be found at the Kingston Farmers' Market every Saturday, where they have the Raw Rye available. "This was the first year that farm distilleries were allowed to sell at farmers' markets. One of the reasons we haven't filled too many barrels for aging is the popularity of the Raw Rye," says Williams. "We knew it was good, but we thought it would take more of a learning curve to catch on. We went to the Kingston Farmers' Market the first couple of weeks and sold out of the cases that we brought. Our expectations were very modest—I thought, 'Okay, we can communicate the brand, learn how to talk about it properly and if we sell three bottles in one day, I'll be stoked." And we were selling out—we had to miss three markets in a row just to get stocks back up, because our process is slow. The demand is there and the product is great, so it's difficult to put it aside—but now we're finally getting a rhythm going where we'll be able to begin working mashes intended for barreling into the rotation."
"The cognoscenti in the liquor industry is losing interest in white whiskies, and when we showed up at [the venerable Manhattan wine and spirits merchant] Astor Wine and Liquors with our raw rye, they were a bit skeptical," WIlliams says. "But they tried it and said, 'We'll take it.' Getting shelf space at Astor is not easy, and we've re-upped them three times now. We're running slightly under capacity right now; in the summer, we run our eau de vie, which is currently our only award-winning product. According to the American Distillers Institute, we make the best eau de vie of any kind in America. At the last ADI conference, we got best in category for our peach eau de vie, against maybe 60 other products. What's fun about this is that there are so many permutations—it's what's fun about distilling in general. We can fill a barrel with Peach Eau de Vie, and then we can take that barrel and make a peach eau de vie barrel-aged whiskey."
Coppersea has a strong commitment to and love for the Hudson Valley, collaborating with other local artisans as much as possible. "We had Paul Maloney of [Kingston's] Stockade Tavern create a cocktail using only locally sourced ingredients for the Manhattan Cocktail Classic, a major liquor industry event in New York," says Williams. "He used Oliverea Schoolhouse Farm Maple Syrup, Fruition Chocolate, and Boice Brothers Cream. We also teamed up with Field Apothecary to make a cocktail for Olanafest at the Olana Historic Site."
Currently, the raw rye is available locally at Madden Wine and Spirits and Blue 57, both in Kingston; Viscount Wine and Liquor in Wappingers Falls; Fox & Hound in New Paltz; and Stone Ridge Wine and Spirits. Coppersea's products are also featured in cocktails at Fish and Game and the Crimson Sparrow in Hudson; the Stockade Tavern in Kingston; and Peekamoose Restaurant in Big Indian.