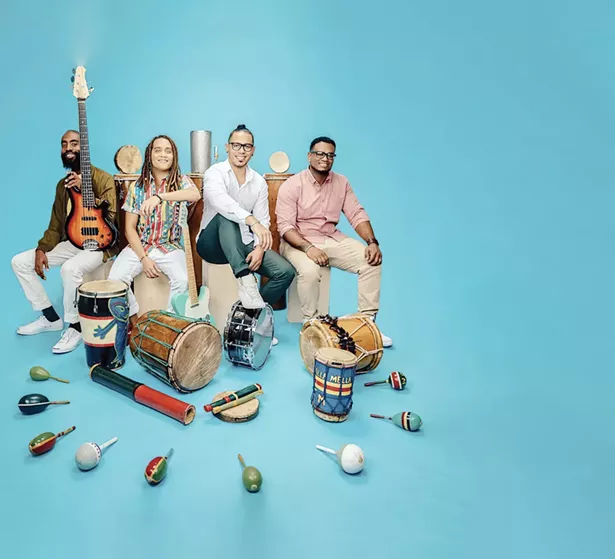 Yasser Tejeda and Palotré: Kyle Miles, bass; Yasser Tejeda, guitar and vocals; Víctor Otoniel Vargas, drums and vocals; Jonathan Troncoso, percussion and vocals.
Kenny Werner Trio | August 2
Jazz pianist and educator Kenny Werner recorded with Charles Mingus before touring with Archie Shepp and manning the ivories for the Thad Jones/Mel Lewis Orchestra. A longtime sideman of Toots Thielemans and Joe Lovano, Werner has also been awarded two National Endowment for the Arts grants and a Guggenheim Fellowship and authored the influential music education book
Effortless Mastery
. On
The Falcon's
new outdoor stage, he'll be joined by bassist Robert Kopec and drummer Peter O'Brien. As per current state protocol regulations for small venues, audience members must order a meal while seated at the site's socially distanced tables. (Hollis Brown holds forth August 1; Jane Lee Hooker howls August 22.) Donation requested. Marlboro.
Alarm Will Sound | August 6 & 7
The 20-piece, Rochester-born chamber orchestra Alarm Will Sound has worked with some of the leading names in contemporary classical music, premiering pieces by, among others, Steve Reich, David Lang, and John Luther Adams. For PS21's summer season, the ensemble will perform the latter, Pulitzer Prize-winning composer's new "Ten Thousand Birds" on August 7 at 4pm and 7pm at the facility's open-air Pavilion Theater. On August 6 at 11am and 6pm, Alarm Will Sound musicians will lead visitors in "Follow Me into the Field," a socially distanced walking tour of PS21's Crelin Park that intermingles music with nature sounds. (The Modern Music Festival features Connor Hannick on August 12, Timo Andres and Rzewski on August 21, and Miranda Cuxson Davidovsky on August 28.) See website for ticket prices. Chatham.
Andy Stack | August 7
Americana artist Andy Stack worked as a sideman for several years in New York before heading north to our neck of the woods and notching out a niche with his group Buffalo Stack. His richly rooted original music draws on Delta and Chicago blues, New Orleans jazz, Irish traditional styles, and other folk forms; the list of musicians he's collaborated with includes Suzanne Vega, Duncan Sheik, Amy Helm, Lucius, Teddy Thompson, the Mammals, the New York Ska Jazz Ensemble, Jonah Smith, Les Nubians, and many others. Here, Stack makes an evening-long solo appearance for diners at
Grand Cru Beer and Cheese Market's
outdoor beer garden. (The Joe T. Mondello Band returns August 8; the Downbeats Duo jam Jerry Garcia August 9.) 6pm. Free with meal. Rhinebeck.
Yasser Tejeda and Palotré | August 22
With its large exterior courtyard areas,
Mass MoCA
lends itself well to safely spaced events, allowing the renowned contemporary art center to present live performances while Massachusetts is (at the time of this writing) in Phase 3 of its reopenings. Based in New York, singer and guitarist Yasser Tejeda and his band Palotré fuse traditional Dominican folk music with funk, R&B, rock, and jazz to make a happy, spicy, highly danceable stew. All staff will be wearing masks; all audience members must wear a mask (except while eating or drinking; food and drink service will be available) and should bring their own chairs. Socially distanced viewing spaces (four people per space) will be blocked out. Tickets must be purchased online. (Drag artist Migguel Anggelo appears August 8; Car Seat Headrest drives by September 4.) 8:30pm. $25, $35. North Adams, Massachusetts.
Marshall Crenshaw & the Bottle Rockets | August 27
A consummate pop rock singer-songwriter (and regional resident), Marshall Crenshaw follows up his August 7 live-stream solo concert at
Daryl's House
with this general-admission show at the venue. For the latter date, he'll be accompanied by Missouri roots rockers the Bottle Rockets, an outfit led by Brian Henneman, a sometime collaborator of Jeff Tweedy and Jay Farrar. Crenshaw, the maker of 1980s hits "Someday, Someway," "Cynical Girl," and "Whenever You're on My Mind," has recently kept busy by performing as a guest vocalist with the Smithereens following the death of that band's singer, Pat DiNizio. (Quinn Sullivan gets bluesy August 14; Atlantic Starr's Porter Carroll, Jr. shines September 4.) 8pm. $30. Pawling.
Martin Sexton | August 29
Here,
City Winery Hudson Valley's
Concerts in the Vineyard series stars soulful singer-songwriter Martin Sexton, the recipient of the National Academy of Songwriters Artist of the Year Award in 1994. Born in Syracuse, Sexton moved in 1988 to Boston, where he honed his craft by busking and playing open-mics. After a few years with major indie Koch Records and a pair of albums on Atlantic, the singer started up his own Kitchen Table imprint. His most recent offering is 2015's
Mixtape of the Open Road
, which he describes thusly: "The concept of this record is that it's a mixtape, just like when your friends knew you were taking that California trip and wanted to inspire you along the way." (Chris Thile comes by August 15; Amy Helm sings September 5.) 2pm. $152 for middle lawn pod (space for up to four). Montgomery.