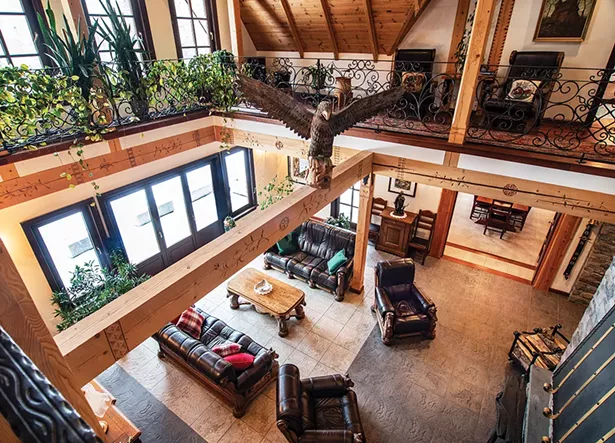 Photo by Deborah DeGraffenreid
The two-story main living room of the Laroux family's traditional Zakopane chalet was inspired by the distinctive architecture of Podhale—the Southern Polish Highland region of Eastern Europe's Carpathian Mountains. The ornate wood-carved beams, the metal railings, and the Polish White Eagle statue are quintessential features of the Zakopanski vernacular, and the space is decorated with furniture imported from Poland. Interspersed with more traditional oil paintings of the Polish countryside are Jack Laroux's own large acrylic on canvas abstract works.
"For my family, it's always been about the mountains," Jack Laroux says as he shows me around "Chateau Laroux," his rustic country family home set on an idyllic 25 acres in a notch between two mountains. Resplendent and distinctive, the 8,000-square-foot home was built by his Polish-born parents in 2005 in the traditional architecture of the Southern Polish Highlands, known as Zakopane style. Originating in the 19th century, the Zakopane style blended folk motifs and traditions of Central Europe's Carpathian Mountains with Art Nouveau style, and the four-bedroom, three-bath house exemplifies many of the vernacular's finest features, both inside and out.
Situated a stone's throw from the Hunter Mountain ski resort and surrounded by state land, it's a home for all seasons, but one that especially embraces the joys of winter. Topped by a steep gabled roof, its deep hanging eves seem made for rows of icicles. Ornately carved, decorative ironwork lattices along the second story are offset by winter white; traditional carved copper turrets known as florki poke high above layers of drift; and curving ironwork lanterns seem made to light up snowy walkways.

Accessed by a wide stone stairway, the home's central two-story living room is entered through a heavy, woodcarved round-top doorway decorated with scrolling iron hinges. The interior of the three-story house is decorated throughout with Zakopanski furniture, artwork, and handicrafts from the landlocked Podhale region of the Tatra mountain range. The home's interior, and the story of how it came to be, is just as intricate as its exterior design. And while it was born in Poland, it inhabits its Catskills setting flawlessly.
Called to Mountains
"When my family first came to this area, there were over 300 people from Poland that had homes up here," explains Laroux, describing the thriving community around Hunter Mountain that was also influenced by immigrants from Switzerland, Austria, and other landlocked European countries with rich mountainous cultures stretching back through generations. Laroux's father, Benjamin, hailed from Krakow and his mother, Juliette, from the city of Koszalin in Northern Poland. Both immigrated in the 1960s to the US, where they met and married. The two followed Benjamin Laroux's engineering career until they settled in Bergen County, New Jersey, after their son, the younger Laroux, was born.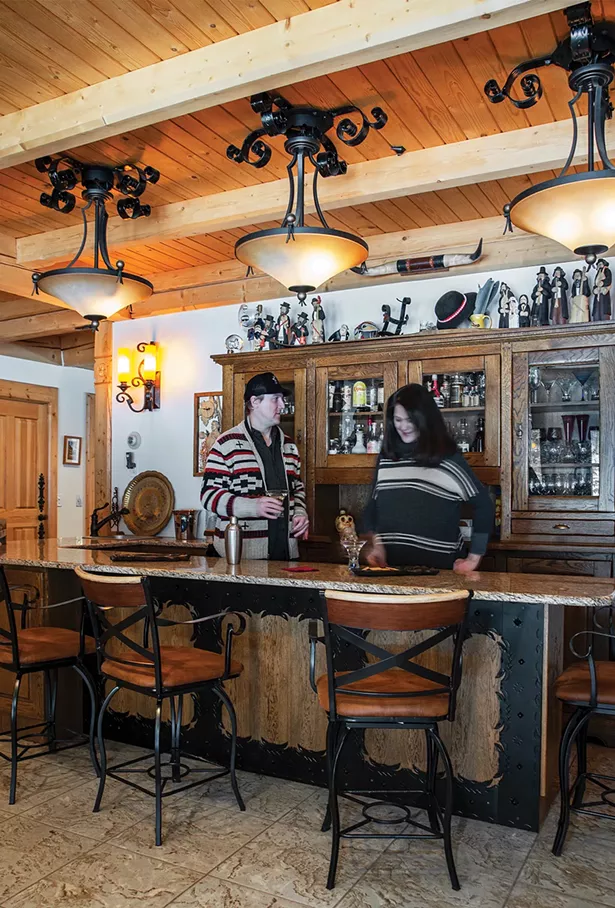 Photo by Deborah DeGraffenreid
Jack Laroux and his wife, Dr. Christina Koizumi, enjoy a drink in the home's Zakopane bar decorated with handiworks collected from Podhale. Avid skiers and snowboarders, the two met on the slopes at nearby Hunter Mountain.
"My father was a big builder," Laroux says. "He built his office in Elmwood Park, and our house in New Jersey." Although they were settled downstate, the mountains and eventually the challenge of recreating a little of their homeland in America, called to them. "The rolling Catskill mountains reminded my parents, and other Eastern Europeans, of the foothills leading up to the Carpathian Mountains where we often vacationed," says Laroux. The family began visiting the Hunter Mountain area in the 1970s, and loved both the culture and lifestyle they found. In the early `80s, they bought 25 wooded acres near the ski resort. "My parents loved to ski," explains Laroux. "I learned how to ski at Hunter at the age of two and began snowboarding in my teens." Laroux also worked for a brief time as a snowboard instructor at the resort.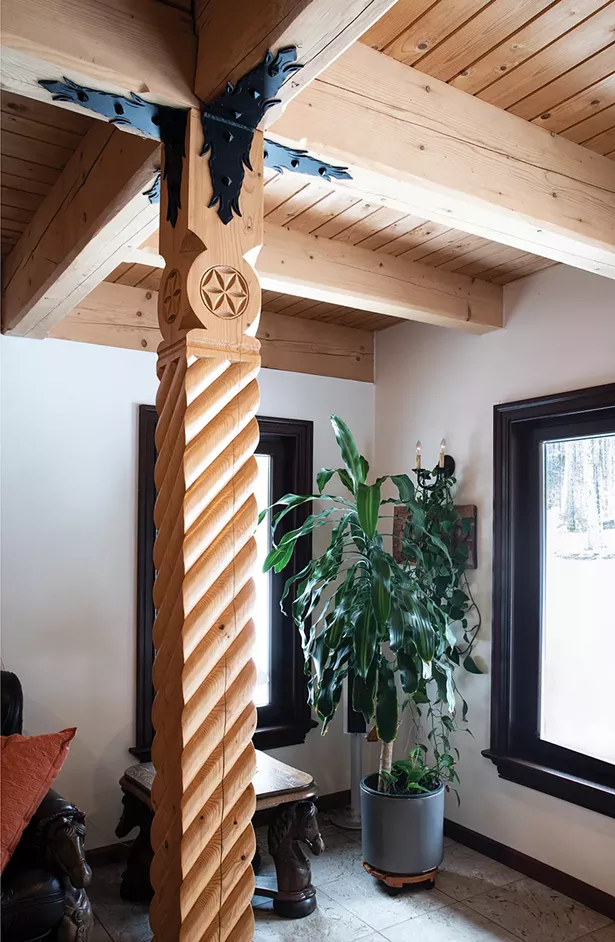 Photo by Deborah DeGraffenreid
Wanting to create a Zakopane home that was as authentic as possible, Laroux's Polish born parents Benjamin and Juliette Laroux commissioned a majority of the 8,000 square foot building's materials from Podhale and thenerected the structure on a Polish mountainside."All the carvings were hand done on the spot inthe mountains there," says Laroux.
When they weren't skiing, the family spent their weekends and summers slowly developing their land into habitable space. "I grew up on the property," says Laroux. "Bushwhacking, chain sawing, land clearing, and fire pits were all part of the weekend routine in the warmer months." After they were able to clear a driveway up the hill, as well as a patch of land, they built the property's first structure—a 2,500-square-foot cabin now utilized as a guest house. It was a place for them to spend weekends enjoying the mountains, but also a sort of prototype where they first incorporated a few aspects of Zakopane design into the interior features, including a traditional bar, the distinctive heavy wooden arched doors to keep out the cold, and ornate carved metal railings. The next step was plotting what was to become their traditional-style chateau on a cleared hillside above.
In the Notch Between Hills
They began the construction of their dream home in 2001. "My parents wanted to stay true to the traditional style," explains Laroux. They hired a family friend, Polish architect Jan Karpiel, who was well versed in Zakopane architecture, to finalize the home's design and work out the details of local engineering codes. Karpiel also had deep connections within the construction communities of the Podhale region. To ensure the quality of craftsmanship, and to remain true to the traditional Zakopane style, Benjamin Laroux decided to source all the materials from the Southern Polish Highlands as well as hiring traditional craftsmen from the region (known as gorals) to build the home—in Poland.
Photo by Deborah DeGraffenreid
"It's kind-of a lost art form," explains Laroux of the detailed, Zakopane wood carvings etched along beams and in corners of the house. The carvings feature various motifs inspired by life in the Tatra mountains. "There are a lot of little details everywhere," he says. "When you sit long enough, you begin to notice."
As a test run, the family first built, disassembled, and then shipped over a traditional-style 2,400-square-foot garage and office. The main home was then completely built on a Tatra mountainside in Poland. "Then they marked it with little carvings on the ends to identify where each beam should be placed," explains Laroux. In 2004, the pieces were then disassembled and shipped in multiple containers weighing 24 tons, but somewhere across the Atlantic they were jostled. "When the pieces were shipped they got all mixed up. When they arrived, it was like a big puzzle—like a big Jenga game—to put it all together."
Benjamin Laroux then used Karipel's connections to hire some of the finest Podhale craftsmen to rebuild the home. "Ten guys were supposed to come from 10 different trades," explains Laroux, "But they just looked like mountain men coming with their axes to the airport—only two of them were able to get visas." (More eventually were able to come over and help complete the project.) Those first two craftsmen set up shop in the garage apartment and began erecting the three-story home, which took another year to complete. With additional help from some local contractors—also of Polish decent—they began to assemble the pine beams and commence with the traditional wood carvings.
Photo by Deborah DeGraffenreid
Disassembled and then shipped in crates from Podhale, the castle-like structure was rebuilt on 25 rolling, wooded acres and finally completed in 2005. Eight curved street lamps, also built inthe Zakopane style and shipped from Podhale, line the driveway leading up to the house.
The two-story main living room features vaulted ceilings and exposed pine beams carved with traditional folk motifs, wildflowers, and sacred geometric patterns originating from the region. A central fireplace made of native bluestone fits in perfectly with the home's Old World elements. Off the living room, a long rectangular dining room features traditional ironwork chandeliers and has access to an exterior stone patio. The granite kitchen countertops were also sourced from Poland and at the back of the home, a lounge area is centered around a large bar decorated with handicrafts from Podhale. Granite floors throughout the home were sourced from Poland, and the home's intricate scrolling ironwork railing was also created in the Zakopane style.
Although the home's exterior and details of the interior are built in the traditional Polish style, the family gave the design an American twist, with slightly higher ceilings throughout the downstairs living areas and second-floor bedrooms. The second-floor master bedroom includes a large master bathroom with a free-standing tub and fixtures from Europe. The third floor features extra sleeping and storage space under the home's steeply sloped roof. Throughout the house, European tilt and turn windows and glass doors fill the rustic wooden space with light. The rooms are decorated with Zakopane-styled furniture bought at a Polish boutique.
Photo by Deborah DeGraffenreid
A traditional woodcarving from Podhale hangs inthe home's basement bar and entertaining space. In traditional Polish style, the family has enjoyed sharing the home with friends. "He was a very strict, hardworking guy, but he also loved to entertain and party," says Jack Laroux of his father, who didn't like to brag. "He was a very humble guy. He was proud of [the house] but he'd never say anything. When people would ask, he would just say, 'Yeah, I built it.'"
While many of the original Polish immigrants of the area have passed away, "the tradition continues with the new generation," says Laroux, who visits Poland every year and counts many of that second generation as his friends.

Recently, Jack Laroux has decided to follow in his father's footsteps. He bought seven acres of land in the Village of Hunter and plans to build a Zakopane-style ski lodge on the property. Just as his father did, Laroux will work with a Polish architect and build a log chalet in the mountains of Poland, then ship it to the US in pieces. "It will be Zakopane style, but with a modern twist," he explains. Called Zamek House—which means castle in Polish—he hopes it will be well received, but feels confident. "If we get the same kind of reaction we get with Chateau Laroux, it's going to make a big impression."