Marie Doyon
Lis Bar's neon sign was made by the Lite Brite Studio two streets over.
While Kingston's Stockade and Rondout districts have been busily redefining themselves for the better part of a decade, Midtown has puttered along largely unchanged. Arts manufacturing businesses like
R&F Handmade Paints
,
Bailey Pottery
, and
American Made Monster Studios
have held down the area between Broadway and Albany avenues for years, largely flying under the pedestrian radar. But when
Lite Brite Neon
joined the block in 2017, their arrival heralded a sea change for the neighborhood.
In the past year, four retail businesses have opened in a five-block radius north of Broadway:
The Beverly
,
Outdated Lite (which shares a building with Lite Brite), Village Coffee & Goods
, and
Tubby's
. Tonight will mark a fifth, as
Lis Bar
—just two doors down from The Beverly on Foxhall Avenue—celebrates its grand opening on O+ weekend.
Marie Doyon
Patty and a friend hand-finished the bar wall to give it a textured, aged look.
The Road to Lis
Owner Patty Rich spent over 15 years climbing the front-of-house ladder in the New York City restaurant industry before throwing in the towel and moving to Woodstock with her husband John and two kids in 2009. As they fell in love with the region and watched it grow and change over the years, they wondered how they might plug in to support the economic revitalization. They toyed with flipping houses or running an AirBnb before deciding they wanted to do something more substantial.
"Even though live in Woodstock, we love Kingston. I'm born and raised in New York, and Midtown reminds me of Queens in 1981," Patty says. "We always wanted to invest in Kingston somehow. Since our San Diego days, John and I have talked about owning a bar, then this property came up for sale." (They met when Patty ran a coffee cart across the street from John's office in San Diego.)
Foxhall Gets its Groove Back

Lis Bar is housed in a slick, brick, black cube of building, illuminated by a cursive neon sign, made two street over. Like The Beverly next door, which was Kozy Tavern for 80 years, this building has always been a restaurant. Longtime locals will remember the spot as Valerie's, and the true blue Kingstonians will recall its Promise Land days.
The 1950s building still has some of its vintage features, like the original JA Cassidy & Sons bar, huge multi-paned windows, and cast iron radiators, but the rest of the space has undergone a major facelift. A half wall was installed to separate the bar room from the dining area, all the flooring was replaced, the bathroom was completely renovated, and custom cabinetry was built for the glassware.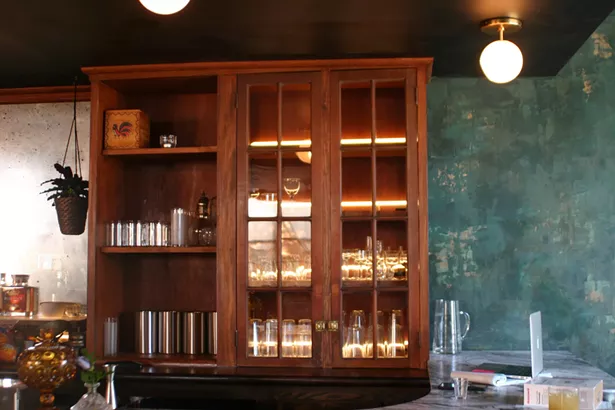 Marie Doyon
Neon tubes backlight the cabinets, which were custom built around vintage doors found at Zaborski's emporium to match the original wooden bar.
Dark, textured walls create a cozy lounge vibe that is illuminated by antique brass-toned light fixtures and accented by thoughtfully configured nooks of plush armchairs, bookshelves, rugs, and lamps. Patty collected every item over time from Goodwill, Salvation Army, Craigslist, garage sales, antique stores, and yard sales.
Mismatched bentwood chairs and upholstered church pews make up the dining room seating. "This place has history, and we love that," Patty says. "And, as you can tell I have a love of old things." The Riches describe the vibe as a cross between "your grandmother's house" and a elegant hotel lobby lounge. "All we can do is build the kind of place that we want to hang out in, and hope that others will want to too," John says.
With off-street parking and a large enclosed patio, Lis Bar checks some highly coveted Kingston boxes. "A lot of bar owners told us that summer is their worst time because they have these dimly lit spaces and no outdoor seating," John says. "The pellet stove was intended to give the inside a nice cozy, comfortable vibe in winter. And with the outdoor space, hopefully people will continue to come when the weather is nice."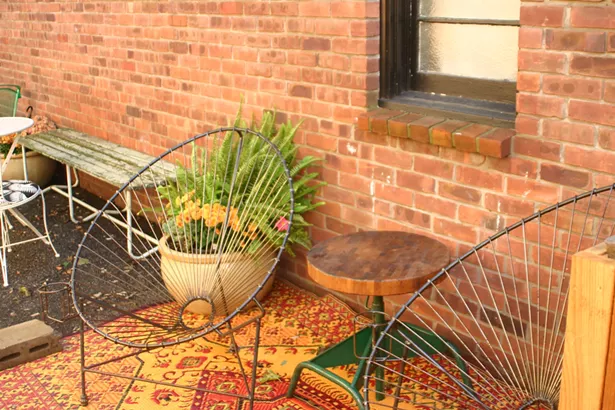 Marie Doyon
The long alley-like patio offers ample seating for warm weather days.
Kingston's First Polish Place

The concept for the bar was inspired by Patty's heritage—Polish cocktails and tapas. (Lis is Polish for fox, a mascot which shows up throughout the bar.) "Coming from the industry, I told John we would never open a restaurant," Patty says. "But we have this gigantic kitchen back there, and it would have been stupid not to utilize it."
Marie Doyon
Lis is defined by thoughtful design vignettes that showcase Patty's discerning eye.
So Patty set out to change the perception of Polish food. "Everyone thinks its heavy and greasy" she says. "That's where the tapas came in—to have small plates for people to share. I also think its a way people are choosing to eat these days—more variety but less quantity."
The menu includes a mix of Polish items, both familiar and not—pierogies, kielbasa, three kinds of stuffed cabbage (golabki), and zapiekanki, a pizza-like street food favorite in Poland, are some of the headliners under executive chef and CIA graduate Logan Pettinato. "I'd like to take some traditional Polish things and have some fun with them," Patty says. "The ingredients that grow here are so similar what is available in Poland, so it works well."
Marie Doyon
Lis features a mix of table seating and cozy lounge seating with sofas and armchairs.
The cocktail program, developed under general manager and head bartender Erica Brown, will also have a Polish flair. Stockade Tavern veteran, Kingston Farmers' Market board member, and woman-about-town, Brown will be a familiar face to many of the patrons.
"We hope to really attract people who live here," Patty says. "We are so happy we to be here in Midtown, and Trippy from the Beverly has been so great to us." John chimes in, "We look at it as the more the merrier, and that's been Trippy's attitude from the start: Give people more of a reason to come down Foxhall."