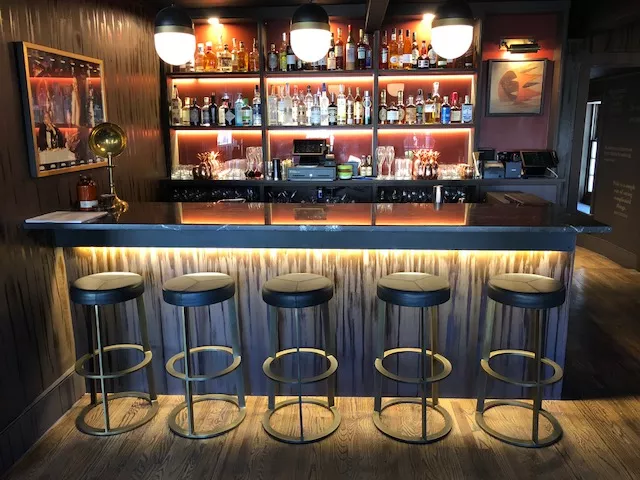 Earlier this year, we wrote about all the hot new additions to Kingston's gustatory landscape. Since then, some new players have joined the field (like Lis Bar), and we're waiting on a few more (ahem, Zak Pelaccio's rumored restaurant in Charles Blakeman's hotel).
But while Kingston has an abundance of restaurants, spanning the gamut from staid steakhouse to culinary avant-garde, there are very few places to go for a truly innovative cocktail experience. Stockade Tavern, with their pickled eggs, warm pretzels, and attentively mixed artisanal drinks, has pretty much single-handedly held this title for years.
That is, until Crown opened in July.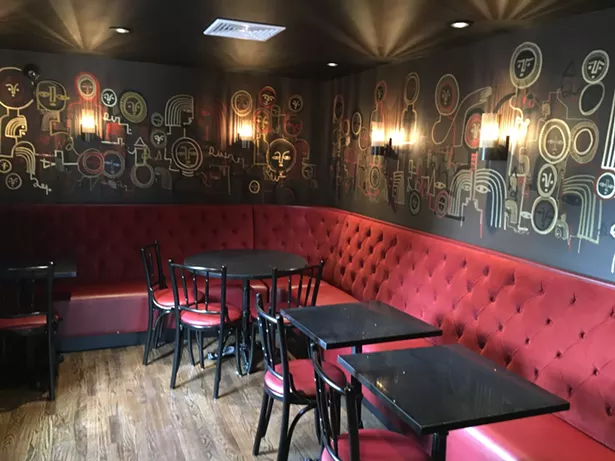 This spirits-forward lounge is a curated sensorial experience from start to finish. Brainchild of Jamie Niblock and John Krenek, the design minds behind the boutique home goods emporium Exit Nineteen, Crown is a showcase for refined taste. A departure from the familiar Kingston repertoire of drop ceilings, at one end of the spectrum, and tin ceilings, at the other, Crown conjures a Parisian cabaret vibe inside the stone walls of the historic Tappen House. To enter is to be transported.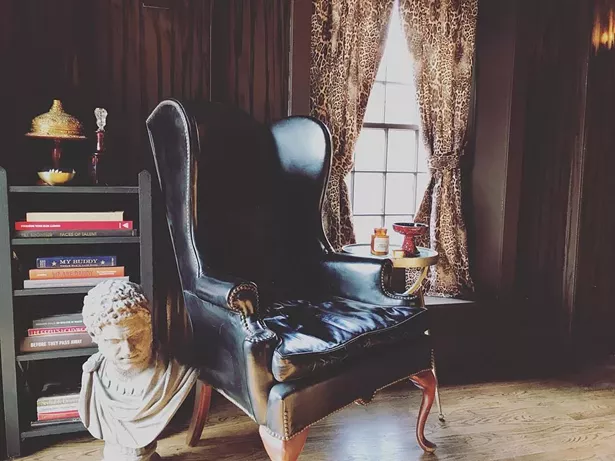 Each of the five spaces in the building (the oldest home in the city of Kingston) holds its own, from the Room of Mirrors upstairs to the erstwhile drive-through ATM-turned-outdoor-pavillion. The allure is in the brooding, sexy, moodiness of the place. Amber light, rich sultry mink-toned walls, gold and crimson accents, a working wood stove, and leopard print window dressings conspire to create a sensual ambiance. It's a place the Lost Generation and their mistresses would have loved.


But back to the drinks. Aside from offering a refreshing new vibe in the burgeoning city, Crown is becoming a mecca for connoisseurs of a good cocktail. General Manager and mixology wizard Pia Bazzani left a gig at East Hampton institution Nick & Toni's to head up Crown's team.
Bazzani approaches cocktail curation much as a chef sets about concocting a new dish. And it makes sense, the daughter of two culinary minds, she was raised around food and indoctrinated early to the sacred quintet of flavors. "I love to make food, but it was cocktails that caught my eye," she says. "If you know how to cook, you can pretty much create a cocktail. It's all about balance."
She has spent months tweaking drinks, testing flavor combinations and delivery methods.
Her pursuit of perfection is the proof in the pudding, each of the drinks a finely balanced melange that is more than the sum of its parts.The late-summer
Genevieve features Perry's Tot gin, elderflower liqueur, Scrappy's lavender bitters, and prosecco; while the trans-seasonal Frida has reposado tequila, Aperol, passion fruit, lime, Scrappy's Firewater Bitters, and a chili-salted rim. At $11 to $14 a pop, Crown's cocktails not for a cheap date, but worth every sip.
The drinks, which rotate out several times a season, reflect the local harvest. In June, the menu was rife with fresh strawberries (and rosé!), in July, blackberries. Now, the Violet touts local Thomcord grapes. As weather chills, Bazzani is scheming up cider-based drinks and hot cocktails like an adult hot chocolate.
Bringing the sharply honed aesthetic from their design work to bear, Krenek and Nibloch are prioritizing presentation. The glassware for each cocktail is intentionally chosen, and in some cases, custom-designed. For the fall and winter seasons, the pair commissioned punk-chic coffee cups from one of the vendors at Exit 19. "They are so perfect for that lounge-y, French, speakeasy vibe that we have going on," Krenek says.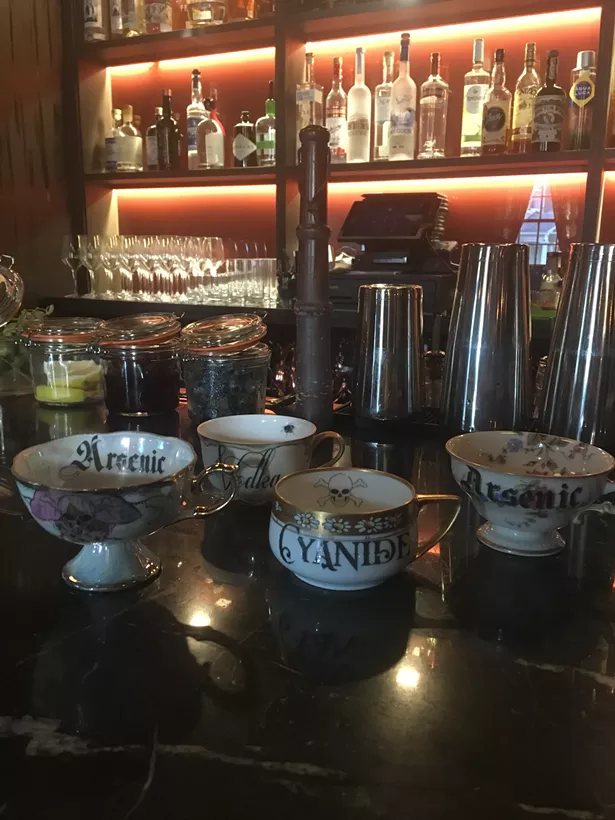 The cocktails at Crown are a labor of love. All summer long the menu featured freshly muddled mint and berries, and now, for the soon-coming hot chocolate, Bazzani makes a mixture with cinnamon, chili, cayenne, and powdered cocoa, to which she adds hot water and a shot of añejo tequila. This indulgent delicacy will topped with a dollop of housemade heavy whipping cream. You heard here first.
Bazzani's bar pantry is also stocked for the cold months ahead. "I love the fact that you can make syrups and shrubs out of anything and use that all through fall and winter," Bazzani says. Shrubs, also called drinking vinegar, developed as a way to preserve fresh berries. Come holiday time, Bazzani's housemade cranberry sage shrub will make its debut in a prosecco cocktail animated by fresh cranberries that dance in the effervescence.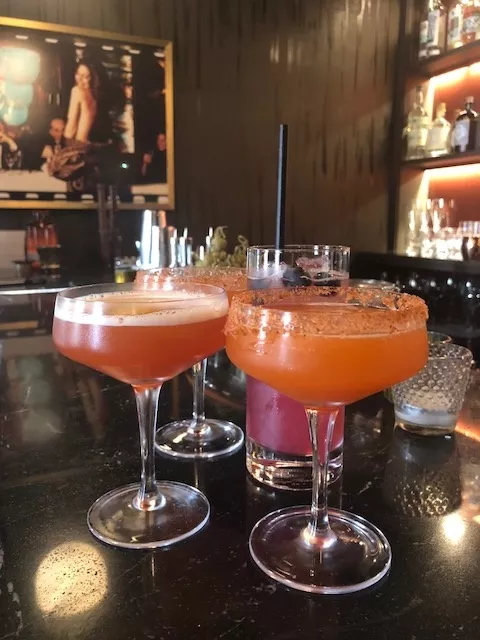 "Pia is the one that makes this all possible," Krenek says. When the daylight shortens and the wind nips, these visionary cocktails will be a much-needed consolation and kick in the butt to get out of the house.
Crown Lounge is located at 10 Crown Street, Kingston.