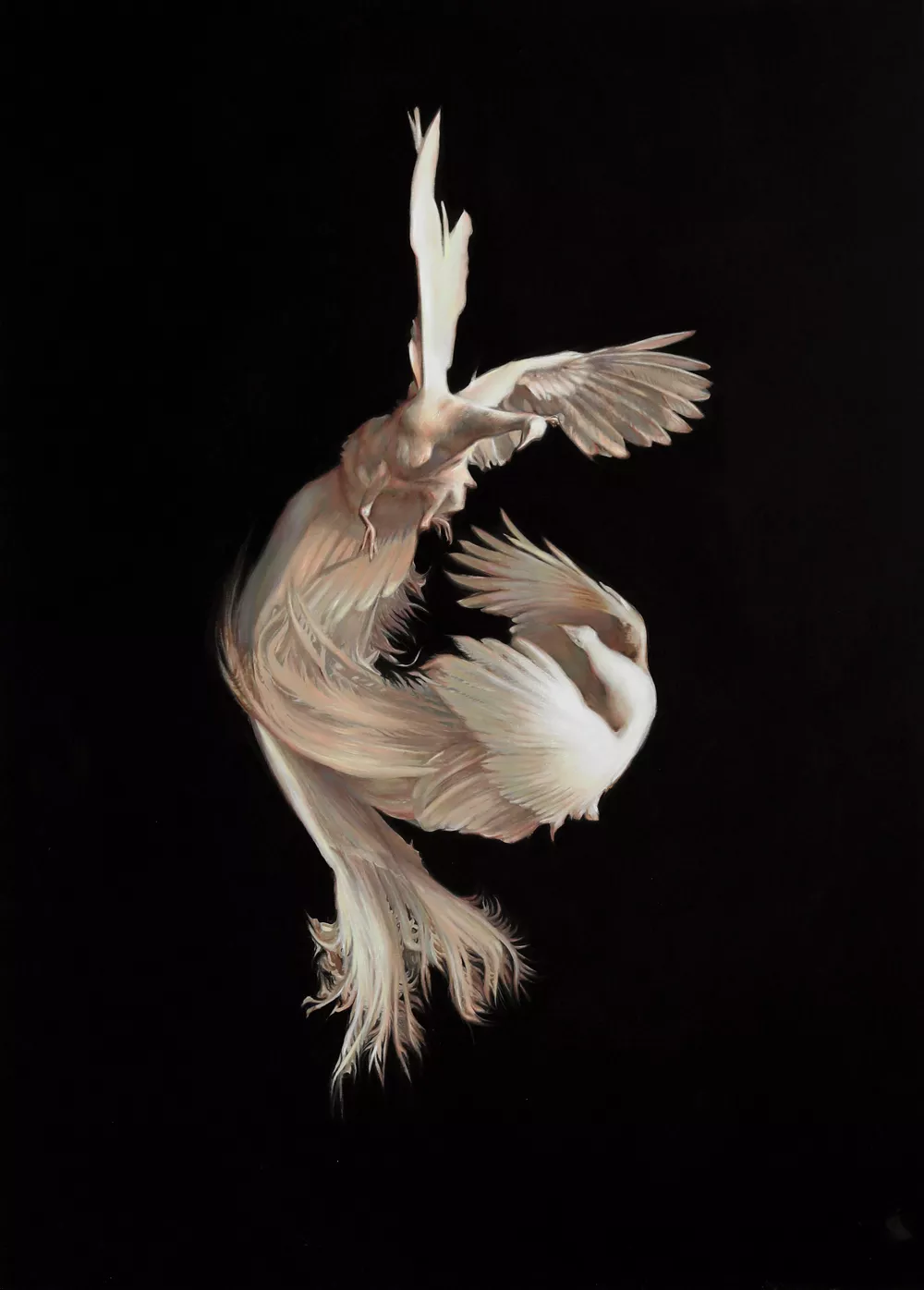 White Male Peacocks, Lily Morris, oil on linen, 67" x 48", 2020
Two white birds dive together, almost intertwined, on a black background, forming a convoluted shape resembling the number 6. That's White Male Peacocks, a painting by Lily Morris. "They're actually fighting, but they look angelic," says Martina Müller, of the birds. Müller is one of the curators of "Facing the Unknown, Imagination in the Time of Pandemic" at the Lightforms Art Center in Hudson. The show runs through April 3.
Yes, white peacocks exist. They have a genetic mutation called leucism, which prevents pigment from being deposited in their feathers. White peafowl are one of the discoveries Morris made in her ceaseless research. "I have hundreds of folders of pictures, labeled in weird categories," she explains. "I have shrapnel of images everywhere." Morris combines these images either through computer manipulation or literal collage, to create her final subjects.
Phoenix emerged from a different process, however—it began as a painting with a wig. "For years and years, I tried to paint with my hair," Morris recounts. "I thought it was a signature of my life force, trailing along everything I did. So I was trying to paint with my hair, and it was just hideously disastrous every time. I didn't have any control, and it was probably poisoning me." So Morris bought a three-foot wig on the Internet, secured it to a foam base, dipped the ends of it in paint, and created a flowing shape, which she later filled in with her highly realistic brushwork.
These bird paintings are a response to Morris's previous body of work, Monuments of Man: drawings of telephone poles with absurdly intricate wiring. After immersing herself in this technological complexity, Morris was drawn to the aerodynamic simplicity of a bird's shape.
The installation Jet Shadow combines a painting of a fighter plane, based on the Soviet Sukhoi Su-24, with a sculpture of a diving gannet. (Gannets are the largest seabirds of the North Atlantic.) The shape of the plane mirrors the bird's aquiline contours, though the colors are opposite: the gannet white, the airplane black. Jet Shadow reminds us that the world's massive military apparatus—larger than at any time in history—is powerless against a tiny virus, which has killed 1.9 million humans.
Morris has been researching the Roman augurs, priests who studied the flight of birds to intuit the will of the gods. In these days of political instability and plague, who doesn't wish they could see the future in the gliding of a gannet?
Müller first encountered Morris's paintings, fittingly, in the movie Bird Box. (Sandra Bullock had seen the artist's work on Instagram and invited her to contribute to the film.) "Facing the Unknown" includes seven artists, all of whom live in the Hudson Valley. The work in the show was created during the pandemic.
The spacious back room at Lightforms was once the mechanic's shop for a car dealership. For this show, the space has a winged theme, with floating sculptures made of horsehair and vines by Millicent Young; Morris's work; and New Nike by Müller: a swirling white abstracted sculpture of Nike, Greek goddess of victory.
Osi Audu's mechanized "self-portraits" are ironic black-and-white paintings that function simultaneously as optical illusions, self-negations, and mystic icons.
Lightforms opened in late 2019. Their second show featured work by Hilma af Klint, the Swedish Theosophist who may have been the first Western artist to create purely abstract paintings. The exhibition was a hit, but unfortunately had to close after two weeks due to the pandemic.