There's nothing like the mesmerizing experience of watching colorful glass blown into a
variety of unique and stunning shapes—only to become truly one-of-a-kind light fixtures in a
matter of hours. It's not every day that you get an inside look at the meticulous artistry
behind crafting glass.

At the semi-annual Fall Factory Sale, located at Niche's design studio
in Beacon, Niche welcomes the public for an inside look at their artisanal process and
inspiring selection of products offered at 50-80 percent off retail price.
The Fall Factory Sale happens October 12 through October 13 and includes a
behind-the-scenes look at how their glass is crafted daily by the experts. Enjoy live glass
blowing demonstrations, giveaways, and bask in the glowing light of Niche's hand-crafted
beauties. From chandeliers to pendants, to table lamps, Niche has everything you need to
light up your life.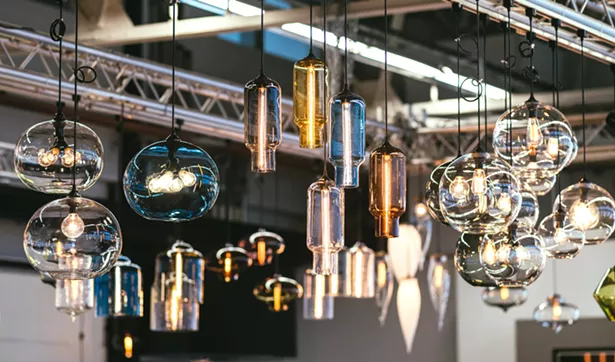 "We look forward to the Factory Sale every year," says Niche Sales Associate Diana Dominguez. "It gives us the chance to meet and interact with our customers on a more personal level and help them select the perfect pendant lighting for their spaces."
The founder and CEO of Niche, Jeremy Pyles, has been designing the unique lighting fixtures since 2003, when he designed his first glass pendant shade for his East Village homeware store. And, in the years that have followed, the Niche team has taken immense joy in giving back to the Beacon arts community, and has continued to welcome patrons to their atelier space twice a year to see their unique process and watch their products come to life.
Photo Courtesy of Crate & Barrel
Niche handmade pendant lights featured in the new Crate & Barrel restaurant "The Table at Crate"
For a wonderful weekend in a world-class Hudson Valley maker space that will kick off your fall season, head to Niche for all your luminous needs.
Niche Fall Factory Sale

Saturday, October 12th, 9am-4pm
Sunday, October 13th, 10am-2pm
Visit Niche's website to learn more about the Fall Factory Sale.