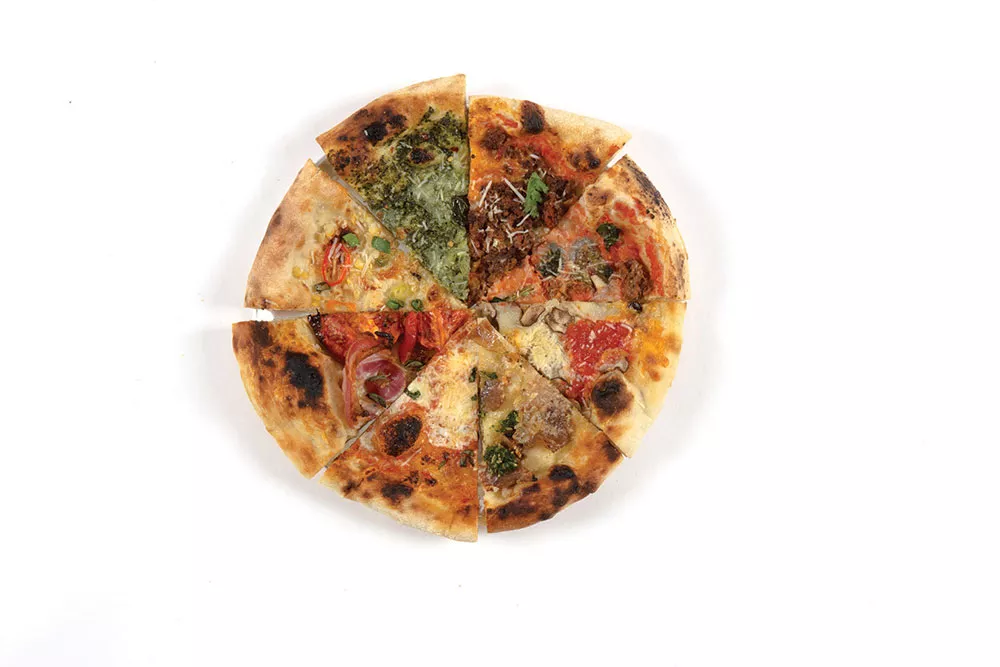 Tom Eberhardt-Smith
A variety of slices made from recipes in "The Pizza Book". Clockwise: Corn + Scallion, Taco Pie, Kale + Sausage, Mushroom, Porchetta, Classic, and Panchetta + Slow Tomato
Most cookbook authors compile recipes, secure an agent and a book deal, and publish their tome for the anonymous masses. But The Pizza Book, written and self-published by Aaron Quint and Mike Bernstein, has achieved much more than that—it's created a community.
Quint, 34, grew up in Brooklyn as an indoor kinda kid, more interested in playing on computers than scraping his knees outside. But in his family, a love for food was probably inevitable; his grandfather used to run a Jewish deli. He also grew up near the Brooklyn Bridge in downtown Brooklyn—a heartland for the charred aroma and timelessly strong taste of thin crust pies. "There was definitely always a love for food in my family," says Quint. He graduated from Brandeis University in 2005 with a BA in art history, moved to Manhattan, where he got a job as a programmer for a small agency.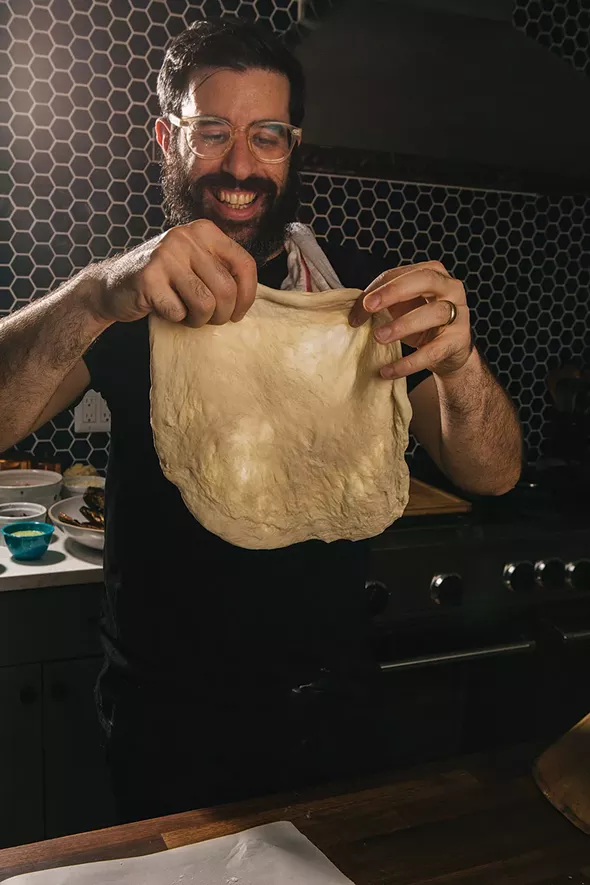 Tom Eberhardt-Smith
Mike Bernstein stretches a pie
Bernstein, 38, has a similar story. He grew up on Long Island, with most of his food memories associated with Jewish holidays. This was where he was first exposed to the bounties we share when we come together for a meal: "There's just something about putting that [food] down on the table in front of someone and they know you've put a lot of effort into it," says Bernstein. "It's like the high you're always chasing when you're preparing and serving food." Bernstein—like most humans—also really just loved eating pizza of any shape or form as a kid: "My life can be measured in slices," he writes in the first few pages of the book. His earliest pizza memories entail sharing giant slices with his brother and dad, witnessing (and eating) from the constant frozen-pizza-dinner inventory at his home, and making bike ride pit stops at local pizza joints on his way to friends' houses. After graduating with a degree in philosophy and art from NYU in 2001, Bernstein worked as a middle school computer science teacher in downtown Manhattan before receiving an MFA in design and technology in 2005 at Parsons.
Pizza Nerds
And if it wern't for programming, Bernstein and Quint might never have met. The agency Quint worked for shared the building with another IT company, which employed one of Bernstein's longtime friends, Todd Cavallo. Cavallo introduced the two.
Although they worked as programmers by day, Bernstein and Quint discovered that a love for food, specifically pizza, was deeply rooted in both of their lives. So in 2006, when Cavallo stumbled upon a recipe for pizza that was meticulously broken down, he sent it over to Bernstein, who then showed it to Quint. The recipe was from a pizza chef's website and blog; he had moved from the Northeast down to Florida, and wanted to break down what made the pizza up north so good. The recipe was fully analyzed on his site, explaining what each ingredient brought to the finished product. The chef especially emphasized fermenting the dough for a few days, but more on that later. This in-depth analysis sparked an interest for two programmers like Quint and Bernstein, who also loved making pizza at home for friends and family. They started tweaking it in their free time, and after that, pizza recipes and techniques became a common infatuation, one worth scribbling several pages of notes about for the next 10 years.
About four or five years ago, says Quint, he and Bernstein began collaborating, and started playing with the idea of creating a pizza eBook with their research. As their notes kept expanding, they decided that they wanted to compile their work into something more substantial than an eBook, but didn't necessarily have the money to back the idea. So in 2015 they crowd-sourced, and launched a Kickstarter campaign in hopes of getting "funded" with $28,000. The project, with 1,105 backers, raised over $50,000.
Tom Eberhardt-Smith
Aaron Quint gets the perfect mozzarella melt for the photo shoot finished pie
"We were definitely surprised by the support," says Quint, "We were expecting, with nerves, to get 'funded,' which was 28K." But what they got was almost double what they expected and in a much shorter time period.
Kingston resident Kale Kaposhilin is a backer of The Pizza Book. He donated $80 to Bernstein and Quint's Kickstarter campaign. Kaposhilin is a macher in the Hudson Valley tech community, a principal at Evolving Media Network and a co-founder of Hudson Valley Tech Meetup and CatskillsConf, the annual tech be-in that brings together innovators, developers, and entrepreneurs at the Ashokan Center. (It's happening this month: October 21 to 23.)