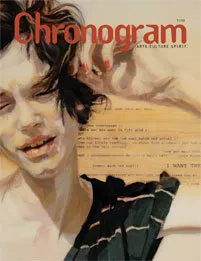 Chronogram November 2010 issue

Chronogram: Perfect for Mud Rooms!
To the Editor:
I'm writing to you in your capacity as the editorial director of the blatantly radical-leftist publication known as Chronogram. I'm a Tea Party organizer in Columbia County. After sending you this message I'll be forwarding it on to a list of influential local Republican, Conservative, Tea Party, and right-leaning independent members of our community and asking that they in turn forward this message to their mailing lists as well.
Your magazine is as biased toward the left-wing radical agenda (Obamunism) as it could possibly be, and you do not print submissions from the political right. Your references to nonliberals (80 percent of America) are rude, condescending, and intentionally inaccurate. Your magazine's column "While You Were Sleeping," for example, prints only news clips from far-left sources like Huffington Post and the New York Times. The garbage that comes from your magazine's resident political idiot, Larry Beinhart, is caustic, and dismissive of any facts that he does not see as liberal enough.
In the November 2010 issue Mr. Beinhart said that Republican philosophy is simple, like "Let's all be white."  This is terribly offensive. Let me point out first of all that the liberal press makes no mention of Condoleeza Rice, who was the highest-ranking African American government official in history. The liberal media has always feared talking about conservative African Americans. You may have heard, by the way, that Obama is biracial rather than African American. You may have heard that Abraham Lincoln was a Republican and so was Martin Luther King. You may have heard that 7 to 10 percent of African Americans are conservative. Why don't you tell your readers that under Obamunism 25 percent of African American men of working age are unemployed. Is that what liberals do for the black man?
It's appropriate that I write this on Halloween, as your magazine is nothing more than leftist propaganda in a journalism costume. It's also appropriate that I write this on the verge of an election that will see Obamunists all over America get a major-league ass whipping from the American people. But this will only be a training exercise for the 2012 elections, when the failed presidency of Barack Obama will come to an end. You deserve some credit, however, for being brave enough to go down with the liberal ship, but you should be ashamed about being intellectually dishonest to your readers.
In regard to your so-called magazine—I'm asking that nonliberals pick up as many copies of your rag as possible. They make fine mats for mud rooms.
Ed Fertik, Columbia County Tea Party