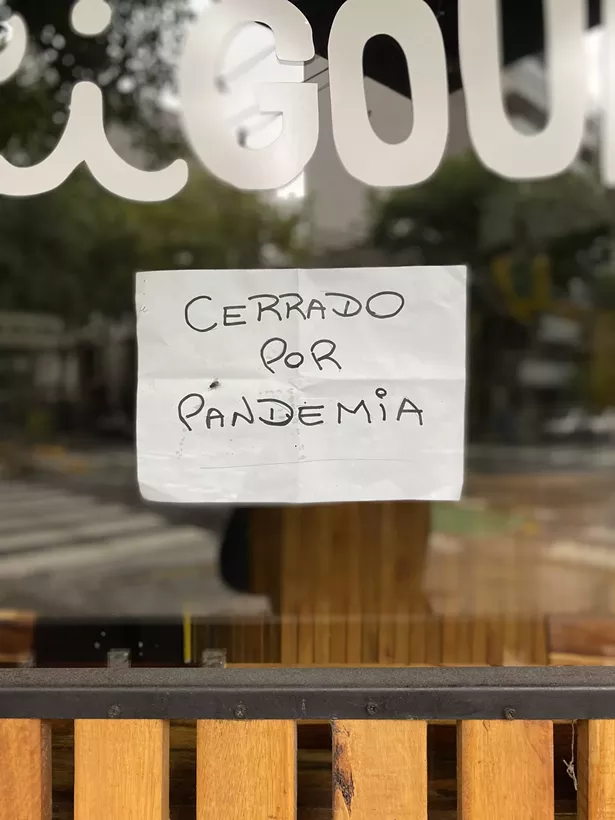 Marie Doyon
"Closed for the Pandemic," a restaurant sign in Buenos Aires.
Every day starts the same. The beep of the thermometer while I sit on the toilet peeing. I don't bother working out the math anymore. Less than 37 Celsius, I'm good. No coronavirus today! Sometimes after my pissing temperature routine I stand on the hot pink scale I recently had delivered from the local pharmacy chain. This math I usually do, even though it's useless. Less than 60, I'm good. Without a way to run, 50 kilos is not getting any closer, and the siren call of Zoom Zumba has yet to enchant me.


Even though I'm on the other side of the equator riding out the tail end of summer, I've been cooking up heavy, heavy winter foods—pork roasts and butternut bisques, creamy saffron risottos, bean stews, and four-hour bolognese sauces—as if anything lighter and I would just float away. Foods for grounding, foods for comfort. Foods for Fuck the World is Breaking.
I make coffee and walk the dog. Or walk the dog then make coffee. I can never figure out which is better. Then I sit on my patio, with its swimming pool blue walls, roll a cigarette, and check the numbers. The daily dread rodeo.


Though the streets are hauntingly quiet and everything screams NOT NORMAL, the sun chariot still makes its daily commute from east to west (although across the north here, which never ceases to befuddle my hippocampus). I compulsively trace its movement in shifting patches of light. The ray that falls on the kitchen floor at 9:20. That unreachable patch in the top right corner of the patio wall at 1:30. That time in late afternoon—5ish, I think—when its rays soak the upper floors of the buildings in front. The red one, matte like adobe, feels warm to the sight. I yearn to feel that primordial heat on my skin. The white one next to it casts a secondary brightness onto the patio walls. Sun reflected its better than no sun at all.


Being outside has become a deep craving, a maddening addiction. And what a temptress nature has been. By and large, these days in quarantine have been exceptional. Big shining blue skies glimpsed through the cookie cutter of my walled patio. And the couple days of rain, necessary, right. A collective wail.


Somehow—magically—the seasons still know to change, even though everything else is broken. Maybe the trees didn't get the memo, because every day they strew the streets with golden leaves. Sycamore mostly, and ash too, which hasn't yet met its emerald borer here.
God praise the dog. The big, waggy, goldness of him. A hall pass in the time of corona, when cops patrol every second corner, managing to blend menace and disinterest in a single gaze. One exasperated Sunday morning, I tried to take him for a jog, and we both got sent home, tail between our legs. Bad girl!


I am tired of being alone. I want to be hugged. I want to stand on Santa Fe Avenue on a warm sticky Friday night as the yellow cabs zoom by and the girls in miniskirts traverse the crosswalks in packs, leaving contrails of raw sex appeal in their wake. I want to rub elbows with strangers on the bus as we lurch down Las Heras. I want to dance, pouring sweat, in a sardine can club full of beautiful unfamiliar faces.


I ache for the city to come alive again, to feel its vigorous thumping pulse. La ciudad de la furia. The city of fury, silent. It's all wrong.
Marie Doyon, Chronogram's digital editor, is the world's youngest snowbird; she lives in Argentina half the year.