Photo by Christine Ashburn
Kevin and Kimberly tied the knot at Elm Rock Inn in the fall.
To call 2020 tough for the wedding business is an obvious understatement. According to Wedding Report, there were 2.13 million weddings in the US in 2019. In 2020, there were 1.1 million, with slashed budgets and drastically reduced guest lists. It was the safe, right, and loving path, but it's been an uphill one for those whose livelihoods depend on bringing people together to celebrate.
When the pandemic abates, wedding vendors still standing can expect a flood of pent-up demand, which may create something of a bottleneck as it collides with postponements. "In the spring [of 2020], 80 percent of our events rescheduled to 2021," says Charlotte Guernsey, co-owner at Lambs Hill, an intimate venue in Beacon with sweeping views of the river. "A couple of them downsized and kept their dates. Seeing what was going on in the industry, we then created a new package called the 'Mini-Micro' to accommodate those who still wanted to get married but really just wanted a ceremony and a dinner party with close family and friends."
The Mini-Micro package, accommodating up to 24 guests for up to three-and-a-half hours, was a hit. "Once we were able to reopen, we were flooded with couples wanting a small venue with outdoor space," says Guernsey. "Many had their original venue cancel on them. What we found interesting was that these couples ended up so happy to actually have a smaller, more intimate event. It was a magical surprise."
The downsized ceremonies at Lambs Hill were held outside on the deck under the new timber-frame pavilion, featured optional smaller "sweetheart" tables that exceeded normal distancing for at-risk couples. Sanitation stations featured clever sayings and favors.
And in between wiping down every possible common surface every few minutes, the Lambs Hill team made a discovery. "It actually brought us such pleasure to see what started as a distraught situation blossom into something absolutely amazing for so many couples," says Guernsey. "We were booked solid from the beginning of August through the end of our season at the end of October, and I think the Mini-Micro is here to stay. Many of our couples livestreamed their entire events, which worked out really well; I see that trend sticking too."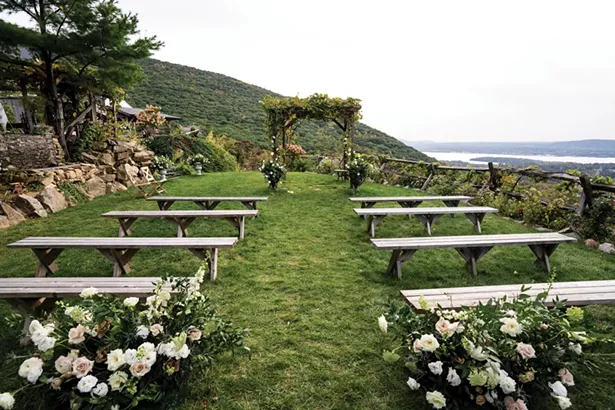 Photo by Pioneer Media
To accommodate the desire for smaller weddings, Lambs Hill in Beacon created a"Mini-Micro" wedding package for very intimate weddings.
Dancing Not on the Dance Card
Kingston's Senate Garage held two micro-weddings in 2020 and saw 25 of 28 couples reschedule to 2021. Manager April Tiberio says there is one simple thing the state could change to help struggling venues—and it's a tactic that might help stop the spread as well. "If they would just allow socially distanced dancing," she says, cringing at the memory of having to tell celebrants to sit down. "If you can work out in a gym for two hours, we can let 50 people dance at their tables in an 8,000-square-foot venue. In a Facebook poll, 75 out of 100 brides who responded said they'd cut their guest lists and go ahead if they could dance. Without venues, more weddings get pushed into backyards, and those private events can be disastrous."
The state hasn't provided wedding-specific guidance; venues such as Senate Garage have pieced together best practices from those for caterers and restaurants and general advice. "And we've done a bang-up job," says Tiberio. "Everyone else, outside of Broadway, has found safe ways to reopen. We are ready as an industry to go above and beyond to keep couples and staff safe, I just wish someone in Albany would listen, because we have a viable plan. Our hope is to save June weddings."
Photo by Kamp Weddings
Megan and Bradley tied the knot at the Senate Garage in 2020.
Don't Elope on Weekends
Photographer Christine Ashburn spent last summer photographing outdoor elopements with her mask and zoom lens, donning an N95 when she needed to get an indoor shot. Hudson Valley elopements, she says, can be glorious. "Couples and their officiant and photographer can hike into the park and exchange vows in front of a large gorgeous waterfall or venture to the top of a spectacular cliff with panoramic views," she says. "I would suggest that couples reach out to their photographer before planning an intimate elopement, adventure or otherwise, in the Hudson Valley; we know local restrictions, permit requirements, and availability. You might think that you and your fiancé will just be able to show up, take a hike and exchange vows. However, most parks have started to restrict access once their parking lots have become full, so showing up at a specific time in hopes of catching the sunset may not be possible." Couples, she says, should scout locations out in advance and "try and elope during the week during the peak outdoor season."
Ashburn, like many vendors and couples, has found that less can be more. "Most couples are really finding the shift to simpler, intimate weddings more meaningful," she says. "A full-blown wedding can be overwhelming and stressful, with so many moving parts to consider and guests and family to take care of. Many of my couples who downsized their wedding, with the intention of having a larger wedding when it is safer, are so satisfied with their intimate wedding that have decided to forgo the large wedding altogether."
A Make-or-Break Year
If elopements are the coming thing, a sort of ultimate elopement probably describes GlampStar, which provides tents complete with deluxe mattresses, bedding, and more. (You can even add a deluxe pet bed or a bar set.) Owner Nicole Friedman says 2020 was tough, but she hasn't even come close to losing faith in her concept. "What I do is, I have a bunch of tents, mattresses, chairs, jewelry, dishes—all kinds of things that create a luxury camp—and I will set up at any event."
Friedman got the idea for her business while working as a bartender and observing weddings. "I'd go to barn weddings and see guests in fancy clothes having to go back to the hotel late, and knew there had to be a better way," says Friedman. "During the pandemic, I had one wedding that went from 25 to four tents, and the rest moved to 2021, but what I do has enormous potential to provide incredible, safe gatherings. You have your own private tent—no hallways or doors or busses or Ubers; your own space right on location that no one else is going in. You're outdoors—with your luxury shelter right there."
The underlying, undying, and irresistible energy of people joining their lives together is like water. It finds a way. And though some will undoubtedly re-emerge to hold festival-sized bonanzas with a million moving parts, even they may find themselves touched by the pandemic's re-focusing effect. Brian Donahoe, co-owner of Kingston jewelry store Facets of Earth, says he's among the fortunate. "Since we are a business that doesn't depend on the size of the wedding, we feel fortunate that we haven't been affected the way event-based businesses have," he says. "Given the unknowns in the world with politics and COVID, I think people have been looking for a source of hope and something positive to look forward to. This past year certainly had the ability to make or break relationships. For those that endured, it seems that helped cement peoples' relationships."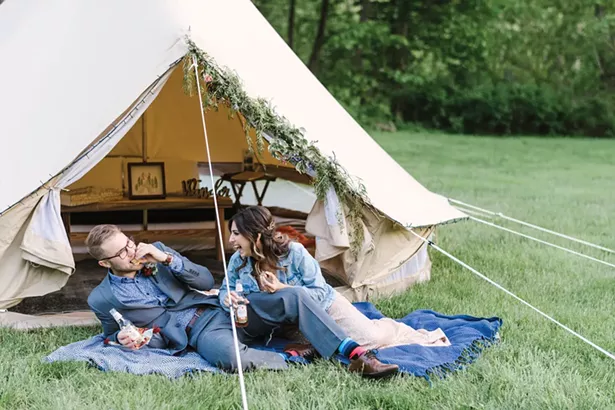 Photo by Alicia King Photo
GlampStar glamping tent at Mount Tremper Arts.
Many, he says, chose to make rings part of that cementing process whether they were postponing, eloping, or marrying small—but the pandemic has only accelerated a pre-existing trend. "A lot of people are moving away from big expensive center stone diamonds," he says, "and going with alternative stones as the focus point. We've noticed a lot of redesigns using the customer's heirloom gold and stones. If anything, there has been a rise in the sentimentality of using a loved one's materials."
Uphill climbs lead to whole new vistas. Amid the pain, which has been bad, gifted vendors have made masterful pivots, and elopements, smaller in-person parties fostering deeper intimacy (ever look into the agonized eyes of a bride who's been table-hopping for two hours straight?) that can include multitudes in cyberspace, and outdoor everything, are trends that aren't going away. (Simplicity, industry experts point out, means budgets can be repurposed to indulge in more "wow" factor per guest.) The chance to refocus on intimate connection has reinvigorated everyone's joy in the entire enterprise in ways that transcend any fashion, decor, or catering trend ever, and the art of wedding will benefit forevermore. But for pity's sake, Guv, let 'em dance.