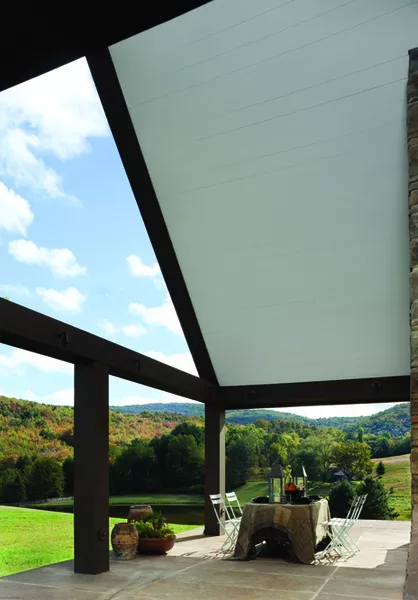 Paul Warchol
The north end of the house was extended with a covered stone terrace for outdoor dining and views of the Catskill Mountain landscape.
It's easy to see why, back in the 1970s, an outdoorsman chose this particular location to build a hunting cabin. The approach is a gravel road winding along a Catskills creek through pristine forest. The driveway cuts back up the hill past a large pond, through a swath of lawn and fields still outlined by the stone walls erected by long-ago farmers. At driveway's end, the Skylight House nestles at the forest's fringe on the western mountainside, its native fieldstone exterior looking as if it has grown here like one of the trees, its lines classic as a vintage barn.
When a couple from New York City, busy professionals with two children, purchased the rather cramped and dark dwelling that once occupied this lot seeking to repurpose it as a refuge where their family weekends would be blissfully distant from traffic and strife, they turned to architect Marlys Hann to enchant the building into their dream retreat. Hann saw, as they did, the lovely home that could be—and the results speak for themselves.
"At the first meeting," says Hann, "the owner, who's quite tall, said, 'I can't see out! Can we open this up and get some light and height?' So the first objective was to create the opposite of the existing warren of small, low-ceilinged rooms with their all-over wood paneled, messy rustic look. The design concepts evolved from the need for spaciousness, light, height, and the expansive, ineffable feeling of connection and flow between inner space and outer landscape."
The original house was almost completely gutted and rebuilt. What had been a "terribly moldy" garage has been transformed into a comfy and practical entryway and mud room, paneled in butt-joined white-painted board siding, with plenty of room to hose down muddy kids and an adjoining bathroom and laundry. A spacious rec room holds an antique pool table and stone fireplace, its stone surround and hearth gracing one entire wall. Off the rec room, two cozy bedrooms are the children's domain. Throughout the lower level, polished concrete floors with a white tint maximize the available light and make for easy cleanup.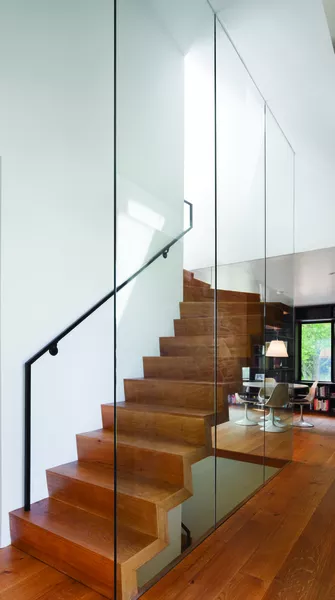 A glass-surrounded, cantilevered stair.
Up a floating cantilevered staircase surrounded by tempered glass, the 56-by-24 foot main floor has been completely opened up. Massive sliding panels offer the option of either wide open space or separation between the library, with its two walls of built-in bookshelves and sink-into-me furniture, and the living room/kitchen zone with its free-form trestle table and fireplace. Eight-foot-tall sliders line a long wall, equipped with slatted interior shutters that can be closed or opened to admit the precise amount of sunlight and lake view that suits the occupant's whim. Floors are vintage quarter-sawn white oak. A continuous skylight runs along the peak of the two-story ceiling, over 23 feet above the floor.
A loft bedroom under the rooftop skylight.
The core of the house contains a bathroom and, on the kitchen side, a pantry. "She wanted a pantry," says Hann, "so…" She's got one now, a spacious walk-in big enough to house the sink and dishwasher. Spacious kitchen counters are crafted from a warm lilac bluestone.
A covered stone patio off the northern exposure offers a cool outdoor dining alternative on summer days, having
replaced a rotting wooden deck
.
On the uppermost level, snuggled to the skylight, is the A-frame master bedroom and bath. As everywhere, light, height, and space define the experience. "Eventually, they're installing a radio-controlled system to control the skylight apertures," Hann explains.
Despite its polished and thoroughly livable appearance, the Skylight House is still a work in progress in several ways. Originally, the owners had intended to add a covered portico leading to a glass enclosed entry hall and a wing of guest bedrooms, but budgetary concerns led to the decision to keep the house to its original footprint—for now. Another item on the wish list: a geothermal system to replace the propane.
Radiant-floor heating
is contained by R-Zero E-2000 closed-cell spray foam insulation. A Lifebreath Total Recovery ventilation system keeps the air fresh.
"Renovations are inevitably costly," says Hann. "There's no getting around it. But we managed to give them over 4,000 square feet of finished living space for around $300 a square foot."
And what a living space it is. The continuous skylight dominates the two upper floors, unimpeded by walls or other structural elements. The simplicity of the décor—black and white warmed and softened by wood and stone—is clean and uncluttered, as is the exterior, where the traditional shape and the loveliness of local fieldstone is topped off by a standing-seam metal roof.
For Hann, who graduated from Pratt in 1966 and practiced in Manhattan between 1976 and 2002, the project has been creatively satisfying, something she can point to with pride. "Achieving the continuous flow of light and space wrapped around that central core and keeping the skylight completely unimpeded was challenging," she says. "But the clients are happy with the results. They're high-powered professionals, an attorney and a marketing executive—they needed someplace to be with their kids and destress, and they've got it now."
Hann's other upstate projects include transforming a 55-year-old farmhouse into the House of Light, her Stone House, which won a New York AIA Excellence in Design Award, and the unpretentious and lovely Cliff House, all of which can be seen on her website,
www.marlyshann.com
.
RESOURCES
CUSTOM CABINETS
Engels Cabinet Shop
Tom Engels (607) 746-2851
FLOORING
Recycled oak flooring
Antique & Vintage Woods of America
www.avwamerica.com
GENERAL CONTRACTOR
Homestead Construction
(845) 676-3615
ROOFING
Standing-seam metal roof
Shaul Roofing, (518) 827-4687
SLIDING GLASS WINDOWS AND DOORS
EFCO system
Installed by Forno Enterprises
SKYLIGHT SYSTEM
Supersky System
Installed by Forno Enterprises
STRUCTURAL ENGINEER
Paul A. Gossen, Geiger Gossen
Hamilton Campbell Engineers, PC
www.geigerengineers.com