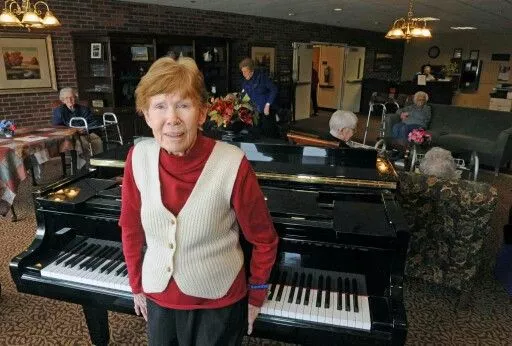 The upstate jazz community lost a light when it lost Lee Shaw in 2015. The Capital Region-area pianist was an artist of breathtakingly sensitive virtuosity and a friend, collaborator, and mentor to many musicians. On January 12, a screening of
Lee's 88 Keys
, a new documentary celebrating her life, music, and vibrant personality produced by filmmaker Susan Robbins, will be presented as part of a live music event at Spencertown Academy.
Dubbed "Albany's Queen of Jazz," Shaw studied with Oscar Peterson and worked with Arnie Lawrence, Frank Foster, Pepper Adams, Zoot Simms, Al Cohn, Al Grey, Richard Davis, Slam Stewart, and a long list of other greats. Among her own students is Medeski, Martin & Wood keyboardist John Medeski. A member of the Oklahoma Jazz Hall of Fame, she famously passed up an offer to join Lionel Hampton's band in order to focus on her own career.
Enjoy this trailer for the film:
Lee's 88 Keys will be shown at Spencertown Academy in Spencertown, New York, on January 12 at 7:30pm. Pianist Wayne Hawkins will perform some of Shaw's music and Robbins will introduce the film. Tickets are $20 public ($15 Academy members; $10 students) For more information, call (518) 392-3693 or visit https://spencertownacademy.org/.
To find out about more upcoming events in the Hudson Valley, subscribe to our weekly newsletter Eat. Play. Stay.