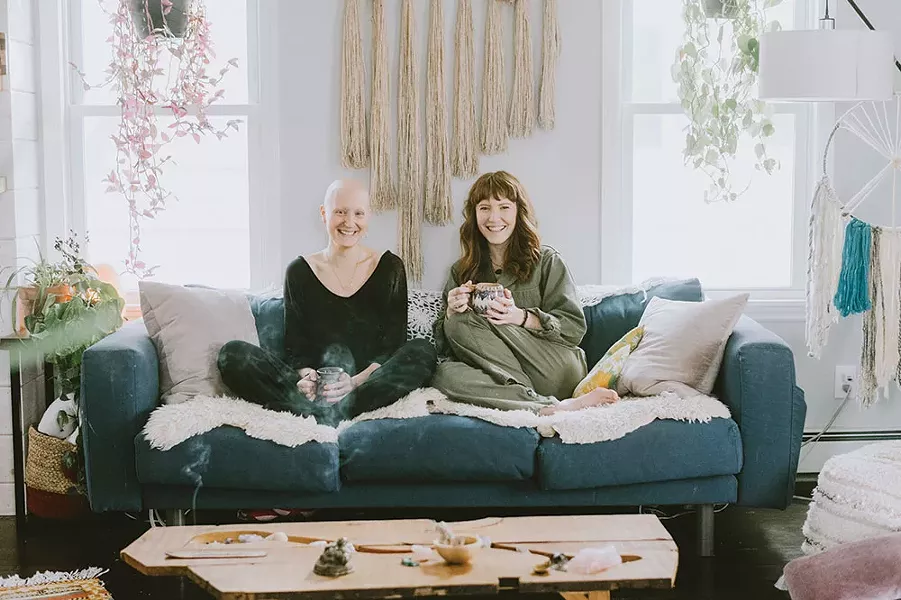 Alicia King Photography
Alyia Cutler and Meghan Conway of Wyld Womyn Beacon.
As Alex Berke prepared to give birth, she cycled through an abundance of conflicting emotions. "The way everyone talked about it was scary—it was also exciting, thrilling, and full of love, but I was scared and I knew it would be a really big change." To Berke, so much felt daunting at the time: the expectations and advice coming at her from all sides, and the lack of experience that she and her partner had with the major transition of starting a family. "There are a lot of 'shoulds' with giving birth, and there's a certain negativity about the possibility of what could go wrong." So Berke contacted Alyia Cutler and Meghan Conway, both certified doulas and founders of Wyld Womyn, which offers birth and doula support, classes, events, and more out of its Main Street center in Beacon.
Her immediate intention was clear: Berke wanted a natural birth in the hospital, and, above all, to avoid having a C-section. Conway and Cutler were there for Berke—and with a hands-on approach throughout her labor and a calm encouragement born from years of experience as birth workers, they helped her achieve her goal of a healthy, natural birth. Yet the support Conway and Cutler offered Berke has extended far beyond the birth of her son. She also hired the duo to provide postpartum support, visiting her at home twice weekly in the first few months of her son's life to help Berke "set her house in order" by assisting with everything from crib construction and lactation support to infant-friendly travel planning. Even more, what Cutler and Conway offer Berke—and the women, female-identifying, and gender nonconforming clients they work with—is an opportunity to be seen, heard, and supported in their uniquely chosen path. "I felt empowered," Berke explains. "They were looking out for what I needed. Their attitude, then and throughout my journey into motherhood, has always been 'You can do this, and here's how.'"
Wyld Womyn's mission as doulas—whether it's through 'doulaing' birth, death, coming out, healing from traumatic events, abortion, or many other life transitions—is rooted in the practice of holding space for their clients. Through active listening and bearing witness, they utilize their own expertise or that of their extended network of professionals, as well as their ability to create community, to best serve the people who come through their doors. "We're expanding the idea of the word 'doula'. We take the values and roots of that traditional role and expand it to everything our clients need," says Cutler.
At their root, the offerings at Wyld Womyn reflect a broader shift in women's, and indeed human, healthcare—away from merely treating bodies, lifecycles, reproductive cycles, and sexual health as syndrome or sickness, and towards empowering people to tune into themselves. It's about understanding one's unique physicality to embrace an individualized approach to healing and a kind of radical self-care—as well as the community-building that happens when we give each other permission to speak and listen. This kind of approach is helping women to rethink old judgments as they take their reproductive health and sense of value into their own hands.
Beyond Con- and Contra-ception
Beacon's Wyld Womyn are not the only practitioners helping to empower a personalized approach to feminine health. Dyami Soloviev, based in High Falls, helps women tune into their bodies and rhythms through her practice Fertile Ground, which offers natural contraception coaching and classes. "You learn the language of your body," Soloviev explains as she describes her work teaching the fertility awareness method to women at various stages of their reproductive cycle throughout the Hudson Valley. The fertility awareness method—or FAM, for short—is a method of tracking the body's changes through a woman's monthly menstrual cycle. While there are multiple FAM-based methods, Soloviev teaches the symptom-thermal method, which tracks and records a combination of body temperature and changes in cervical fluid to pinpoint both ovulation and menstruation. Symptom-thermal involves a highly tuned examination of the body's subtle changes throughout the month, and then applies a detailed knowledge of both the female reproductive cycle and hormones to an individual's personal information. "The two primary fertility signals, the changes in cervical fluid consistency and waking temperature, when charted side by side, tell us different things at different points of the cycle," Soloviev explains. An "average" menstrual cycle consists of four phases: a pre-ovulatory phase, ovulation, a luteal—or progesterone dominant phase—and then menstruation. While the luteal phase is usually very regular for most women, the pre-ovulatory phase often varies from body to body. However, once a woman has a regular record of her cycle, she can begin to understand her own body and reproductive track and begin to plan around it.
FAM can be utilized as natural birth control (Soloviev notes studies show it can be up to 96 percent effective and, unlike many religious-based rhythm practices, encourages tandem methods of birth control during ovulation) or as a first step for women trying to conceive. "We live in a very demanding and stressful culture, and our reproductive hormones are in a delicate balance with our cortisol [stress hormones]. We are hardwired for baby making, but we can actually steal from our healthy reproductive hormones when we are in high cortisol production," Soloviev explains. "Certainly, FAM is not a fix-all if there are deeper fertility issues, but oftentimes somebody who is having trouble conceiving can bring themselves back to health and conceive naturally."
Turning inward and gaining a deeper understanding of the natural ebb and flow of human hormones is not just a means of natural contraception or conception—it's a profound way for people to reclaim and understand their own bodies. This connection, and way of learning the language of the body, is valuable throughout one's lifespan. "My primary motivation for sharing this work is that there is an unfortunate trajectory of confusing the healthy rhythms of the reproduction cycle with craziness," Soloviev explains. For example, she continues, "premenstrual hormonal shifts have gotten medicalized as a syndrome. While certainly some extreme symptoms of discomfort can be signs of hormonal imbalances, a lot of our issues with it are really lifestyle. There is nothing wrong with us, but there's something wrong with the culture that doesn't let us do what we need to make changes day to day."
While Soloviev teaches body literacy throughout the Hudson Valley and to people throughout all stages of their reproductive cycle, she has found teaching body literacy to young people especially powerful. "I love working with teenagers. FAM is an amazing skill to have as they're coming into cycling and their reproductive journey." FAM does not have any religious association; it's open to all people and meets them wherever they are. The key, explains Soloviev is trust. "We've learned to not trust ourselves. This is a tool to trust ourselves again."
Healing Circles and Radical Doula-ing
A kind of magic can happen when women support other women on the journey of self-trust. That's why Cutler and Conway have increased their scope beyond the prenatal and birth sphere to additional services for the community at large. "There seemed to be a lot of need in this community for women and female-identifying people for space to get together, talk, and learn," Cutler remembers. Before opening Wyld Womyn, the two began conducting full moon women's healing circles, renting various spaces in the area in an attempt to help tear down "the competitive boundary relationship between women," explains Conway. Held on the Friday after every full moon, the healing circles offer a theme from the Farmer's Almanac or current events, and open with each participant lighting a candle and calling down their "maternal line" for guidance and support. Next comes a chance for participants to share, without judgment or crosstalk, and then Cutler and Conway close with a ritual or meditation that participants can incorporate into daily life. These monthly gatherings quickly became very popular, attended by people from across the Hudson Valley. "The more we did them, the more we realized we could better serve this need if we had our own space," remembers Culter. The storefront in Beacon soon presented itself and the two jumped on it, opening the doors of Wyld Womyn in May 2018.
Since then, the pair has expanded its range of doula services to address a broad gamut of human needs, offering assistance and bearing witness to beginnings and endings, as well as many parts in between. They offer a variety of classes and support groups, and also sell herbal health remedies as well as vegan personal lubricant and massage oil. Soon after opening, Wyld Womyn joined forces with Sarah Capua, an end-of-life doula rooted in the Zen Buddhist tradition, who helps people and families with the practicalities and transition around death. "There are so many parallels between birth and death," says Conway. "It's another big transition for people. Having someone to hold space for you and your family can be essential to your progress and ability to move forward." With the assistance of therapist Dorinda Cataldo, they began a weekly "survivor circle" for victims of sexual assault and domestic violence. Always open to female-identifying and gender-nonconforming individuals, they've also expanded their education and support to work with LBGTQ communities and youth, and are planning to begin support groups for men in need of a safe space to process current events or just get in touch with their feminine side. "Recently, we've been noticing how people are flocking to us and the space. They need it to figure out what the next steps are for themselves personally, as a community, and even bigger than that," explains Cutler.
It was the need for self-care and support that attracted Sherry Graham to Wyld Womyn's grand opening last spring. A case worker in the social services sector who works with at-risk kids and struggling families, Graham (not her real name) immediately began attending the full moon healing circles as well as other events. "As soon as I heard about them I just felt this joy," says Graham, who says she has a tendency to put off self-care. "I went to my first healing circle with a migraine and I felt so cleansed afterwards." Graham notes that the need for, and effectiveness of, "radical doulaing" isn't limited to life's larger and more monumental moments; it's also a powerful antidote for the stress of daily life, especially for women. "It's so easy to get caught up in an ongoing pattern where you have to keep giving and keep going," she says. "This kind of self-care is important to caregivers, people in human service—anyone who is interacting with other humans. But it's really important for women to come together and share support for one another."
"We see you. We hear you," says Cutler, echoing the underlying message she sends to her clients. "Life can be so much sweeter and so much fuller if we can all support each other."
RESOURCES
Dyami Soloviev Fertilegroundny.com
Wyld Womyn Wyldwomynbeacon.com