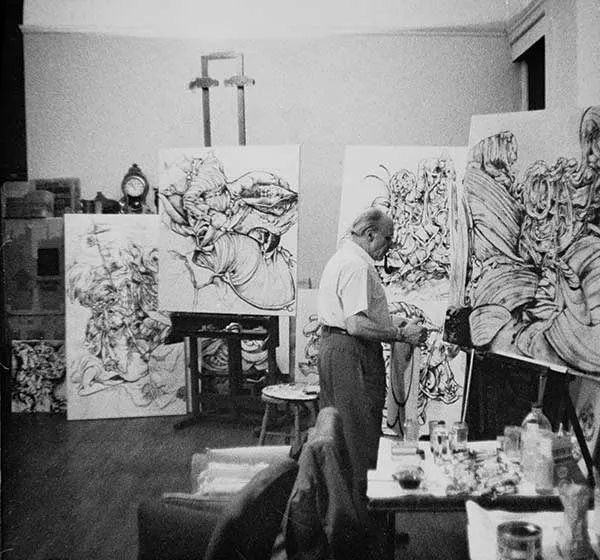 Kurt Seligmann working in his Sugar Loaf studio.
"Surrealism is really another form of alchemy, bringing together a brave encounter with the unconscious and a series of technical skills you had to perfect," explains Daniel Mack of the Seligmann Center of the Arts. Surrealism came to the Hudson Valley in 1940, when Kurt Seligmann bought a dairy farm in Sugar Loaf. In the last two years, this farm has become an art center.
Born in Basel, Switzerland, in 1900, the son of a furniture retailer, Kurt Seligmann showed an aptitude for art as a youth. In 1929 he moved to Paris, where he met Arlette Paraf, granddaughter of the founder of the Wildenstein Gallery. The two married, and in 1937 Seligmann was accepted into the Surrealist movement. The Seligmanns escaped Europe in September, 1939—the first of the Surrealists to arrive in this country. Kurt helped his artistic comrades emigrate, including Andre Breton, founder of the Surrealists. Nonetheless, Breton expelled Seligmann from the group in 1943, after an argument about the Tarot. (Seligmann published The Mirror of Magic, a history of the occult, in 1948.)
Kurt and Arlette bought a 55-acre farm as a rural getaway. They kept geese, turkeys, a few long-haired cows—but mostly they entertained. Among their guests were Max Ernst, Yves Tanguy, Marcel Duchamp, Peggy Guggenheim, and Alexander Calder. Duchamp, in fact, shot five bullets with a .22 rifle into an abandoned chicken coop as a conscious work of art, which he later replicated on the cover of the "First Papers of Surrealism" exhibit in 1942.
After the war, most of the Surrealists returned to Europe—except Seligmann, who found a job teaching printmaking at Brooklyn College. Other artists on the faculty included Ad Reinhardt and Mark Rothko. Seligmann was a modest, dedicated man, who relished the role of mentor. He stayed at the college 16 years.
Seligmann died in 1962, in a bizarre gun accident. While going out one winter morning to shoot squirrels, he slipped on ice and shot himself. (This was the same rifle Duchamp had used.) Seligmann is buried on the farm, as is his wife. Shortly before her death in 1992, Arlette bequeathed the estate to the Orange County Citizens Foundation, a local nonprofit.
The show "Kurt Seligmann at Home"—in the artist's former studio—conveys Seligmann's life story through photographs and art, beginning with snapshots of a four-year-old Kurt sharing a joyful tea party with his sister. Five paintings show Seligmann as a youth experimenting with styles: swift, brutal brushstrokes (The Crime Scene), soft-focus Cubism (Mask). Later, Seligmann's canvases entered High Surrealism: multicolored strangulated creatures with scarves for heads. Most involving is a selection of uncompleted artworks, in a corner. Here we see Seligmann in midthought, groping in darkness toward the next mythic figure.
Developments continue at the fledgling Seligmann Center. The personal library of art critic Robert Fagan, consisting of 500 volumes, was donated to the center recently. A bog garden is being created, as is a sculpture garden, including works by local sculptors Julius Medwin and Michael Jamieson. Robert Whitman, the celebrated theater artist, is hosting an ongoing film series at the center. Pull My Daisy, the short starring Jack Kerouac, was recently screened.
In addition to Seligmann exhibition, "Fantasy Drawings of Chaim Gross," a show of works on paper from 1944 to 1950, will be on view. Gross was a sculptor who relaxed in the evening by sketching fanciful pictures of egrets, knights, African masks, and smiling naked women.
"Kurt Seligmann at Home" and "Fantasy Drawings of Chaim Gross" will remain at the Seligman Center for the Arts until December 31. (845) 469-9459; Occf-ny.org.