Sheena Xayasouk Photography
Kingston's waterfront just got a little tastier. On May 1, Krupa Bros. Pierogi Co. (KBPC) opened their storefront and production facility at 23 West Strand Street, selling handmade pierogi by the dozen.
Launched by twins Kyle and Tyler Krupa in October 2020 as a small-batch, wholesale company, the business idea was shaped by the shifting reality of the pandemic. Restaurant industry veterans, the Krupas lost their jobs when COVID hit. "Both of our lives were flipped upside down," says Tyler Krupa, who moved back to Connecticut to live with family amidst the economic instability of the period. "We spent more time together than we had since we were teenagers. We really bonded and spent a lot of time talking about things."
Sheena Xayasouk Photography
Per the Krupa's grandmother's family recipe, the pirogies are dipped in melted butter before being frozen.
The idea for a pierogi business had always existed in the back of Kyle's mind—ever since he teamed up with his Polish grandmother to make a batch to sell for a class project. "With everything that happened, we thought we might as well take full control of our careers and open a business," Tyler says. "The pandemic changed the way we looked at it. It went from a sit-down eatery or Polish deli to focusing on wholesale production and distribution. If the pandemic kept going, we could still operate because we'd be supplying grocery stores."
The Krupa brothers are fifth-generation Polish-Americans and have been making pierogi since they were kids growing up in Connecticut. Every year for their grandfather's birthday in December, the extended family would gather for a pierogi party, making hundreds for everyone to take home.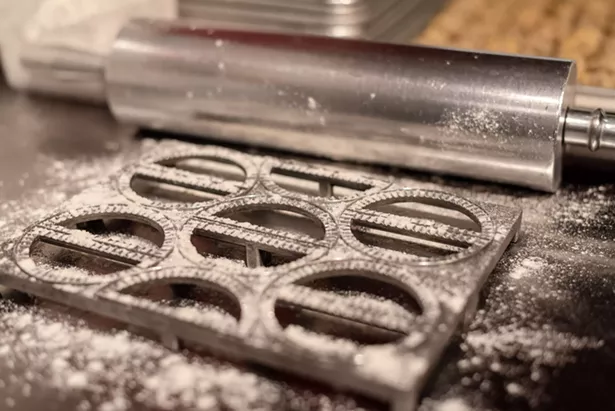 Sheena Xayasouk Photography
Sheena Xayasouk Photography
"There would be a dozen people all around the kitchen table making pierogies—boiling the potatoes, making the filling, pinching the dough," Tyler recalls with fondness. "Whenever someone got sick of cooking, they'd dip their hand in flour, go into the living room and spank someone on the butt. The flour handprint meant you had to go into the kitchen and cook—for as long or as little as you wanted, but you had to go."
The hot, freshly finished pierogies would get tossed in melted butter, loaded onto paper plates by the dozen, and set out on the back porch, where they would freeze in the cold winter air as the family continued its revelry inside. "We always made enough at Christmas to get through Easter," Tyler says. "I remember just having plates and plates and plates stacked up in the freezer at home. And whenever we ran out, it was time to get over to Grammy's and make some more." Aside from being ideal for wholesaling, this method of pot-to-freezer allows the dough to remain supple, so the pierogies taste fresh whenever you get around to thawing them.
Sheena Xayasouk Photography
Tyler and Kyle Krupa in front of their new storefront at 23 West Strand Street, Kingston.
Armed with their grandmother's family recipe and a chunk of money from their grandfather's life insurance policy, in 2020 the brothers set out to open a business that would honor their heritage. They cooked out of a deli on the days it was closed, Tyler driving from Ulster County to Oakville, Connecticut for a marathon two-day push, before returning to New Paltz to run the kitchen at Schatzi's Pub and Bier Garden. Now it's Kyle who is commuting from Connecticut for production days in the newly launched Kingston space.
Both brothers still maintain other jobs alongside Krupa Bros. You might recognize Tyler as a server at Ship to Shore down the street. In fact it is this gig which led to the Kingston Storefront. On Tyler's first day of work, chef/owner Samir Hrichi approached him to offer to sell Krupa Bros pierogies as a special at Ship to Shore. Several months later, Hrichi let Tyler know that a space he owned on West Strand was available for rent.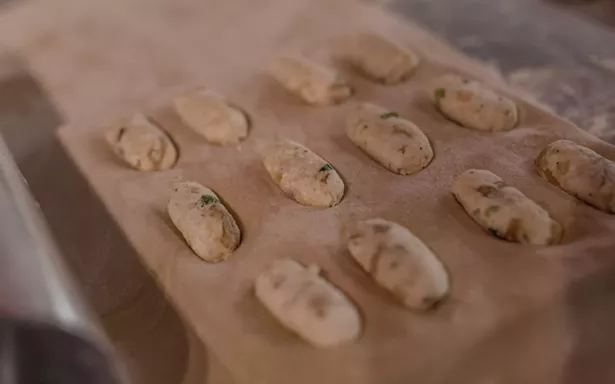 Sheena Xayasouk Photography
"Our big goal was to get our own location—we didn't know where—but we said within two years, we wanted to get our own location without taking out a loan or selling off parts of the business," Tyler says. "It was almost one year to the date of forming the LLC to signing the lease at West Strand."
All the production and packaging is done in the Kingston location—in the neighborhood of 200 to 225 dozen pierogies a week. Krupa Bros. sells six pierogi varieties wholesale, all made with real mashed potatoes. The flavors range from the classic farmer cheese to the gourmet roasted garlic and truffle oil to the Americanized broccoli cheddar. "It's pretty nuts when we're done and we open those freezers and look at all the trays," Tyler says. "Like, holy shit. We talk in dozens but the idea that we're making 2,400 or more pierogi in two or three days is nuts. Our grandparents would lose it."
Sheena Xayasouk Photography
The Krupa Bros Pierogi Co pierogis, all made with real mashed potatoes, come in six flavors: farmer's cheese; caramelized onion; roasted garlic and truffle oil; cheddar; broccoli and cheddar; and jalapeño and cheddar.
The shop is open 9am-2pm Thursday through Saturday, and 9am-4pm Sunday. You can buy pierogi by the dozen for $15 onsite, with a 10 percent discount when you buy four dozen or more. Krupa Bross. Pierogies are also for sale around the corner at Half Moon Rondout Cafe, Damn Good Honey Farm in Kerhonkson, and at the Lake Katrine location of Adams Fairacre Farms as well as several grocery stores in Connecticut.
This summer, they'll also be participating in the weekly Kingston Waterfront Farmers' Market in the plaza in front of the shop, selling warm pierogi and frozen dozens. Eventually the Krupas would like the storefront to stock classic sides like sour cream, sauerkraut, and caramelized onions, but their mantra in all things is "go slow."
"Unfortunately a lot of [our Polish] traditions have been lost over the years," Tyler says. "Pierogi is the only thing that's lasted. If not for my brother and I, that was pretty close to being lost too. So I look at it as picking the torch back up and reigniting it to pass down to generations after us."