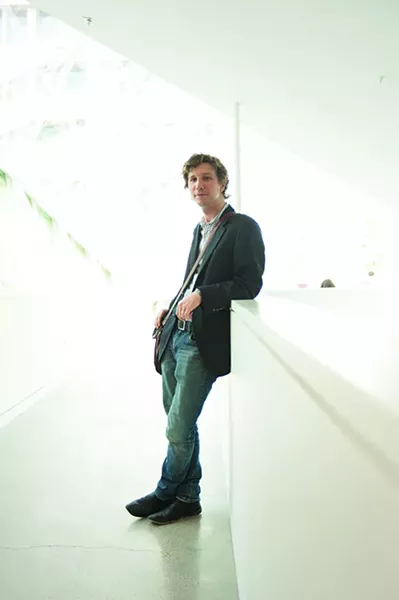 Blame the red notebook.
Kristopher Jansma started writing in grade school in Brookdale, New Jersey. "Every day after recess was 'journal time.' We'd have 10 or 15 minutes to write about what happened that day," says the award-winning novelist. "During recess, my friends and I would enact these elaborate stories with superheroes killing dragons that went on day after day. I somehow became the chronicler who'd write it all down."
When a new fourth-grade teacher complained that they were supposed to write about what really happened, Jansma insisted, "This is what I really did today." The teacher was unconvinced.
"So I led a couple of other students in protest. We took it all the way to the principal," Jansma reports. The upshot? He was allowed to write stories for 10 minutes in a separate red notebook, then switch to a black-and-white composition book to write about what he'd learned in school. Jansma pauses. "Maybe that's where it all started."
Flash forward a couple of decades. The mutable boundary between reality and fiction is a central theme of Jansma's debut novel, The Unchangeable Spots of Leopards (Viking, 2013), and the recess rebel now teaches the class.
"Kristopher Jansma is the first tenure-track professor of creative writing that we've hired in the English department at SUNY New Paltz in more than a decade," says Associate Professor Pauline Uchmanowicz. It's Jansma's first full-time position, after five years as an adjunct at Manhattanville College and SUNY Purchase.
Jansma suggests meeting at the Village Tea Room, which turns out to be closed. So we stroll to nearby CafeTeria, where he heads for the cooler and grabs an orange Mash ("I'm trying to watch my caffeine intake," he explains, sounding sheepish). Clean-cut in a navy blue blazer, oxford shirt, and new jeans, he makes no comment on the cavernous darkened room with its gothy barista and wall of guitars, or the scruffy dog that sniffs his leg as he sits on a black upholstered banquette. He might set a scene here someday. Or he might make one up.
F. Scott Fitzgerald Meets Wes Anderson
The novel he always calls Leopards is the twisty, multilayered tale of an aspiring writer, his arch-competitive friendship with literary wunderkind Julian McGann, and the actress they both love in different ways. Julian is wealthy, gay, and alcoholic; the never-named narrator is none of the above, but has a genius for self-reinvention that carries him from college wannabe to globe-trotting adventurer. Since he's a young male writer, many readers assume he's a stand-in for Jansma. Not.
"I guess I should have expected it, but I really didn't," he says. "I thought everyday readers might conflate the character with my own life, and that would be part of the fun, but I never expected critics to say things like 'in this self-referential novel' or 'semi-autobiographical.' I felt like calling them up and saying, 'How do you know if it is or it isn't? That's the whole point!'"
Leopards does seem genetically engineered to confound critics, who've compared Jansma to everybody from Italo Calvino to Jennifer Egan to Gary Shteyngart; the Village Voice dubbed it "F. Scott Fitzgerald meets Wes Anderson." Its narrator's slippery handle on truth leads to labyrinthine deceptions; facts shift under our feet. From a high-rise hotel in Dubai—a city whose man-made islands and glass-enclosed ski slopes are themselves a sort of fiction—he deconstructs one of his several identities (journalism professor specializing in plagiarism) to chilling effect. Later, he says of the editor he's romancing, "She doesn't understand that the things I've made up are more real to me now than whatever used to be true."
Though Jansma seems far more reliable than his creation, he acknowledges that Leopards contains "some emotional truths." He also borrowed some real-life details. "My character studies writing at a college in the Berkshires. I went to Johns Hopkins, in Baltimore. The places are different, the professors are different—they're not based on actual people—but several Johns Hopkins students have told me they recognized the basement classroom with the clanking radiators."
A story a week
Jansma earned an MFA at Columbia, where one of his classmates was acclaimed novelist Karen Russell (Swamplandia!). There was, he says, no one model for the brilliant and profligate Julian. "But there were many people I looked up to. I would read what they'd written and think, this is great. It made me work harder on my own writing."
During college and graduate school, he started several novels, abandoning one after another. In early 2009, "I decided to stop trying so hard. I thought, maybe I'm not ready to write a novel." Instead, he set himself a challenge: to write a new story every week and post it online for friends in a blog called "40 Stories."
"It was a way of pushing himself to try new things, but at the same time it took some of the pressure off—if a story doesn't work, you move on to the next," he explains. At first the stories he posted were just a few pages long, but "I worked up to where every week I was writing a 10-to-15 page story and putting it up."
Story #13 followed three friends on a brunch date that turns disastrous. Its title? "The Unchangeable Spots of Leopards."
"It's basically chapter three of the novel," says Jansma. "As soon as I finished it, I knew I had stumbled on something. I loved those characters." The following week, he decided to write the story one of them had described, changing the names to cover his tracks. By the end of the year, he'd posted 40 stories as planned, and eight of them were about—or purportedly written by—these three characters.
It took him another year to fit the pieces together. "I knew it had the potential to be a real novel—I could see the connections in my mind," Jansma says. Some of the far-flung locations were places he knew. He chose Raleigh for the narrator's hometown because his sister lives there, and he liked the idea of a boy with a working single mother growing up in the debutante South. "And it was different. Everybody writes about growing up in New Jersey."
Other locations were written from research. Jansma had never seen the Grand Canyon when he set a wedding scene on its rim, but went about six months later on a family vacation; he was pleased to find out he'd described it well.
Something Permanent and Beautiful
He's now hard at work on a new novel, What Can Go Wrong, to be published by Viking in 2015. It's about a group of five young friends living in New York, and how they come together when one finds out she has a serious illness. "I'm trying to capture the experience of my friends in the first 10 years after college, the struggle to make it, especially in the early years when there's no safety net, no idea how to get to where you want to be. We all helped each other—we sort of became a family in New York," he says, adding cheerfully that the manuscript's due in three weeks. "I've been writing on the bus, between classes."
Work seems to energize him. A month after Leopards came out, while he was juggling a book tour and teaching gigs, his son Joshua was born. (Jansma can't resist flashing a Smartphone photo.) His wife, Leah Miller, is an editor at Random House. One recent morning, Jansma dropped their son off at daycare, went to his usual coffee shop to write for a few hours, and opened his e-mail. He'd won the Sherwood Anderson Fiction Award, a $15,000 prize to support work in progress. "Leopards was long-listed for two other prizes and got a PEN/Hemingway nomination, but this was the first time I'd actually won something," he says, beaming.
All in all, Jansma seems to be leading a writer's charmed life. "I almost can't believe it's real," he agrees. "I've spent the past 10 to 12 years chipping away at this. I finally have a stable teaching job at a great college, a book out there that people are enjoying, and another book coming out."
So is he someone else's Julian, the object of awe and envy? Jansma says no. "The friends I moved to the city with in 2003 are all doing great things. There were times when none of us could really see how we'd get off the bottom rung."
The answer seems obvious: talent and lots of hard work. In his recent essay "Don't Write About Writing," Jansma observes, "Life will do its thing, one way or the other—the question is, once it does, will you have been practicing? Can you turn that into something permanent and beautiful? Can you write about what you'll know—as well as the many things you won't? Can you write so well that nobody can tell the difference?"
Professor Jansma's class is in session. Don't forget your red notebook.
Kristopher Jansma will read at SUNY New Paltz Honors Center, College Hall, on 10/20 at 5pm. Admission is free.