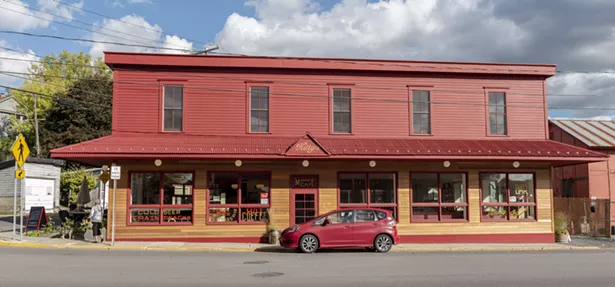 It's Sunday afternoon. A glorious upstate weekend is behind you, and it's back to the grind. You stand around the platform at the Hudson train station wishing you'd remembered to grab a cup of coffee and some munchies for the ride. Your stomach will be grumbling by the time you make it back to your apartment.

While the waterfront city is irrefutably an upstate mecca of dining, this predicament has plagued weekenders arriving to or departing from Hudson since the sandwich shop Relish closed in 2017. Aside from dive bar Half Moon (only open at night) and the upscale bar/restaurant/hotel WM Farmer & Sons, food options have been slim down by the water. But that all changed when Kitty's opened in September.


"That was a huge motivator when I saw this property on this side of town," says Lauren Schaefer, chef and co-owner at Kitty's—part cafe, part market, part sooncoming restaurant and not-so-soon-coming wine store—on the Hudson waterfront. "When we were thinking about what we wanted to do, we thought, 'You can get sandwiches everywhere. What's nice to take on the train? What's nice to grab on the way home? Rolling Grocer had not opened. A lot of people work down here and live on this side of town. There were not that many places for people to grab a coffee on the way to work, or on the way home."
Set on the corner of S Front and Cross streets directly across from the train station, Kitty's is the answer to all commuters' and local residents' prayers: Breakfast sandwiches, yogurt parfaits, hot lunch dishes, fruit cups, coffee, and a market with pantry staples from pasta, milk, and olive oil to fresh fruits and veggies from area farms. "People definitely get their groceries here," says co-owner Anna Morris. "We have everything you need and nothing you don't—that's sort of a joke, but also…"


A lot of fresh market goodies are sourced locally through the Farms2Tables app. There's meat from Kinderhook Farm, frozen and smoked fish from Hudson-based New York Steelhead, dairy products from Hudson Valley Fresh, free-range chicken from Mosner Family Farm. Kitty's has applied to accept food stamps and is in the waiting period. "Especially with everything going right now, to be able to feed your family with local produce and poultry—that's what I think everyone deserves," Schaefer says.
The market and restaurant aspects of the business work in tandem to minimize waste and maximize savings. "When I would go to places like Eataly that were very expensive, I would watch how they moved their produce through the store," Schaefer says. "They are able to close their loop. Just like that, buying in bulk as a restaurant allows us to sell produce at an affordable price. And anything we put out in the market that doesn't sell, we can then buy ourselves and put in our salads. It's extremely low waste."

The food menu is refreshingly minimal. Served till 12pm, the breakfast menu stars an egg-and-cheese on a sesame seed bun for $5. A side of housemade sauerkraut is free, and you can add bacon for $2. You can also get a fruit cup or a parfait. Past noon, chicken is the star of the show. Get a whole bird by itself, a quarter or a half chicken with sides, just the sides, or all of it all together for $10 to $34. The sides are worthwhile and include things like perfectly crispy potatoes cooked in chicken fat and sticky rice with a ginger scallion sauce. (*chef's kiss*)
"I like this really pared-down menu," Schaefer says. "I think a lot about craveability. We're making things really simple, but really well. I love making the same thing over and over. It feels beautiful to me to try and make the perfect egg omelette every time."

Aside from drip coffee ($2-3), you can order from the espresso bar, or get tea iced or hot. Kitty's also features a fresh-pressed juice of the day. "I always say it's like if an Asian grandma opened an American general store," chuckles Schaefer, who is half Korean, half Filipino. "My grandfather had an American diner in San Francisco. It was there for the Filipino community. He served $0.10 coffee, and you could get everything on rice if you wanted, but there was also toast with butter and short-order eggs."
A Phased Opening
Pandemic-permitting, Schaefer and Morris will open the doors to Kitty's restaurant portion come early 2021. While maintaining the friendly, laid back vibes of the cafe/market, the restaurant will serve sit-down dinner with a long bar looking into the open kitchen. "When it's fully finished, we'll take stock of what's going on. We don't want to hire a bunch of people, then not have work for them," Morris says. "We've all worked really hard, and it looks really beautiful. I want to drink a martini at the bar, but I want everyone to stay safe."
And between now and Thanksgiving, expect the debut of the fourth arm of their business Grapefruit, an exclusively natural wine shop. "We want wine with fair labor practices from people who treat the land well and refrain from using pesticides and additives," Schaefer says. While the permanent home for Grapefruit will be in the big red barn next door to Kitty's (along with a maker space, event space and community kitchen), over the next year or so that renovations are being completed, the wine shop will live 127 Warren Street.
"Bel has a really classic palate," Morris says of their wine buyer and partner. "She is also really interested in buying and aging natural wine. So much of this stuff gets drunk right away, but she is trying to make space to tuck stuff away and see how it ages over time. She's already been cellaring on her own, so the wine importers are really excited about that."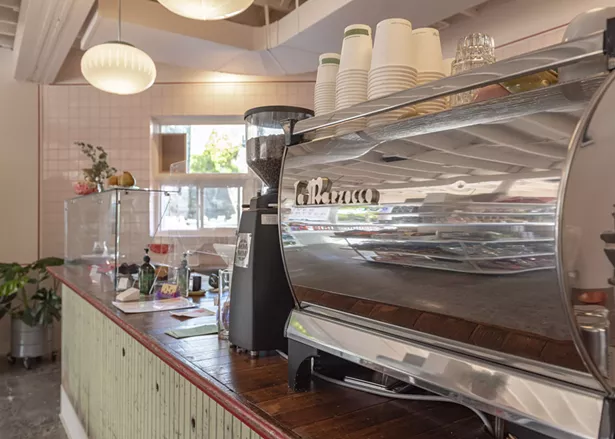 The idea is that the different facets of the business will function together as one low-key, approachable space for the community. Both the corner building Kitty's is housed in and the next-door barn were purchased in 2017 by artist and real estate developer Ben Fain, who has received state funding to rehabilitate the buildings as part of an effort to revitalize the waterfront.
When the barn is done, the already-large, fenced-in patio at Kitty's will be connected to the lot behind the barn so that the whole space functions as one communal outdoor area. "We really want the space to be an extension of Riverfront Park," Schaefer says. "You don't have to buy something to hang out. If you went for a run or a walk with your dog, you can come here after with a book and hang out. Or you can grab lunch and a retail price bottle of wine and sit back there."
Sabrina Eberhard
Co-owner Anna Morris at Kitty's takeout window.
Kitty's with its takeout window, to-go market, and ample al fresco seating is already well suited to pandemic times. They'll add fire pits to keep people comfortable into the brisk early winter days, and their developing their online ordering platform for the grocery section.
"I was living just up the street during quarantine, and I wanted us to be open," Morris says. "I wanted to shop here.
"This is such a special part of town—that's why the fact that there was nothing here was so wild," Schaefer says. "There is a cool community down here—with the antique warehouse and everyone that works there, everyone at Digifab. You've got all the Amtrak people. And the romance of the train and the waterfront. It feels primed."