Christine Ashburn
Sunday Brunch: Crispy Chicken Biscuit (housemade biscuit with crispy chicken, pimento cheese, bacon, and pickled fresno peppers), Sweet Potato & Goat Cheese Frittata(smoked onions, local greens), Steak and Eggs.
Lest you have any reservations that Kitchen Sink Food & Drink is a shi-shi dinner destination in the Hudson Valley, let the black-and-white photograph of the chimpanzee washing dishes ease your worries.
The chimp is one of a handful of kitschy mementos on the walls of this Main Street, Beacon restaurant that opened in August 2015. And they're all about kitchen sinks.
Because, you know, the food itself is everything but ...
"My mom came up with it," says chef/owner Brian Arnoff, proudly. "It was just an idea she had one day. We're gonna do everything."
So it's not subtle. Nor is it very large—a sardine tin with about seven tables and a bar (or takeout counter, depending on the night) filling the black-and-white tile-floored dining room. Walk to the bathroom (or the 25-seat backyard patio, reopening in April) and get a sneak peek at your food preparation. It's knowingly cozy and appropriately Beacon, featuring comfort food with a twist for worldly folks who crave the unexpected.
"At the end of the day it's a very casual environment," says Arnoff, the 29-year-old Poughkeepsie native who started his food-industry journey as a 15-year-old peeling potatoes and cutting onions in the prepared foods department at Adams Fairacre Farms.
Soon Arnoff was pursuing a hospitality management degree at Boston University, and, before graduating in 2009, began working for Barbara Lynch, the second woman to ever win the James Beard Foundation Award for Outstanding Restaurateur. Arnoff soon joined the team that opened her Boston restaurant Sportello, a casual, modern Italian twist on the American diner experience.
There are pieces of Lynch's Sportello—where homemade pastas are served in a counter-service style—in Arnoff's Kitchen Sink.
It's at Sportello—plus three months at the Apicius International School of Hospitality in Florence—where Arnoff found his passion for making pasta. And it shows at Kitchen Sink with his butternut squash lasagna ($21), an artful take on a Sunday dinner favorite. A layer of roasted and pureed squash blends lovingly with a mixture of fontina and homemade ricotta and, for a slightly crunchy and salty thrill, a puree of pecans and onions.
It's perfect comfort food coming from a place of care and peace. Making pasta is like second nature at this point for Arnoff, so now he finds himself focusing on the meditative aspects of the process. Alone in the kitchen at dawn, he'll cook, cut, blanch, and assemble his pastas carefully, his hands, mind, and soul working as one."In some sort of way, it's like my yoga," he says.
After two years working under Lynch and a stop at the Four Seasons in Boston, Arnoff began plotting the next major step. He saw that younger chefs were taking control of their careers earlier, and the classic process of learning under experienced chefs didn't sound as exciting. Plus Arnoff knew what it took to own a small business, as his parents Mike and Lisa Arnoff are president and legal counsel of Arnoff Moving & Storage, the Poughkeepsie company his grandparents helped grow.
So Arnoff decided to become an entrereneur. His idea was to open a macaroni-and-cheese food truck in Washington, DC. "It seemed like a great opportunity to be able to start something on my own, for what was a pretty reasonable amount of startup capital," says Arnoff about his truck, CapMac, the eighth food truck to open in the nation's capital. CapMac was successful and allowed Arnoff to further his passion of crafting pasta while providing a casual atmosphere with unexpected flavor profiles.
Arnoff likes skewing expectations. Take Kitchen Sink's Grandma's Brisket Grilled Cheese ($16), a pleasingly crunchy sandwich of beef brisket, Muenster, Cheddar and onion jam between slices of house-baked challah. It's served with potato chips and a tangy, creamy house-made coleslaw. It's exactly what you might find on an Arnoff food truck, classic American comfort food tweaked with savory, salty, and acidic thrills.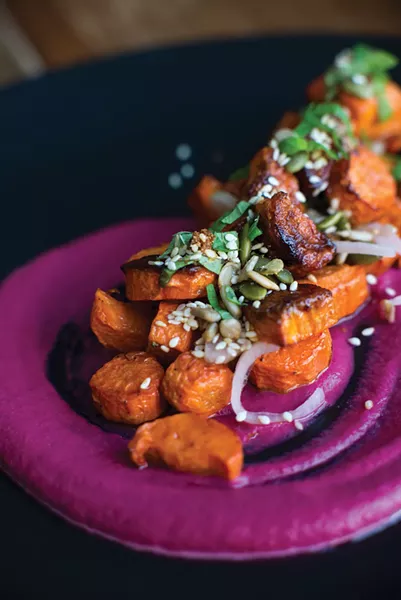 Christine Ashburn
Winter carrots with honey, cilantro, beet, and sesame puree.
But if you're really searching for classic American comfort food, you'll want to visit Kitchen Sink on a Monday night, when Arnoff turns the restaurant into a chicken shack. Walk up to the counter (the bar on other nights) and order your fried chicken dinner ($15).
You'll get chicken marinated for a full day in a buttermilk brine, then fried in cast-iron pans. Served with cornbread, that terrific coleslaw, a pickle, cookie, and—to bring it all back home—macaroni and cheese, it's a great way to pep up a mundane Monday. "It's part of the original concept," says Arnoff, who loves cooking fried chicken for family members and friends. "And the other thing we wanted to do was make a feature on one night that made it affordable for people."