Deemed non-essential businesses, hair salons statewide have been closed since New York on PAUSE went into effect on March 22. While some stylists have rallied behind hashtag movements like #rootforyourstylist, entreating their clients to hang on until they can get their hair colored professionally, others, like Kingston-based Le Shag Beauty & Boutique, have treated COVID-19 as a challenging exercise in innovation.

In the week leading up to the statewide shutdown, Le Shag owner Jen Donovan was holed up in bed with strep, watching TV, and fretting over coronavirus. Little by little, she began pulling her higher-risk employees off the floor, and by March 19, she had closed the salon completely, for the first time in over a decade. But that same day, the salon rolled right into offering curbside color kits, which they announced over Instagram.
"Many people think of going to the salon as a therapeutic thing," Donovan says. "That whole week leading up, I was trying to think about how to make ourselves still available to people who really look forward to seeing us. How could we translate to being online? It seemed like an easy thing."
Le Shag's current "to-go services" include retail sales of hair care and beauty products, video bridal consultations and makeup tutorials, plus the custom coloring kits. These kits have different pricing depending if you are an existing Le Shag client or a new client. "These are free-hand, custom-mixed colors. They're not just one color from the shelf. Each stylist has a color formula they use. It's not something clients can recreate with a box." The color kits come with a pre-recorded online tutorial, or, if clients prefer, they can purchase an additional live Zoom consultation with their stylist for $10 for first 10 minutes and $2 a minute for additional time. Donovan says these live calls are a closer approximation of the "traditional salon experience."
"We've had some women contact us who have been in quarantine in the city, in these tiny apartments not seeing anyone else," she says. "So to be able to talk about beauty and what they're doing at home, that gives us all a little peace of mind and brings us back to our whole beauty maintenance routine."
Le Shag's coloring kits focus on T-zone coverage (root line and around the face) rather than full-head, which Donovan would rather leave to professionals. The kits are mixed in-salon twice a week by a single gloved and masked employee before being set outside on a table for a pre-scheduled contact-free pickup. "It's been really successful," Donovan says. "We've gained a lot of new followers and new clients through this." Le Shag is producing about 20 coloring kits a week for curbside pick-up and mailing, which they'll continue to do until supplies run out. All profits are going to salon employees, who are now out of work.
"Our whole thing as hair stylists is that we are caretakers for our clients," Donovan says. "This is a very difficult time, if you can offer some peace of mind to people, where is the harm? For a lot of people, especially those with grays, it would make things even darker if you are home alone in quarantine and starting to see these things that drive you crazy in your normal life."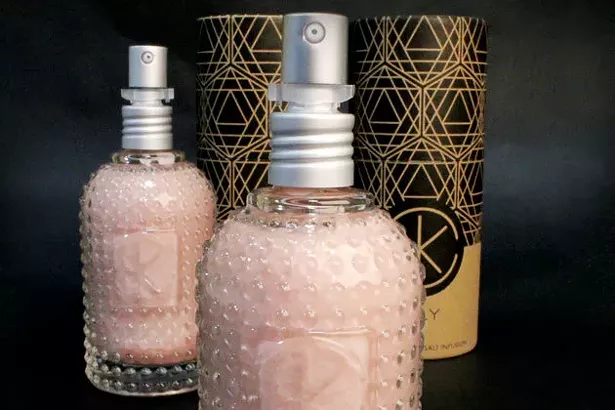 Le Shag is also sells a range of beauty and hair care products in their online shop.
As one of the first salons in the country to roll out these innovative offerings, Donovan was interviewed for industry blog Behindthechair.com as part of an article instructing salon owners how to keep making money during quarantine.
One of their questions was about how this might affect business in the future. Donovan brushes off concerns about making herself obsolete. "I don't believe anyone thinks that by doing their own hair in their bathroom at home during the COVID-19 quarantine that they are replacing a stylist who does this for 15 clients a day," she says with a laugh. "If people are really interested in maintaining a normal beauty routine while in quarantine, it's because they consider it to be of value to them. A person who has those qualities is not going to suddenly want to give up going to the salon."
Since the article was published on Behindthechair.com on March 23, Donovan has received calls from salons across the country asking for support and ideas on how to take their business online. "At Le Shag, our whole thing is to work as a collective and support trade and artists," Donovan says. "When these pandemics happened in the past, there was no internet. And still, some people are really alone. This is a very special thing to be able to offer."