For the price of a sensible car today, in 1977, Taylor and Elizabeth Thompson purchased a dilapidated three-story mansion on West Chestnut Street, embarking on a renovation journey that took two decades and continues to this day.
Newly into what's proved to be an enduring and unusually happy second marriage for both, the Thompsons had a combined brood of six children, buckets of energy, and vision, but at the time, not a whole lot of money. Yet however modest the initial tariff, signing up to salvage the collapsing treasure entailed a daring and prolonged financial commitment.
The house, designed in 1886 by famed architect Calvert Vaux but built a few years later for a wealthy Rondout flour and feed merchant, was uninhabited for a year before the Thompsons bought it. Vandals had ripped out all the copper to sell for scrap.
Moreover, it was still in the original owner's family. Estate executors would not sell the cherished, if run-down, family pile to just anyone, especially since the once-grand property next door had been converted into an apartment complex by means of an aesthetically incongruous modern addition. The Prince of Wales famously likened such building proposals to "a monstrous carbuncle on the face of a much-loved and elegant friend."

All in the Training
Fate siphoned Elizabeth into a design career while resident in Turkey in the `60s, where her first husband, an army officer, was stationed. Her flare with color and form, clever use of materials, and overall ability to get things done commanded attention from the senior officers' wives, who pressed Elizabeth for help with their own abodes. That segue must have been challenging at several levels. When pressed for details, even today the slim, elegant blonde remains discreet, but as the service euphemism goes, the end result was all "just really good training."
Today the Thompsons dwell in a showplace steeped in rich shades of pomegranate, persimmon, and hibiscus. Since 2008, they've twice opened their doors for public tours, and this year, they received a Preservation Award from the Friends of Historic Kingston. But their third-floor bedrooms, computer office, and television room remain strictly off-limits to prying eyes.
From Dismay to Display
When the couple bought 194 West Chestnut, Elizabeth—whose word-of-mouth design enterprise attracted an Upper East Side clientele—had profitably renovated a home in New Paltz, and Taylor's refrigeration-equipment business based in Stone Ridge was beginning to take off.
Although they'd agreed to look for a larger old home to fix up, even the genial and confident Taylor—a native of Tennessee who holds three degrees from Columbia—was dismayed when he first lay eyes on the house. The windows were boarded up; the paint was peeling; and its grounds were wildly overgrown. A dated coal furnace provided winter heat, despite two functional, albeit thermally ornamental, fireplaces.
But Elizabeth had already fallen in love with the home's incredible river views. With contagious enthusiasm, she coaxed pragmatic Taylor into looking beyond the wreckage of its ransacked and sagging condition. He quickly demurred to his wife's judgment. Thirty-five years later, Taylor says the only way he's leaving their now-sumptuous—but graciously livable—spread is "in a box."
"There's no place like the Hudson Valley, and this house has such privacy, but it's nicely located right in the city," Taylor says.
The Thompsons enjoy travel, and although they could today afford a vacation home in a warmer climate, they've decided they don't want or need one.
When I ask where the fresh flowers come from, Elizabeth replies, "Sam's Club. Taylor comes with me. We do all of that sort of thing together."
Calvert Vaux, Kingston, and the Griffiths
With its clean-lined and slightly austere exterior, the clapboard-and-shingle house is typically Vaux in the way it capitalizes on the site's elevated, panoramic view with a rectangular floor plan and second-floor dining and entertaining areas.
A native Londoner who painted watercolors, the architecture prodigy was lured to the US by Andrew Jackson Downing, considered the "father of American landscape architecture." Together, Vaux and Downing designed the grounds around the White House and the Smithsonian.
In 1854, Vaux married Mary McEntee of Kingston; her brother, Jervis McEntee, is a well-regarded Hudson River School landscape painter. Jervis owned a home near 194 West Chestnut that has been torn down.
Three years later, Vaux hired the young Frederick Law Olmsted to help draft what would become New York's Central Park.
Throughout his life, Vaux had a role in the design of numerous public spaces still extant in New York and Brooklyn. Few Vaux houses survive today, notably around Kingston and Newburgh, due to their stately size and shifting upstate real-estate valuations.
The original owner of 194 West Chestnut was Frank Griffiths. His daughter married the founder of a Chicago business school who was also seminal in the establishment of Rotary International. Their daughter Helen inherited the house and lived there until her death. When the Thompsons bought West Chestnut, broken furniture littered the floors and the entrance porch was collapsing. The centerpiece, an ornate Victorian Gothic staircase, was intact.
Updated Traditional
A large house with high ceilings and a great deal of dark wood demands substantial expertise in furniture arrangement in order to achieve a cozy and convivial atmosphere. Color themes and pattern scale must integrate from room to room, all subtly cued to function. This esoteric sensibility is Elizabeth's forte. "I'm never happy with pictures of things on the Internet, I like seeing things in person," the designer says, adding that even today, she always carries personal paint chips and fabric swatches in her (often Chanel) handbags.
Like so many people seemingly born with innate great style, Elizabeth ably mixes stripes with florals, fancy with rustic, and old with new. There is enough space between the unusual groupings to comfortably direct the flow of human traffic.
Elizabeth describes her taste as "updated traditional." At West Chestnut, that translates as animal motifs juxtaposed with suede and silk, and Oriental porcelain adjacent primitive crockery. One even finds donkey bells dating from Elizabeth's years in Turkey.
But this heavily considered finish follows years of structural improvements. The entire house was wired, plumbed, and heated like new construction. The floors were refinished; walls were patched, painted, and in some places papered, as time and money allowed. Often Elizabeth reworked leftovers from her client's design projects. She did an apartment for Ray Walston, who starred in the television series "My Favorite Martian."
Major additions came later, after Taylor sold his business and Elizabeth (mostly) retired. They added a "carriage house" in harmony with the original Vaux exterior, restructured the entrance into a contemporary screened terrace, and converted the basement service portal into the front door.
Home for the Holidays
For Christmas dinner, Elizabeth will make roast beef with Yorkshire pudding, mushroom gravy, a Waldorf salad, and potatoes au gratin. The groceries will be hoisted up to the second-floor kitchen on a dumbwaiter original to the house. There will be a lot of pie.
Over the years, Elizabeth has amassed 10 sets of plates, and she's equally fond of holiday decorations. In addition to their children's families, recently widened by a great-grandchild, the holiday gathering will include Matthew Ling, a Chinese-born graduate of SUNY New Paltz whom Elizabeth and Taylor sponsored as a foreign student. He's now married and a father, and considered part of the extended Thompson clan.
Contemplating the many parties over the years she's put on at home, Elizabeth says that living "in this house has been such a pleasure. The spacious rooms with their high ceilings make entertaining seem meant to be. The Hudson river views are an added bonus and always make us feel thrilled to have found this wonderful property."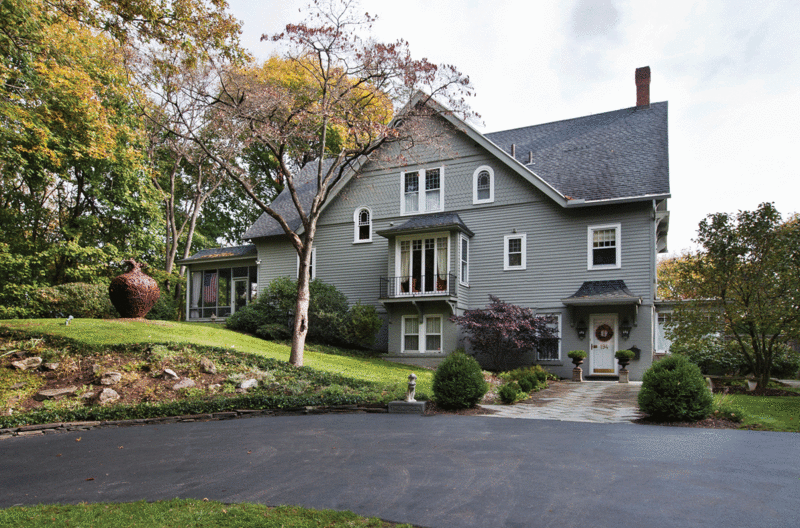 Deborah Degraffenreid
The front entrance at 194 West Chestnut Street was formerly the service entrance. The houses original entrance is where the screened-in porch now stands.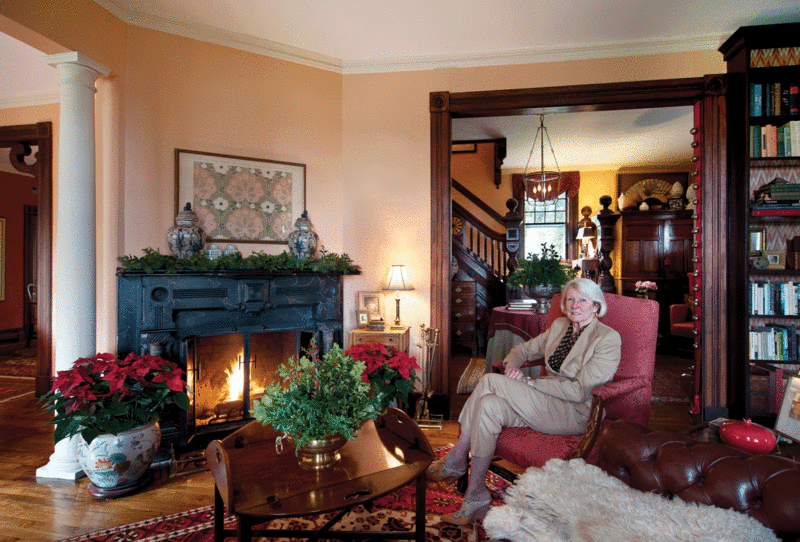 Deborah Degraffenreid
Elizabeth Thompson seated in formal living room where she and her husband Taylor often dine in front of the fireplace. On the couch is a Turkish sheephearder's vest the couple brought back from Turkey.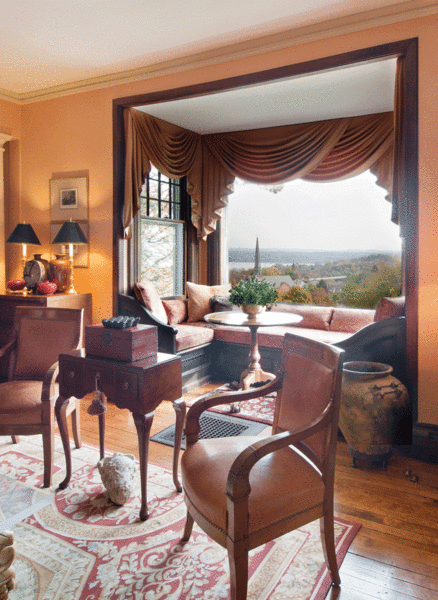 Deborah Degraffenreid
The house's primary living spaces are on the second floor, with high ceilings, oversized spaces, and magnificent views of the Hudson River.
Deborah Degraffenreid
The second-floor kitchen features a Vulcan six-burner stove and an original dumbwaiter so the Taylors don't have to carry up groceries from the ground floor.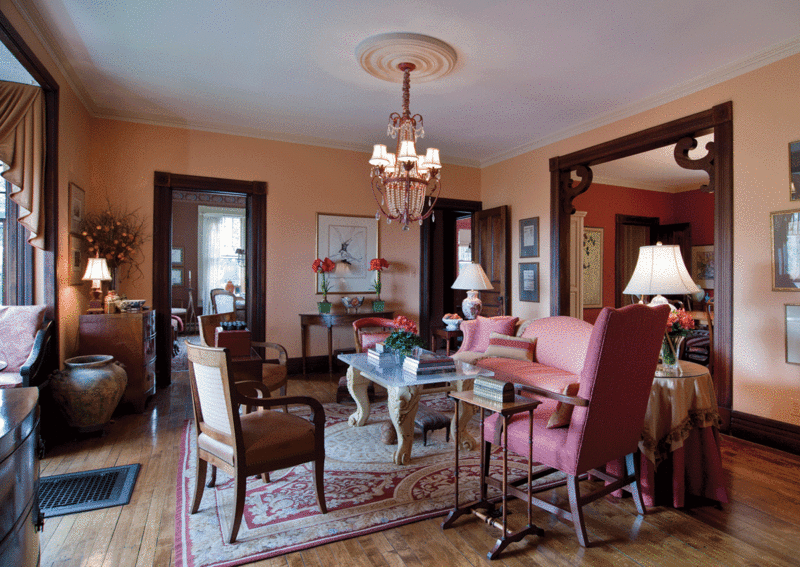 Deborah Degraffenreid
A sitting area off the formal living room on the second floor.