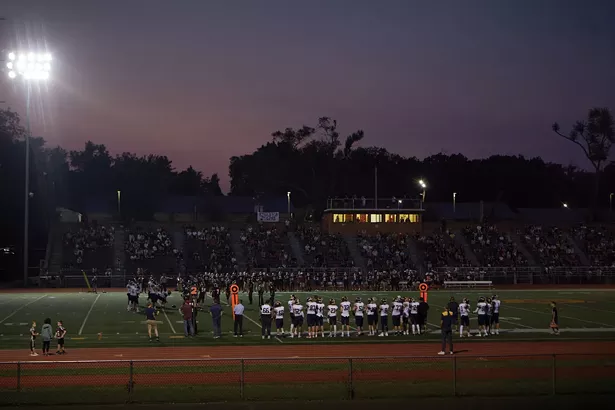 David McIntyre
The Kingston Tigers playing against the Warriors of Our Lady of Lourdes in their home opener at Dietz Stadium on September 9.
It's been 10 months since we've checked the pulse of Kingston in these Community Pages. In the December 2021 issue of Chronogram, contributor Connor Goodwin gave readers a snapshot of the state of the city at that time. The main focus of Goodwin's piece was, unsurprisingly, the issue that has been facing Kingston and other Hudson Valley towns: the housing crisis that began with the rise of gentrification before COVID and was greatly exacerbated by it.

What's been happening in Kingston since then, on the housing front and otherwise? The housing emergency remains ongoing, but, encouragingly, there are some specific actions that have been taken to counteract it. And while some long-time businesses have been lost to the pandemic, new ones have opened. But before we get into these more recent developments, let's have a bit of a recap to bring readers up to where we're at.
29 slides
A Popular Place
Prior to the pandemic, Kingston, with its beatific surroundings, vibrant culture, historic architecture, comparatively affordable property, and, crucially, easy access to New York City via bus line at the New York State Thruway, was already becoming a buzzy hotspot. With the cities of Hudson and Beacon having become more exclusive, Kingston started attracting more attention among downstaters interested in moving to the region. Then COVID kicked in, and that attention became an avalanche. Seemingly in a snap of the fingers, Kingston became, literally, the hottest real estate market in the country.
David McIntyre
The Hudson River Maritime Museum's solar- powered boat Solaris is a floating classroom that takes visitors on tours of the Rondout Creek and out to the Rondout Lighthouse.

Add to this the number of potential dwellings that were being used as Airbnb rentals instead of tenant housing (2,500 listings among 1,880 hosts in Ulster County) and the plight of a huge swath of local tenants who'd, at least temporarily, lost their hospitality and retail jobs (Goodwin cites a loss of 3,300 such jobs) due to the pandemic lockdowns, and you have the recipe for a crisis. Tenants had to leave the area because they weren't earning the income needed to pay their rents, and they couldn't find other apartments in town. Meanwhile, many landlords were raising rents because suddenly vast numbers of newcomers were arriving and in the 8.7-square-mile city space, was at a premium.
With the warmer weather, the easing of workplace COVID guidelines, and a larger, newly arrived customer base, by late summer 2020 many of the lost hospitality-sector jobs had returned—some businesses even increased their staffs to better handle the wave of new transplants. Many of those new arrivals, now able to work remotely, brought their jobs with them to their new homes. Some, however, didn't have a dedicated workspace in their new digs or were between places or were merely staying in town temporarily during the pandemic. And a large number of them found a spot to do their thing at CoWork Kingston, a community coworking facility located within the Senate Garage building in the Stockade District.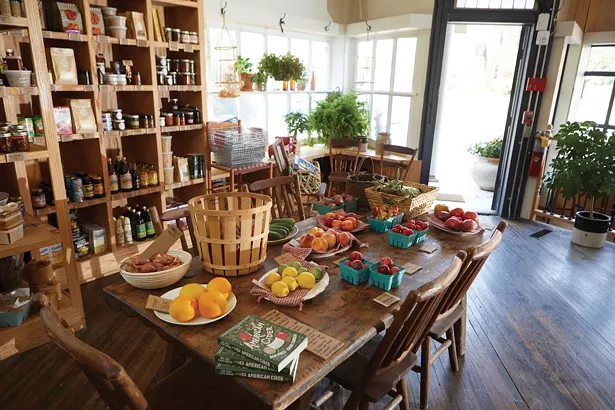 "Our demographic has changed significantly since we first opened in 2018," says Judy Tallerman, who manages CoWork, which is membership-based but also offers drop-in rates. "Before COVID we didn't have as many younger people, but during COVID our clientele expanded. There's a bigger variation in the age span now, with a huge increase of people in their 30s and a lot of people with babies and young kids. When COVID started there were more transient people using the [CoWork] space, but over the summer that calmed down. Most people we see here are more settled in now."
Business to Business
Sadly, several long-time Kingston businesses became casualties of COVID and its attendant retail rent increases under avaricious landlords banking on the Brooklynization of the town; this is especially glaring in the Stockade district, where several shopfronts remain unoccupied after some rents shot up to nearly two-and-a-half times their previous level. Now gone from Uptown are beloved boutique Bop to Tottom, Outdated cafe, Duo restaurant, and others.

David McIntyre
Leslie Woodward, owner of Edenesque nut milks, which is one of 22 finalists in New York State's Grow-NY food and agriculture competition. Three winners will each receive $1 million.
Midtown has lost favorite eatery Pakt and, after 40 years, Town of Ulster institution Zenon's restaurant. Midtown bistro Lunch Nightly has gone to partial hours, and its neighboring bar/comfort food spot/donut operation the Anchor and Hole in the Wall are still open while the building that houses them is for sale. "The goal is to sell the building and move to a smaller location to do breakfast/lunch with donuts, bagels, coffee, and fried chicken," says owner Brandy Walters. "We had hoped to keep [the business] going until the sale, but due to a lack of staffing and supply issues we had to make a hard pivot into the breakfast/lunch setup sooner than we had wanted. The good news is that the customers we do get love the food and keep coming back."
In other good news, there's the crop of new businesses coming in to pick up the mercantile slack elsewhere in the city. These additions include the ethnic eateries Mexico Lindo and Calcutta Kitchen, cafe/food shop Rosie General, clothing outlet Westerlind, farm-to-table takeout/delivery/catering and casual eat-in boite Black-Eyed Suzie's, a designer clothier At Land and soon-to-open wine bars Chleo and Sonder.
David McIntyre
Lenox, aka Ox, outside Ox Caribbean Deli on Broadway.
The biggest business news, though, is that of the doings at the former IBM campus known as Tech City, which is north of central Kingston, in the Town of Ulster area. Since IBM pulled out in the 1990s, the empty site has been an ongoing onus to the city as Ulster County's government and various entities have brainstormed for ways to utilize the sprawling property. In the summer of 2021 it hosted arts events under the name BluePrint, although the incarnation was short-lived.

But in April 2021, Brooklyn lighting manufacturer RBW Studio purchased and soon after moved into one of Tech City's buildings, and last June it was announced that the Ulster County Economic Development Alliance had struck a deal with National Resources, a developer that specializes in repurposing former industrial sites, to manage and convert the facility for new business use. Rechristening the complex iPark 87, National Resources, which has readapted disused sites in Dutchess County and Yonkers, has secured battery maker Zinc8 as a charter tenant.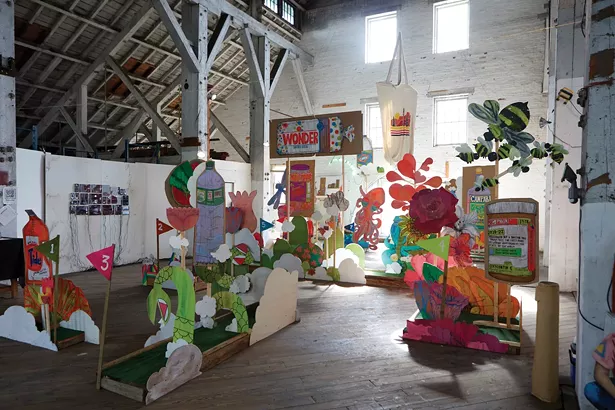 David McIntyre
The installation "Secret Project Robot Country Club" at ArtPort Kingston, housed in the historic Cornell Steamboat Building.
Midtown Lowdown
The former Tech City isn't the only hive of newer business activity. The Fuller Building in Midtown houses a host of creative enterprises, such as photographers Andrew Moore and Kate Sears, knitwear designer Eleven Six, textile maker Rural Modernist, L'Impatience ceramic studio, Sea to Table fishmonger, Heidecker Land Surveying, and the Chronogram Media offices.


Also in the district are R&F Handmade Paints, Bailey Pottery, Lite Brite neon, Workshop Art Fabrication, and Found My Animal pet leash makers. Located in Midtown until March 2022, when it moved into a larger location outside of town on Route 28, is artisanal nut milk maker Edenesque. Owned and operated by Leslie Woodward, Edenesque is one of 22 finalists in New York State's Grow-NY food and agriculture competition, which will award $1 million in prize money to three winners who, according the Grow-NY website, "execute bold plans to grow jobs, connect with local industry partners, and contribute to a thriving upstate economy."
"We started selling at outdoor and farmers' markets in 2014 and bootstrapped ourselves along until we moved into a 600-square-foot space on Cornell Street in 2019," says Woodward. "By November of that year we'd made our first sale to a retail outlet and things just kept expanding from there. We've had a lot of support for our business in Kingston, especially through the Ulster County Economic Development Alliance. [As of this writing] of course we don't know if we'll win [the competition] or not, but in other ways we feel like we're already winners."
Time for Action
The Kingston homebuying gold rush of 2020-2021 seems to have slowed. The market is still desirable, of course, but prices appear to have stabilized and tales of downstate buyers getting into bidding wars and snapping up houses sight unseen are less frequent. Yet despite the lowered competition that has come with the abatement of urban flight and the return of many of the local jobs that had disappeared, the shortage of affordable places to live in hasn't gone away. So, what steps are being taken to address the housing situation?
David McIntyre
Cristopher Livecchi inside his shop World's End Comics
One of them came in May 2022, when Mayor Steve Noble announced that the City of Kingston had increased enforcement of new short-term rental regulations that had been adopted by the Kingston Common Council to create more residential spaces by limiting the number of short-term rentals (STRs, which include Airbnbs) that are permissible in the city. The move amended the definition of "hotel" in the city's zoning code to include short-term rentals so that the definition aligns with the Ulster County definition of "hotel," which includes STRs, and allows for the collection of an occupancy tax from STR owners. Also approved and awaiting implementation is a project to convert the former Ulster County Jail at Golden Hill into 164 livable units, and local social justice advocacy group For the Many recently launched its "Homes Are Not Hotels" campaign and held an informational block party to raise awareness about the issue in September.
The latest action by the city to create more housing, along with supporting historic preservation, economic development, and better enabling street and public space redesigns, is its proposed overhaul of the zoning code. Some areas of Kingston limit housing to single-family units, a practice put in place in the early 1960s that's long been seen by many as being socially and economically discriminatory.
David McIntyre
Jim and Anne Bailey, owners of Bailey Ceramic Supply and Pottery Equipment. The company has been headquartered in Midtown Kingston since 1983
The central change in the new code, which was drafted by outside planning firm Dover, Kohl, and Partners, would make it easier for homeowners in single-family-dwelling-designated areas to add accessory dwelling units on their existing properties (up to six units in most places) and to readapt garages, outbuildings, and basements to become apartments; it would also prohibit new short-term rentals that are not owner-occupied (existing ones that have permits would still be allowed) and eliminate minimum parking requirements.
With the average rent for a one-bedroom in Kingston currently at $1,437, more people wanting to work and live in the area, and little space (or public desire) to erect larger multi-unit apartment buildings within the city limits, most residents seem in favor of the plan. Last month its second draft was opened by the Kingston Common Council to public comments and is expected to pass when it comes up for a vote this fall.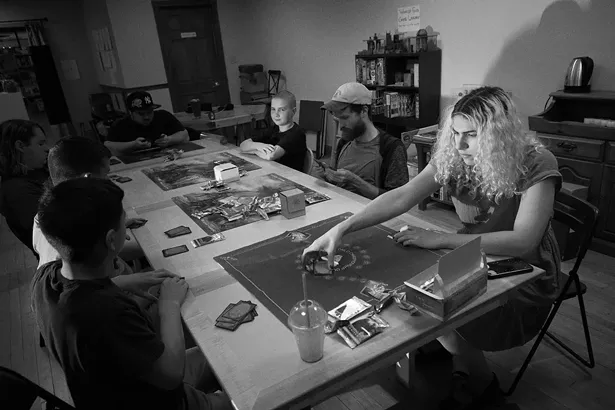 David McIntyre
Claire Cohen running a Magic the Gathering tournament at World's End Comics on Wall Street.
"This will be a big win for tenants," says Bartek Starodaj, the city's director of housing initiatives, about the new code, which also codifies new standards for affordable housing requirements, street and open space design, and other guidelines. "It brings things back to how they were before urban renewal and single-family zoning. It doesn't propose that large government apartment buildings be built; it instead enables adaptive use of existing structures and creating duplexes and triplexes that fit in with our historic architecture while at the same time freeing up more spaces for people to live in."

Starodaj, who served as a founding member of the Kingston City Land Bank before taking office in January, adds that, "[The housing initiative] is always focused on tenant support and supporting access to legal services for tenants. We commissioned a Housing Vacancy Rate Analysis for residential properties with six or more units that were built prior to 1974, and that found a vacancy rate below the five-percent threshold required to declare a state of public emergency requiring the regulation of certain residential rents. So we knew we couldn't be sitting around on [the housing issue] and that we have to take strong action, and the council voted to adopt the New York State Emergency Tenant Protection Act (ETPA)." Kingston is the first upstate city to adopt the ETPA, which freezes rents for certain properties (with increases determined annually by a Rent Guidelines Board) and ensures that residents in covered units receive essential services and some protections from eviction.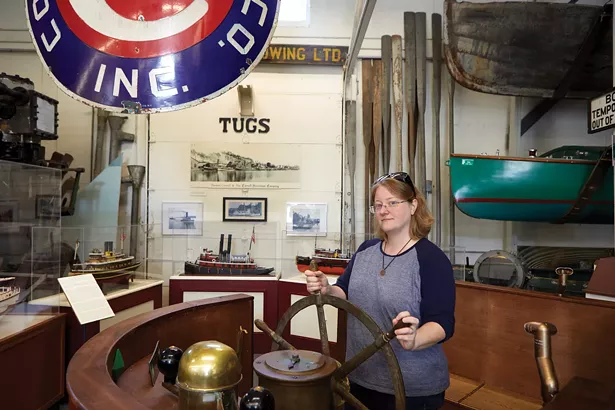 David McIntyre
At the Hudson River Maritime Museum
"We've been making a lot of progress, but it's been slow and we're still behind the eight ball in some ways," says Kingston Ward 9 Alderperson Michele Hirsch, who has been at the forefront on housing issues and was a vocal proponent of the Good Cause Eviction law that was passed by the city earlier this year. "There's still a lot of work to do. Even if we have more apartments in the city, Good Cause still needs to be strengthened."
"The second draft of the new zoning plan includes revisions to the permitted uses within different areas of the city, as well as requirements for affordable housing," Ariel Zangla reported in the Daily Freeman on September 16, the day after a public hearing on the newer draft. "Instead of requiring 10 percent of units in new or renovated buildings with seven or more units to be 'affordable' [monthly rent and utilities not more than 30 percent of the figure representing 80 percent of the county's median income], the new proposal would require 10 percent for projects with between seven and 49 units.
David McIntyre
Mark Haldeman, proprietor of the Wall Street location of Westerlind, an outdoor retailer with locations in Millerton, Great Barrington, and Manhattan.
Any developments with 50 or more units would be required to have 10 percent set aside as affordable, while another 10 percent would be designated for workforce housing." A final draft of the plan is expected to be ready to be voted on in November; after an environmental review process, says Hirsch, it would be enacted.
Looking Up and Ahead
In another bit of welcome Kingston news, the city got it first state park last winter when Governor Kathy Hochul announced the opening of Sojourner Truth State Park. Named for the renowned local abolitionist and suffragist, the new park is situated on more than 500 acres of former industrial property along the Hudson River and opened to the public on Earth Day last April.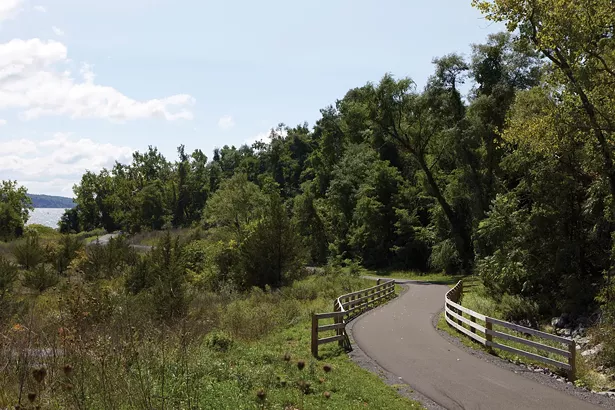 David McIntyre
The Empire State Trail in Sojourner Truth State Park, which opened in April.
"Kingston is at a crossroads now, but this is its second or third renaissance in the last few decades," muses Daily Freeman senior editor Ivan Lajara. "IBM [which closed its Kingston plant in 1994 after nearly 40 years of operation] left, and then you had the first migration here after 9/11. Then, around 2010, you could see the change in Uptown, with more music venues and restaurants opening and more people moving to town. And then with COVID things really took off.

There's a certain social aspect of concern, with a demographic shift and new developments, new people, big investors, and the tension with concerns about displacement. It's a social experiment, and the question becomes 'Is it gonna be a great place for people to live or a place most people can't afford?' It looks nicer now, and I think it's a better place than it used to be. We'll see where the city goes from here. Yes, there are problems. But they're problems that can be addressed. I'm an optimist."