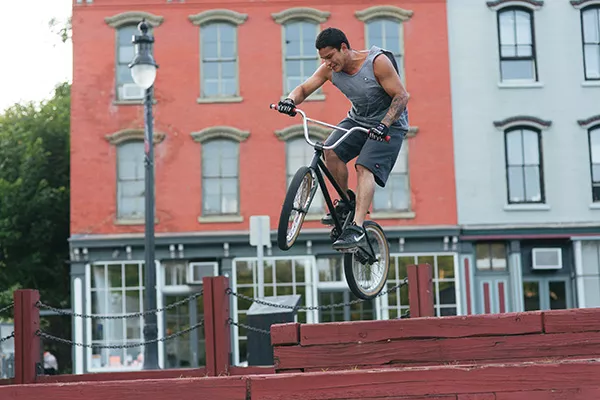 Thomas Smith
A BMX Rider in Kingston
Kingston has all the makings of a fine city: nearly four centuries of dramatic history; well-preserved architecture; remarkably-still-affordable building stock; easy proximity to other Hudson Valley highlights; and an elegant waterfront at the mouth of the Rondout, Esopus, and Wallkill rivers. But since IBM closed its doors in 1995, taking away 7,100 jobs, Kingston's attempts to reinvent itself haven't quite coalesced. Until now.
Kingston's fortunes seem to rise and fall sharply. Its downtown area—"The Strand" in the Rondout district—was settled by the Dutch in 1610. But dealings between the Dutch and the Esopus Indians were uneasy—sometimes even murderous—so uptown's Stockade district was built in 1658 to protect the settlers. Even so, bloodshed continued on the farmland surrounding the stockade for the next century.
Thomas Smith
A selection of bows at Kenco
In 1777, the newly independent New York State capital was moved from Albany to Kingston to protect the seat of government from the British. Ironically, following the Battle of Saratoga, it was Kingston that the humiliated British troops attacked. Legend has it that the British burned Kingston down on October 16, 1777, after being provoked by a cannon firing from the Rondout Creek redoubt, where a trading post was established in 1610, followed by a fort in 1614.
[image-3
The Stockade's 116 houses, 103 barns, two schools, academy, 46 barracks, 17 storehouses and shops, court house, and Dutch church were all torched. But New York State's records were safely smuggled out in the skirt of the wife of Provincial Congress delegate Christopher Tappen. Of the original stone houses, 41 were rebuilt and still stand. Over 50 American Revolutionary soldiers lie buried at the Old Dutch Church.
Kingston was officially formed when Rondout Village merged with the Stockade in the early 1800s, and the mile-long road between them became what's now Broadway. Kingston's abundant bluestone and materials for cement and brickmaking made it an industrial center until the early 1900s, when Portland cement and bluestone won out. Kingston thrived for a time in garmentmaking and small machinery manufacturing, but was floundering when IBM arrived in 1955, bringing with it 40 affluent years.
Thomas Smith
A party boat takes off from Rondout Harbor
Kingston is finally discovering its vibrancy as a small city (population 23,711 in 2012), attracting artists, entrepreneurs, and millennials escaping overpriced big cities. Today Kingston has burgeoning foodie, arts, and music scenes, successful festivals, and new industries including leather goods, fashion, solar-powered boats, handcrafted furniture, and multimedia. It's also acquired a brand of hipness, symbolized by the spray-painted red goats that appeared mysteriously uptown in 2012 (later spreading to Miami Beach, Missouri, Michigan, Canada, and, perhaps not surprisingly, Williamsburg, Brooklyn). Some saw vandalism, others saw graffiti art, but Mayor Shayne Gallo recognized the red goats as a free branding campaign (because of which, the tattooist-and-artist duo responsible for them only got community service). A marketing expert couldn't have come up with a better symbol for Kingston. The goat, after all, is not only stubborn, but also indefatigable—like Kingston's true believers—and red is the most vibrant color there is. These days, it finally looks like—as Kingston native and former Mercury Rev guitarist Adam Snyder titled his 2006 album set in Kingston—this town will get its due after all. Long live the red goat.
8 slides