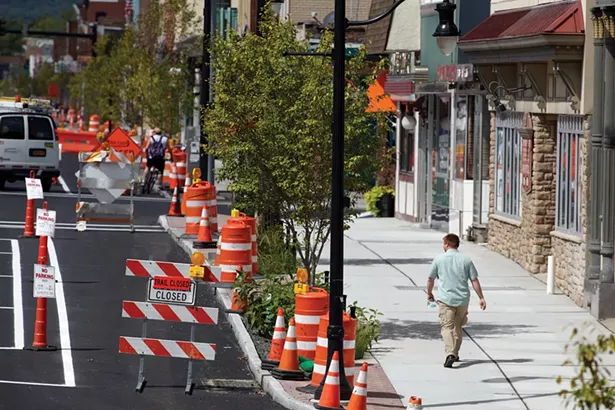 David McIntyre
The city is nearing the end of a long-planned streetscape overhaul that has transformed Broadway, its main thoroughfare, including a dedicated bike lane.
For nearly 300 years, the patch of land at 157 Pine Street in uptown Kingston was a spot you'd likely have gone by and not even noticed. Measuring just under an acre and fronted by a two-story house built in the 1920s, the property has a flat, open back yard dotted with a few trees and carpeted with a lush, green lawn. It's a peaceful place, one that seems to call out for a picnic table or two, along with a grill and a family enjoying a cookout on a late-summer day while their kids giggle and run around on the grass. But there's another calling to be heard at this place. A collective call for justice, honor, and redemption. And it's coming from just a few feet below the surface.
This is the Pine Street African Burial Ground, where, since possibly as early as the 1660s, literally hundreds of unidentified enslaved African people have been interred—without even the basic dignity of a modest headstone. Its unmarked graves never moved, but eventually its use as a cemetery was lost to time. In the 1990s, archaeological digs and studies reawakened public awareness about the site, sparking a collaborative effort by the preservation-minded Kingston Land Trust and Harambee, a local organization dedicated to empowering and educating people of color, to purchase and protect it. In February, its ownership was transferred to Harambee, now headquartered at the location, and on Juneteenth of this year a grand opening celebration was held there.
David McIntyre
Harambee founder Tyrone Wilson with his son Jayden at the Pine Street African Burial Ground.
"There are a lot of emotions that come to me from the burial ground project," says Tyrone Wilson, who founded Harambee in 2019 to help launch Kingston's first African American Festival. (The word harambee is Swahili for "all pull together.") "It really frustrates me that people of color are still fighting for things that we shouldn't have to fight for. But I can't keep quiet about it. I have generations behind me." Wilson, who moved to the area in 2000, wasn't even aware of the location's history himself until the Kingston Land Trust approached him about working together to obtain the site when it went up for auction.
The incentive led to the city's receiving a $50,000 grant from the National Park Service's Underrepresented Community Grant Program to complete the nomination of the burial ground to the National Register of Historic Places and to further document African American history in Kingston. "Our history has not always been truthful, and [the project] is a way to show
true
history," says Wilson, who is also the Human Rights Commissioner of Ulster County. "The people buried here weren't able to live a good life. For towns to erase them is inhuman. I lived in Harlem and Brooklyn before Kingston, so what I see happening here now is the third wave of gentrification that I've lived through."
Home Was Where the Heart Was
Located barely a half mile from the Pine Street burial ground is
Chiz's Heart Street
, two conjoined houses at the corner of Washington Avenue and Main Street. Founded by director Mary "Chiz" Chisholm, the site has, since 2014, served as a group home for homeless, mentally challenged people, housing nearly 70 as of earlier this year. In March, the property's owners, the local Stockade Group, LLC, sold the home to an unnamed LLC (limited liability company), citing the shelter's economic unsustainability as the reason. Chisholm abdicated her position in June, and in July, Nan Potter Realty, the firm that had brokered the sale—which by contract could not be finalized until the premises had been vacated—told the 12 residents then remaining (all waiting to be placed in new homes) that they had to be out by the end of the week. State tenant protection laws and the recent eviction moratorium, however, said otherwise: The already traumatized residents, most of whom want to continue living in the community and were by then receiving emergency food donations, were allowed to stay until September. The situation, which had quickly mobilized housing activists to intercede on behalf of tenants, is indicative of the greater housing crisis that's been taking root in the city since the onset of the pandemic.
David McIntyre
Rashida Tyler of the Real Kingston Tenants Union and Ulster County Coalition for Housing Justice in front of a house on Henry Street owned by the City of Kingston that has been vacant for three years.
"What happened with Chiz's is a line in the sand," says Rashida Tyler of the Real Kingston Tenants Union and Ulster County Coalition for Housing Justice (UCCHJ). "[Chiz's residents] are among the most vulnerable people in the county, and they shouldn't have to go through something like this." Tyler, a third-generation local, cofounded the Kingston Tenants Union in 2018 to advocate for renters' rights but broke away from it to form the Real Kingston Tenants Union in 2019 when she felt that some of the former group's leaders weren't acting in its best interest. The Ulster County Coalition for Housing Justice, she says, "is a rapid housing-response team that branched off from the Real Tenants Union during COVID. It's an anti-displacement learning network, and sometimes we work with the Kingston Emergency Food Collaborative, which also emerged from the pandemic. Right now, in Ulster County there's a housing affordability crisis and, because of Airbnbs and LLCs buying up properties and then holding off on rentals due to COVID, there's a vacancy crisis. Landlords have been raising rents by as much as $500 or $600 [a month]. We're busy helping people every day. As soon as we put out one fire, another one starts."
Tyler cites nonprofit area affordable housing advocacy group RUPCO, and, in the case of Chiz's Heart Street, Ulster County Executive Pat Ryan, as being helpful to the cause. But she's less warm about some of the decisions that have been made at the City Hall level, which she believes favor luxury developers. "We were working with the city on a tiny housing initiative [Kingston received $1 million of funding for the project in January] and were asking for 10 units to be built," Tyler says. "We were having a real battle about that and then the city approved a variance for Hutton Brickyards to build luxury hotel cabins that rent for hundreds of dollars a night. We protested and ended up getting approval for three units, after being told that the initiative didn't meet the zoning requirements. There's always been an economic hierarchy in Kingston. There's a double standard, and we're working against that." Tyler notes that UCCHJ is launching a home-sharing program this winter and is in search of land that could be utilized for temporary housing, as well as assistance with the purchasing and construction of tiny homes.
David McIntyre
A former Honda dealership on Broadway is the future home of the Kingston Food Coop, a multistakeholder cooperative and food justice initiative.
Room at the Inn
Heading west on Route 28, just past the Thruway traffic circle, is the sprawling Quality Inn. Built in 1973, the hotel has suffered from spiraling mismanagement and neglect over the years. In August, RUPCO announced the purchase of the complex and held a press conference with Ryan, who stated that a partnership had been formed between the county, RUPCO, social services organization
Family of Woodstock
, and
Catholic Charities of Ulster, Sullivan, and Orange counties
to renovate and convert the 145-room hotel into a 100-apartment supportive housing site for families and individuals. With a projected spring 2022 opening, the plans for the remade site include transportation, health services (including mental health care), career counseling and job training, childcare, and assistance for finding permanent housing; the former hotel's restaurant will be renovated to serve both residents and the community and will possibly provide job training as well.
The project joins previous large-scale RUPCO-affiliated sites such as Midtown's Lace Mill, Energy Square, and Landmark Place (the latter now under construction). In November 2020, Ulster County announced plans to develop a new neighborhood of mixed-income, intergenerational, and workforce housing on the site of the former county jail at Golden Hill.
David McIntyre
The Kinsley Hotel has erected an elaborate streetside dining structure on the corner of John and Wall Streets.
"Coming out of the pandemic, Ulster County will continue to do everything that we can to assist those most vulnerable among us," says Ryan in a press release concurrent with the initial news of the Quality Inn endeavor. "No one in our community should go homeless, ever. These new apartments, along with all the supportive services, will allow our residents to live with dignity and pride while accessing critical services and support during a difficult time."
But while all of these projects are necessary and welcome, most who are familiar with the housing emergency facing Kingston agree that it's imperative that the effort be stepped up to meet the needs of a rapidly growing, economically challenged population. "What RUPCO and other housing advocacy groups are doing is really good, but right now it's just a drop in the bucket," says Kingston Wire reporter Jesse Smith, an Ulster County resident since 2002. "It adds up to a couple of hundred units, but in the next 20 years Kingston's going to need a couple of thousand units. The housing situation here has been building for a long time, but it really has reached the crisis point now. For most people, if you lose your lease, you're out. You're heading to Troy or Schenectady or somewhere farther out. Finding somewhere else here that you can afford, quickly, is super, super difficult. The good cause eviction law [passed by the state in July] is helping, though. Part of what slows things down with building new housing is that it's at least a five-year process to be able to build new units; if they're not slowed down by opposition, then they are by the process of getting SEQR [State Environmental Quality Review] approval, which is good process but one that's also vulnerable to abuse."
David McIntyre
Frank Marquette of Theater on the Road performing in "Boomtown," a living history tour at the Old Dutch Church.
Another locally related story that's seen news coverage recently is that of the extensive involvement of the NoVo Foundation, the social-change-benefactor organization headed by Peter Buffet, the youngest son of billionaire investor Warren Buffet, and Peter's wife Jennifer. Since 2018, NoVo has been steadily backing a diverse and growing roster of area enterprises that help marginalized groups and employ many: Radio Kingston, the Hudson Valley Farm Hub, the YMCA of Kingston and Ulster County, the Hudson Valley LGBTQ Center, Kingston Food Co-Op, the O+ Festival, People's Place Thrift Store and Food Pantry, multicultural TRANSART center, and others. [Full disclosure: Chronogram Media has received funding from the NoVo Foundation and this writer is a DJ at Radio Kingston.]
An expose on the Tablet magazine website, "What Happens When a Buffet Buys Your Town?"—which relied heavily on quotes from unnamed sources—raised eyebrows when it suggested that Buffet wanted "to turn a county in upstate New York into his personal farm-to-table utopia." (Tablet, a conservative website, has also published articles critical of Warren Buffet.)

David McIntyre
Reporter Jesse Smith in the Kingston Wire office overlooking the intersection of Broadway and Grand Street. Kingston Wire is a subscription-based digital newsroom covering the city that launched in 2020.
The piece also took the organization to task for its close and sometimes blurry ties to local government, an angle that Smith and others feel has merit. "I don't do opinion, I do analysis," says Smith, who also notes that the Kingston Wire, in an arrangement that has ended, received NoVo backing to create local news broadcasts. "But the [lacking level of] transparency with how deeply NoVo is connected to city and county government is hard to get your head around. It opens things up to criticism from those who may not agree with Buffet's or Mayor Noble's visions for Kingston. I haven't seen any moves to create a citizen's advisory board to address that, yet."
(On September 21, the NoVo Foundation announced the launch of a weekly Zoom public conversation series between Peter Buffet, Novo staff members Megan Weiss-Rowe and Martin Kirk, and up to 12 members of the Kingston community per installment. Interested community members can sign up here.
Back to Life
Bluecashew Kitchen Homestead
sits at 37 North Front Street in the Stockade District, the historic heart of Kingston's Uptown neighborhood. Established by co-owners J. T. McKay and Sean Nutley in 2005, the shop, which sells quality kitchen implements and offers cooking workshops, began in High Falls and was located in Rhinebeck for several years before moving over to Kingston. Despite the transitional difficulties Kingston is presently dealing with, Nutley is encouraged by the explosion of art and culture that had been revitalizing life in the city before the pandemic shuttered things for most of last year, and he's happy to see it reemerging now. "I grew up here, the road I lived on as a kid was still a dirt road then," he recalls. "I love the vibe in Kingston, I'm really happy here. I do understand how there are some changes people aren't embracing, but to me it's mostly positive."
David McIntyre
O+ Art Director Lindsey Wolkowicz in front of the mural she recently completed with fellow artist Gaia.
As indicators of the town's return to life, post-lockdown, Nutley points to the third annual StockadeFaire, which he and several collaborators have organized to bring street vendors, live music, food, DJs (including house music legend Tedd Patterson), and other outdoor fun to the neighborhood on October 3; and OMG Art Faire, curated by One Mile Gallery owner Janet Hicks to present artists working in photography, painting, sculpture, mixed media, video, and digital mediums at Wall Street Music Hall (formerly the home of BSP) on October 2 and 3. "We have many new neighbors in the Hudson Valley, COVID refugees from crowded cities. It's time to see if they can dance," says Nutley.
But even with the current comeback of Kingston's commerce and arts, the concern over its housing crisis remains, as it must, at the forefront of the matters now facing the community. "One of the biggest and most interesting aspects [of the crisis] is that the majority of the anonymous LLCs owning properties in Kingston are based outside of the area," says Bard College professor Kwame Holmes, the teacher and director of Urban Abandonment: A Housing Justice Lab. A collaboration between Bard's Environmental and Urban Studies and Human Rights programs and part of its Center for Civic Engagement Engaged Liberal Arts and Sciences.
David McIntyre
Manuel Blas, host of Radio Kingston's alt-Latin show, "La Dosis Perfecta," outside the station's new studios on Broadway.
The study revealed that, of the 481 properties the class studied in one Midtown section, 275 were owned by nonlocal owners, with some nonresident owners as far away as California, Texas, and Florida. Additionally, it determined that 87 of the properties were owned by LLCs, 10 of which shared names with corporate landlords operating in states across the country. Holmes's class also discovered on Craigslist that there while there were 110 vacation rentals available in Kingston, the website had just 43 advertisements for regular long-term rentals available in the city. "These dynamics, the class realized," says the college's website, "illustrate the extent to which land in Kingston is a site of profit extraction, and very little of that capital directly benefits local residents."
"Reform of the zoning code, including a plan for small housing, to increase the housing supply, is needed quickly," Holmes says. "This is true not just in Kingston, but everywhere. There needs to be a reimaging of what property is, so that one's property isn't the only protection against the ravages of capitalism."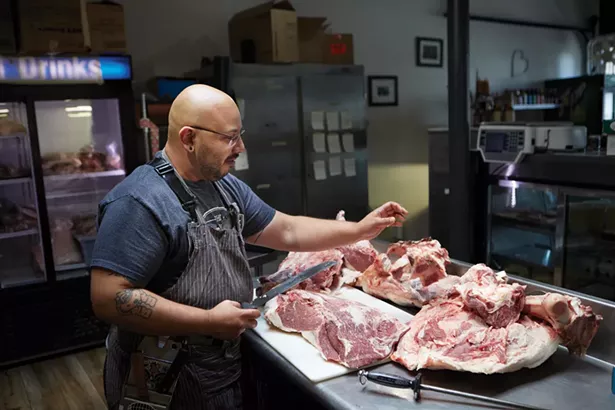 David McIntyre
Stefano Diaz, owner and head butcher of the Meat Wagon, which opened in January of this year on Hasbrouck Avenue.
Such a reimagining is certainly a daunting prospect. And, again, not just in Kingston, but everywhere. Given the findings of the study and the state of things, does Holmes feel that Kingston will be able to solve its problems? "I do, and [the study] is part of doing that," he says, quoting one of the Four Bodhisattva Vows. "'The Buddha way is unattainable; I vow to attain it.'"