From its scenic mountainscapes to its watery vistas, Hudson Valley is known for its spectacular natural beauty, so it's only natural when regional interior designers are inspired by it. But the Hudson Valley's industrial past and present is also essential to its character. Designer Marla Walker wants to reflect the human-made aspect of the area just as much—its bridges, its brickyards, even the town seal of Kingston, New York.
Today, she's channeling all these references into the entryway and entry hall of the Kingston Design Connection Showhouse. The city seal of Kingston depicts the sun peaking over mountains on a Hudson River sloop; partly inspired by its bold color choices, Walker dreamed up a tricolor theme of deep reds, rich blues and verdant greens for the entry hall.
Photo: Deborah DeGraffenreid
Other ideas from Hudson history are expressed via a hand-painted, stenciled motif, a mid-1800s decorative technique given a 2019 twist with the help of Rhinecliff visual artist Ruby Palmer. The motif will be strictly Hudson Valley, celebrating its flora and fauna as well as its artificial aspects.
"Taking inspiration from the local landscape [and] Kingston history, we're creating a custom, contemporary iconography," Walker says of the pair's work together. "[It's] something they used to do during the time the house was built. We're having fun with that as a concept."
Walker channels Kingston's industrial history both in both broad and specific ways. The stairs, painted blue, along with a wave-patterned wallpaper, abstractly represent the Hudson River—first discovered by Henry Hudson as a hub of trade in 1609. In the motif, though, Walker got more detailed, adding local nods like wheatsheaf and crown vetch twisting around brick from the local Hutton Brickyards.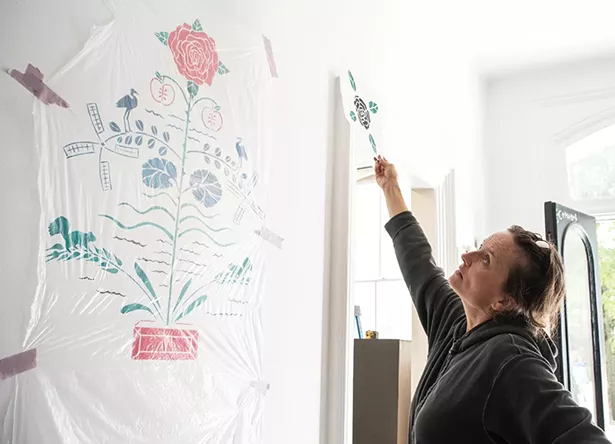 Photo: Deborah DeGraffenreid
From there, Walker worked with a local potter, Christopher Brody, on the fireplace tile to accentuate the theme further. She even thought of adding beaver tails to the motif; the sky was the limit to communicate Hudson imagery.
"You're going to spend some time looking at it and thinking, 'Wow, what's going on here?'" she says of the finished product. "I really wanted to have a space that had a lot of impact right away."
Also important to understanding Walker's work is her strong attraction to flowers; true to the entryway's color scheme, her mood board pops with local flowers in bright red and white. "My grandmother always had fresh flowers in her house — every room," she told Chronogram in 2019. "It just made you feel special, like someone was thinking of you."
But Walker's thoroughline of all these references, from bricks to bridges to beaver tails, is a deep attention to detail. "We might even make a little key for people so they know what everything is," she says regarding the showhouse's opening in October. "It could be a handout or something."
"Because everything is very considered," she continues. "The flowers that we chose. The leaves that we chose. Every single thing is intentional. I'm using wallpaper, paint colors and local art to celebrate the region's industrial past and present."