Catherine Gerry was a set and interiors stylist still finding her voice when she boarded a plane from New York to New Mexico to visit her parents. For reasons she can't remember, Gerry was bumped up to first class that day. And parked in front of her, deep into her 90s, was Georgia O'Keefe, the modernist who put New Mexico on the map of the art world.
Gerry hadn't found many other Southwestern transplants in the city, and she was homesick, so the surprise encounter was especially heartening. "I would tell people where I was from, and they would respond as if I said I was from the moon," she says.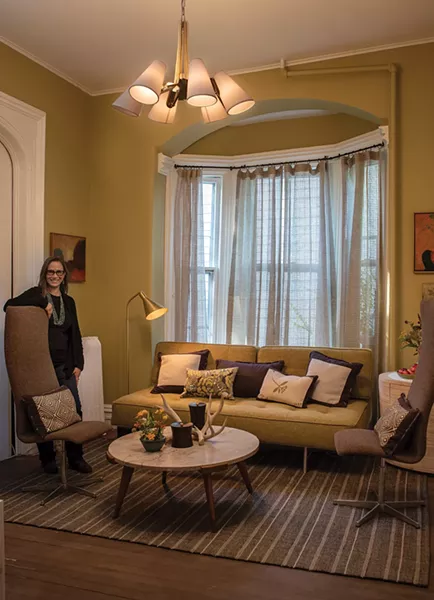 Photo: Deborah DeGraffenreid
"She looked very much like my Hispanic grandmother with her headscarf, Gerry says. "Knowing she was in front of me was exhilarating." The two briefly said hello once they landed in New Mexico, and the meeting stuck with Gerry forever. "Georgia O'Keeffe brought [New Mexico] to people's awareness," she says. "People's curiosity and appreciation of the magical place I came from soothed my soul."
Eventually, the meeting turned out to be a launching pad for Gerry to communicate her New Mexico roots to the interior design world. Known for her deceptively simple paintings of New Mexico cliffs, New York skyscrapers, and everyday objects, O'Keefe masterfully worked with light and shadow, which influenced Gerry's approach to interior design.
"Often it is the bold color choices that grab peoples' attention," she says. "But for me, it is the subtle power of light and texture that informs most of my work."
While her influences shine through, Gerry isn't wholly beholden to them; rather, she's willing to rewrite the rulebook each time in collaboration with clients. "The next and biggest trend does not interest me," she says. "I design for the long-run. My clients invest in their homes; they want my work to last for many years to come."
And as for the old battle between functionality and aesthetics, Gerry sees it as specific to each house. "A bird's plumage is not designed for sheer beauty but for flight, for water resistance," she says. "In everything that exists, function and beauty go hand-in-hand."
Soon, Gerry will bring her 25 years of expertise to the second annual Kingston Design Connection Showhouse in Kingston, October 11-27. Given Gerry's previous work in the Hudson Valley, visitors can expect a mix of modern and traditional decor with a tasteful, signature Southwestern flair.
Gerry is thrilled to share the showhouse with designers from all over the Hudson Valley; in particular, she's ready to show off a selection of special vintage and modern furniture pieces. "Some are newly crafted by Appelson Designworks, [others] by my lovingly selected local artists," she says. "The rest is a surprise."

Whatever surprises Gerry has in store, expect home designs of utmost subtlety and meticulousness. "I have no rule of thumb," she says. "I am a person of detail. I think it's instinctual to me. I look and I see, and I look deeper and I see deeper."