Photo by Anna Sirota
The downtown Kingston waterfront on the Rondout Creek is a popular boating and dining destination, even during a pandemic.
A lot has changed in Kingston—and, indeed, the world at large—since September 2010, when I profiled the Ulster County seat for these Community Pages. I even moved here in 2016 and bought a home, after being priced out of Hudson. Another reason for the move: It felt like Kingston was more proactive about managing its place in the growth that was inevitably coming to the Hudson Valley. Organizations like the Kingston Land Trust and Friends of Historic Kingston are noticeably vocal about preserving the municipality's open spaces and character. Citizens were in dialog with their elected leaders and taking an active role in their town's growth trajectory, a perspective reflected today by Kingston Common Council Majority Leader and Ward 3 Alderman Rennie Scott-Childress. "We have to think of how we consider ourselves a community," says Scott-Childress, who teaches history at SUNY New Paltz. "In the book The New Localism, urban expert Bruce Katz talks about how it's easier to manage growth than decline."
Kingston's evolution over the last decade was generally viewed as positive. Thanks in large part to an influx of cultural entrepreneurs, like music venue BSP, Outdated cafe, Duo Bistro, Elephant Wine Bar, the Stockade Tavern, and others, the historic district, after being mostly boarded up for decades, was coming to life as a vibrant arts, gastronomic, and nightlife destination—a bookend to the already established dining district downtown in the Rondout. The O+ Festival, launched in 2010 as a way to draw attention to the plight of uninsured artists while celebrating their art, would cement the city's reputation as a welcoming place for creatives and foster a visual identity for the city in the dozens of murals its artists painted around town. Midtown, the most economically challenged of Kingston proper's three districts and centered around the revitalized Ulster Performing Arts Center (UPAC) and longstanding creative economy businesses like R&F Handmade Paints and Bailey Pottery, was on the launchpad for the renaissance that would begin just a few years hence, as the Midtown Arts District (MAD) organization boosted the neighborhood with block parties and gallery walks and new businesses began to sprout up in long-vacant storefronts along Broadway.
Naturally, many from New York City and other areas in search of roomier, more affordable digs in a smaller, nearby, picturesque city with a cultural pulse took notice and started trickling up and buying properties.
Malenda and Albert "Sammy" Bartley, owners of Jamaican restaurant Top Taste, which has been featured in Bon Appeitit.
While this was a big win for the local shops, bars, and restaurants that help make Kingston a great place to live, it came during the double threat of a mounting affordable housing shortage that has displaced many lower-income residents and a contracting job market brought on by the rise of internet commerce and an exodus of manufacturing. Like many Hudson Valley towns, Kingston's main industry has long been a seasonal one: hospitality and tourism. Then, in March, COVID hit. Tourism halted. Music venues, bars, and restaurants went into lockdown. And now, sadly, many of them, including some of those mentioned above, have closed permanently.
"It's been constantly changing," says Brandy Walters, owner of The Anchor, a Midtown restaurant and bar. "A lot of people still aren't comfortable with going out to eat, and we get that, so we've been sticking with takeout and deliveries. Luckily, last year, I was starting to see how the market was going toward people ordering food online. In February, just before the quarantine, we put in a new [online] system. It's been hard, but for us it's going all right, considering how things are in general."
The adverse impact to the local business landscape came as the above-mentioned trickle of relocating New Yorkers, now looking to escape the city due to the coronavirus, became a tidal wave, turning Kingston into the town with the fastest-rising real estate prices in the country according to a recent report by the National Association of Realtors.
What does it all mean for the future of Kingston?
A map of Chronogram advertisers in Kingston. Illustration by Kaitlin Van Pelt.
A Place of Displacement?
Like many places in the US, especially the metropolitan areas that surround its major cities, Kingston has a history of being remade by newcomers, and not always to the advantage of its prior inhabitants. Originally populated by people of the Mohican and Esopus tribes, it was colonized by the Dutch in the mid-1600s as Wiltwyck and in 1669 renamed Kingston (for the familial home of then Governor Francis Lovelace) by the encroaching English, who drove the Dutch west to the area around Woodstock. Successive waves of affordable-space-and-greenery-seeking Manhattanites have reshaped the region ever since, perhaps most notably in the 1960s and '70s and again in the early 2000s following 9/11, when housing stock was abundant due to the 1994 shutdown of the local IBM plant (opened in 1956, the facility employed 7,100 people at its 1985 peak) and the loss of other manufacturers.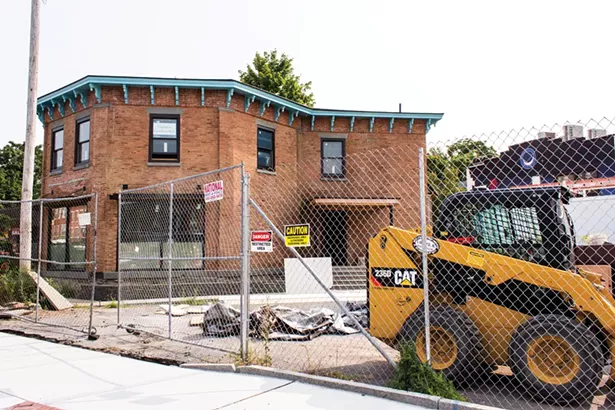 The future home of nonprofit radio station Radio Kingston.
There were several years of false starts, but the latter influx eventually saw the storefronts Uptown, which had long been shuttered due to the IBM closure and the migration of retailers to the adjacent Town of Ulster malls, slowly reborn via the efforts of a new generation of creative and adventurous entrepreneurs. As new residents were attracted by the Uptown revival, the rebirth eventually began spreading and taking root in long-blighted Midtown, where bars and restaurants like Keegan Ales, PAKT, Peace Nation Cafe (a space now occupied by Lunch Nightly), the Beverly, Tubby's, Lis Bar, and Kingston Standard Brewing Co. opened to bring new light and energy to the neighborhood. Not surprisingly, many landlords began raising rents and downstate developers who smelled gold set their sights on Kingston—at a time when jobs were becoming increasingly scarce, largely because of the closings of several big-box-store employers who've been unable to compete with their online rivals.
Which brings us to 2020's COVID-19 tragedy and the subsequent influx of New York-fleeing residents, a development that has exacerbated the conundrum of Kingston's undersized base of affordable housing. Fortunately, there are several efforts underway to counteract the problem—although some of them aren't without controversy.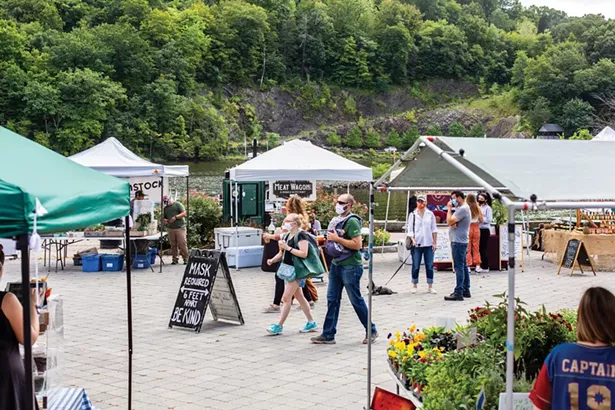 On Sunday afternoons, a farmers' market is held on the waterfront.
Contested Development
Formed in 1981,
RUPCO
(Rural Ulster Preservation Company) is one of the region's leading advocates for and providers of quality affordable housing for positive community development, focusing on historic preservation whenever possible. The organization presently manages and/or owns 22 buildings that encompass 586 affordable housing units that shelter families, artists, and elderly, disabled, and homeless people. Most of RUPCO's apartments have some type of rent subsidy (tenant eligibility is determined by income, family composition, and other criteria). Among the group's flagship facilities are the 1899
Kirkland
building and the former
Stuyvesant Hotel Uptown
, and, in Midtown,
the Lace Mill
(a factory building converted to artists' live/work spaces), Landmark Place (the former Kingston Alms House; now being redeveloped, with additional construction, to provide 66 supportive and affordable homes for seniors age 55 and over), and the newly erected
Energy Square
. The development of Energy Square, a 70,000-square-foot, net-zero-energy building that replaces an abandoned bowling alley with 57 affordable apartments, an elevated urban park, and street-level commercial space housing the nonprofit, low-income-community-serving
Center for Creative Education
and the
Midtown Arts District's
headquarters and gallery, fortuitously complemented Governor Cuomo's 2018 awarding of the Stockade District with a $10 million Downtown Revitalization Initiative. In the planning phase is the Metro, a collaborative project with actor and producer Mary Stuart Masterson's
Stockade Works
firm and social justice organization the
NoVo Foundation
that will transform a Midtown factory/warehouse building into a film and technology center with event and maker spaces.
Energy Square is a 57-unit affordable housing development that opened in June and is home to 79 people.
"The Metro will offer space to disenfranchised people—people of color, women, people needing assistance who grew up in Midtown," explains RUPCO's chief executive officer, Kevin O'Connor, whose organization also has similar projects in Poughkeepsie and Newburgh. "Energy Square is an amazing accomplishment. One of the elderly men from [traditional German choir] the Kingston Maennerchor and Damenchor, who rehearse next door, told me he was interested in living there and asked if the building is ADA-accessible, which it is. That made me feel really good about what we do."
Another project under consideration is the Kingstonian, a proposed $52 million, 2.5-acre, mixed-use development planned to be built in the Uptown at the intersection of Fair and North Front streets. (As part of Kingston's successful Downtown Revitalization Initative bid in 2018, the Kingstonian was allocated more than $3 million dollars in grant money from the state.) The development proposes 143 housing units (129 luxury and 14, according to backers, at market rate), retail space, a 32-room boutique hotel, and an open-air plaza with a pedestrian bridge to nearby Kingston Plaza shopping center. The Kingstonian is also supposed to address the area's parking situation (deemed inadequate by many local retailers) by bringing to the district more parking spaces, though what counts as a "new" parking space is cause for dispute. Uptown retailers generally seem to be in favor of the project for the increased parking and the walk-in customers who will reside in the Kingstonian. And so are potential tenants, as most of the residential units in the site's two planned structures are already spoken for; many of the clients are, says Childress, downsizing retirees, newly coupled families, and New York commuters.
The project has its opponents however. Some of the pushback comes from people who feel that building will ruin the historic district's aesthetic; indeed, the plan, commissioned by a team of local Hudson Valley developers that includes Brad Jordan, who owns Herzog's hardware store and the Kingston Plaza, ran through several publicly rejected renderings before arriving at one that more closely echoes the community's existing architecture. Then there are those who are pushing back for other reasons. Kingston Citizens, a nonpartisan good government group focused on increasing citizen engagement, has confronted both Kingston City Hall and the developers about the planned build. Citing a rush to implement the PILOT (payment in lieu of taxes) agreement without sufficient public disclosure about the details of the deal and studies about the construction's social and economic impacts, the group has done much to raise public awareness about those issues and has been vital in reshaping the plan to positive effect.
"We oppose the Kingstonian because it's not really going to help enough of the people who live here," says Juanita Velazquez Amador of the Kingston Tenants Union, a collective formed in 2018 to advocate for local tenants facing eviction or other housing-related issues. "Rents here have doubled and we need more housing for the working class poor. Yes, there are those 14 'market-rate apartments,' but that rate is still more than people here who make less than $50,000 a year are going to be able to afford."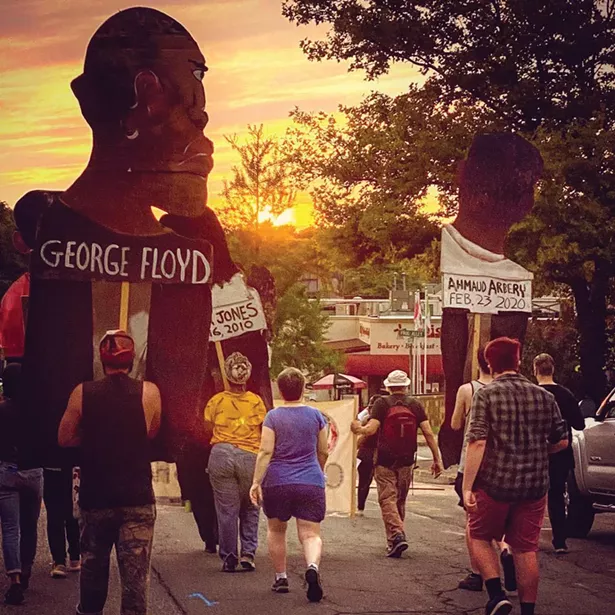 Photo by Nathan Kipe.
Black Lives Matter march moving west on North FrontStreet on September 9.
Kingston Mayor Steve Noble, an early proponent of the Kingstonian who praised those with different feelings about the project for speaking up and says he encourages more open-government dialogue (visit Engagekingston.com), makes the point that while it does, indeed, focus on higher-income tenants, its development comes concurrently with RUPCO's Energy Square and Landmark Place, which are both weighted heavily toward low-income housing. Also a supporter of the pedestrian-friendly Broadway Streetscape project now underway in Midtown, Noble, who studied environmental science and worked for the city's parks and recreation department before being elected in 2015, notes how the COIVD-19 crisis has shined a light on Kingston's changing jobs landscape.
"Our economy has mainly been about hospitality, and once restaurants were allowed to reopen with outdoor seating, we were very focused on being able to get that going and make the process for it as easy as possible," says Noble. "In recent years, we've been seeing how the creative class, and the tech world, have been coming in, like with [software company] Exago opening their offices in Kingston, which is great. We need to grow a larger mix, with not just more jobs in technology but also in manufacturing. We're focused on that change."
Rising Up
There are others in Kingston who are focused on effecting change—direct change—like Rise Up Kingston, which was founded by community organizer Callie Jayne. "Rise Up Kingston is a grassroots organization led by those experiencing racism, classism, and gender oppression on a daily basis," says Jayne, who also hosts "Night Rise" on Radio Kingston (Wednesdays from 10pm to midnight), an outlet whose programming has given a strong and consistent voice to the city's immigrant communities and other underserved groups since going on the air in 2017. "We organize to win, with our collective power, a Kingston economy that meets all of our social and environmental needs. [Rise Up Kingston] formed in March of 2018 to address the systems of oppression that are impacting our communities. Our first focus was police accountability—trying to address the police brutality and misconduct that is happening in our communities. The community developed a platform and legislation and used community organizing to push for changes to our police commission. There are so many amazing organizations doing great work here in Kingston."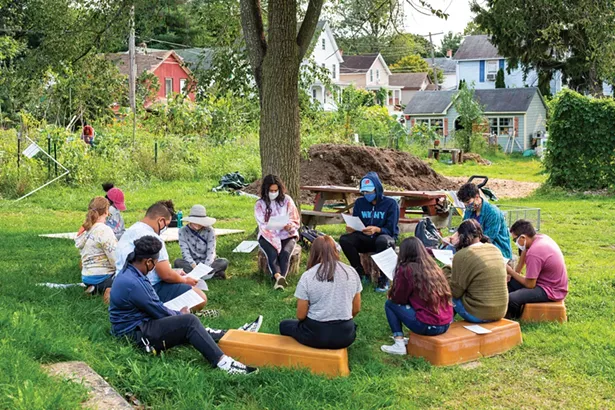 Kingston YMCA Farm Project's Kaycee Wimbish with students on the farm.

Among those other organizations are Nobody Leaves Mid-Hudson, a group started in 2012 originally to fight on behalf of residents against foreclosures and evictions resulting from the 2008 financial crisis. With offices in Poughkeepsie, Newburgh, and Middletown as well as Kingston, the multiracial, intergenerational association centers its work on organizing people around issue-based and electoral campaigns. The bimonthly Wednesday Walks 4 Black Lives in Academy Green Park raise awareness of systematic and structural injustices against Black and Brown people. People's Place, launched in 1972, is a nonprofit, volunteer-run food pantry, thrift store, and community cafe located in Midtown that serves all of Ulster County. Located on John Street in the Stockade district, Family of Kingston is an outgrowth of the 1970-founded Family of Woodstock that provides counseling, family, mental health services, and other assistance to those in need, while the nearby Kingston Emergency Food Collaborative arose last April to work with several local organizations to distribute food to local families.
From a September KEFC press release noting that the local food crisis was far from over: "The KEFC has managed multiple distribution sites, sorted and packed food, scheduled deliveries, handled the food-distribution hotline, conducted outreach calls, scheduled volunteers, and delivered meals and groceries. To date, thanks to the efforts of more than 488 volunteers who donated nearly 13,000 hours of their time, the KEFC has delivered groceries and prepared food that totals over 305,226 meals to more than 4,306 people." Against this backdrop of need, it wasn't surprising that many decried the downstate-linked proprietors of Barnfox, a chain of exclusive "work and retreat clubs" (monthly memberships are $325 to $425), as being hopelessly tone deaf when they announced the upcoming opening of a location in Uptown this summer.
Careful Wishing
It's an old story. People love their towns, it's a big part of why they live in them. They champion them and want to tell everyone how great they are. But, at the same time, they don't want too many people to agree with them, move there, and reshape the town too much. And yet, who can blame others for wanting to move there? If it's good town, or at least a town that looks to be generally improving, as Kingston is, that's a natural and inevitable occurrence. Especially when the town is close to a major metropolitan area like New York City. Especially during a pandemic and an economic crash. But at least it seems like Kingston is having a conversation about the issues at hand: If there's one thing we learned in the wake of the 2016 election, it's that people have to be more engaged with their government and their communities. And it does feel like that engagement is happening in Kingston, which bodes well. And that its people helping are each other along the way.
The Kingston Ceramics Studio at the Shirt Factory hosts classes and workshops for all levels.
"This is a city based on community, love, and respect," says Walters of the Anchor, whose restaurant donated 10 percent of its sales to People's Place and food-delivery effort Project Resilience during the first four months of the quarantine and is looking toward employing out-of-work musicians to offer "singing deliveries" to customers. "We're all in this together and we're starting to do better."
Scott-Childress echoes Walters's focus on its sense of community and again stresses how strengthening that sense is paramount. "We need more ways to get people together with their neighbors to communicate with each other, even if that's through Zoom or other means," says the alderman, adding that the Common Council is developing potential regulations to control the unchecked proliferation of Airbnb properties, a situation that has greatly compounded the housing shortages in many upstate towns. "Solutions arise when people get together in small groups to talk about issues."
Mayor Noble remains unshakably optimistic about the changes his city is going through as he continues to seek input from its citizens on negotiating them. "Kingston has always been a resilient city," he offers. "We've had our ups and downs, and we'll bounce back."
But at the same time, there are those who continue to provide a cautious, and helpful, conscience from other vantage points. And they're making their voices heard. "Unless we're careful how we do things, it's not gonna look like Kingston in a few years," says Amador. "It could go either way."