Peace Park in uptown Kingston.
When it comes to the geography and pace of Ulster County towns, Kingston and Rosendale are about as dissimilar as it gets. Kingston, the county's main hub and the state capital during the Revolutionary War, is a sprawling, highly trafficked urban web of mostly brick buildings and early 20th-century houses. Rosendale, its close neighbor to the south, on the other hand, is far sleepier, a tiny burg that basically consists of the handful of businesses and older homes lining its Main Street. But Kingston and Rosendale have one very big thing in common. In recent years, both have been blabbed about as The Next Hot Town, communities whose long-dormant and underutilized spaces are ripe for reawakening via invasions of artists and new businesses that seemed to never quite arrive. And it appears the two towns are still in synch. But now, thankfully, it's a good synchronicity, as it looks like each of their much-awaited respective renaissances—global economic downturn be damned—are finally here.
Mila and Sonam Zoksang at Vision of Tibet.
Lately, each town has seen a palpably significant infusion of new residents, many of them just the kind of longed-for, elbow room-seeking Downstate artists whose presence spells cultural renewal and fiscal rebirth. And a visit to either spot immediately bears the proof: new or expanded shops, businesses, and galleries; renovated homes and buildings; and, increasingly, active nightlife scenes with newly opened bars, restaurants, and clubs. Perhaps the Kingston-Rosendale rebirth hasn't been as dramatic as that of Hudson, with its wealth of antique dealers and edgier avant-garde underground. But it is, however, far ahead of the troubled saga of, say, Catskill, whose commercial promise remains frustratingly frozen and unfulfilled. So in terms of realized potential, Kingston and Rosendale are in the middle tier—cool and happening, but at the same time comparatively affordable. Not a bad place to be at all.
Soiled Dove in Rosendale.
Beyond a Redoubt
One could say Kingston's three business districts make it feel like three cities in one. Uptown, whose historic eight-block core area, the Stockade, is Kingston's oldest section and features original 17th-century stone buildings (many of its early structures were burned by British troops in an infamous 1777 raid). With its beguiling covered sidewalks, the pedestrian-friendly Stockade is home to art galleries and dozens of interesting shops that include the nationally acclaimed Fleisher's Grass-Fed Organic Meats, a butcher whose locally raised, hormone-free products attract customers from far and wide. The district is also a prime destination for those in search of a fine meal, a relaxing drink, or an evening of entertainment.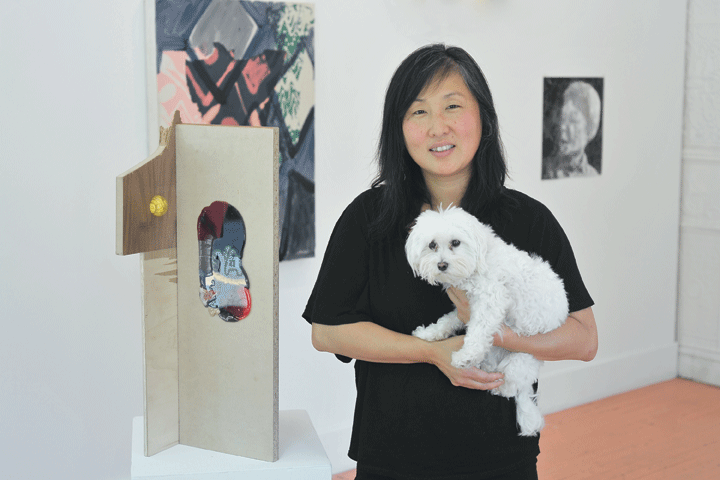 Heige Kim and Bopbo at Roos Arts.
"Uptown has a really good atmosphere, which is why we decided to open here," says Juan Romero, the chef and co-owner of
DUO
, a contemporary American bistro that opened in April in the same John Street space that once housed Gabriel's cafe. "The businesses here generally support each other, which is great, although the neighborhood could use more parking. I like to describe our food as 'free-range berserker'—familiar, but somewhat eclectic and with a modern take on things." (Try the scrambled eggs with spring morels.) Also relatively new is
Yum Yum Noodle Bar
, which specializes in "pan-Asian" street food that's fast, healthy, inexpensive, and, most importantly, delicious. Delicious as well is the cuisine at
Boitson's
, which features American fare with a French twist and boasts a raw bar and outside dining. For a lighter bite and a glass (or two) of vino, there's
Elephant
, a wine bar serving modern European tapas and spinning classic punk and new wave records on the house stereo. Live music, though, is found straight across Wall Street at
Backstage Studio Productions (BSP)
. A bar and performance space that had been long plagued with inconsistent management and spotty booking, the renovated BSP has lately been reenergized by a younger, more motivated and informed staff, and looks to become a viable venue at last. Around the block is the jumping Stockade Tavern, which focuses on quirky, pre-World War I cocktails with offbeat names like the Pink Stag and the Vieux Carre. Uptown visitors with outdoor adventure needs are likewise in luck, as family-owned outfitter Kenco is only a short drive north via Route 28.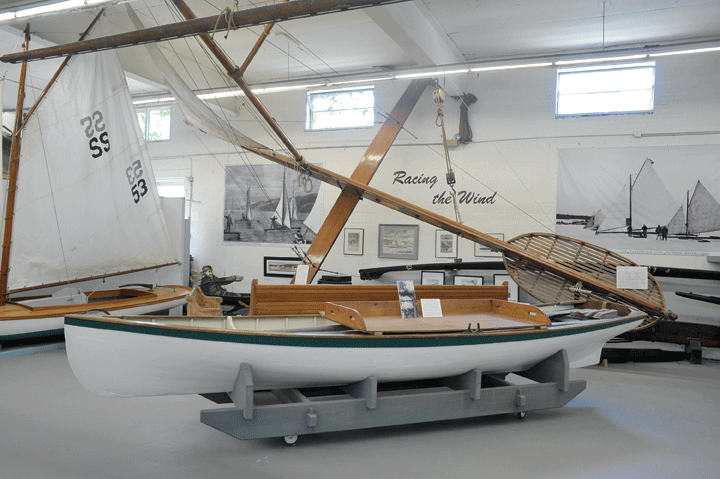 "Racing the Wind" at the Hudson River Maritime Museum.
Midtown has long been Kingston's slowest-changing district. The once proud but now blighted area was still recovering from the 1970s exodus of its main businesses when the recent recession hit, and it continues to be saddled with crime and decay while struggling to fill a surplus of empty storefronts with steady tenants. But Midtown does have its share of success stories. Most notably, there's microbrewery, restaurant, and music venue
Keegan Ales
, the multifaceted
Seven21 Media Center
production facility, and the majestic
Ulster Performing Arts Center (UPAC)
, a restored 1927 vaudeville house that presents movies and top performers in music, dance, comedy, and theater. There's also been another, perhaps less expected, addition to Midtown's densely urban landscape: farms.
Amy Stroope at The 1850 House.
"We grow all the produce that we sell at our farm stand, which is open three days a week," says Jesica Clark, who began the South Pine Street City Farm on a quarter-acre plot in 2010. "We also donate a fourth of everything we raise to [local relief kitchen] the Queens Galley." Thanks to a recently received Sustainable Agriculture Research and Education grant, Clark is also overseeing the construction of a community garden with an innovative compost-heated greenhouse at the close-by YMCA of Kingston and Ulster County, which is expected to be completed at summer's end.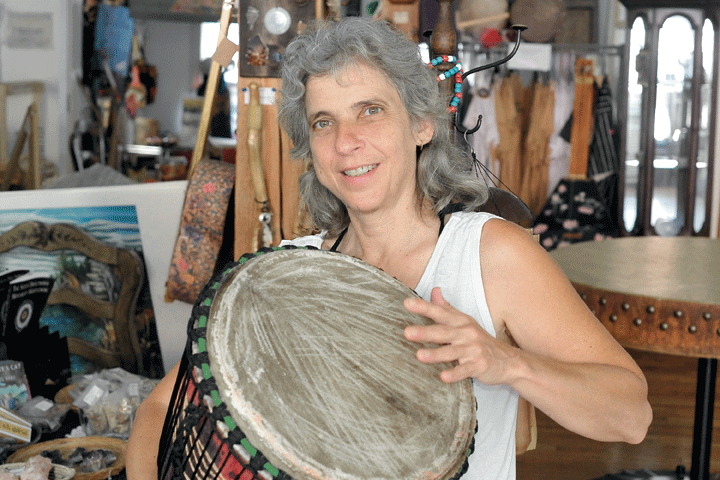 Fre Atlast at TRANSnDANCEnDRUM.
Kingston's third main section is the Rondout, which was a city unto itself until 1872 and lies along the creek that bears its name; according to Marc B. Fried, the author of
The Early History of Kingston and Ulster County, NY
(1975,
Ulster County Historical Society
), the creek was named for the now gone 1662 Dutch fort, or "redoubt." With its two functioning marinas and the
Hudson River Maritime Museum
(the future winter home of the sloop Clearwater and the recipient of funding for the planned Kingston Home Port and Education Center), the Rondout continues to build on its history as a shipping center. The community is a bustling center of dining and nightlife, especially in the warmer months.
"A lot of people come up from the New York area and dock their boats," says Brandy Walters, general manager of restaurant and nightclub the
Rondout Music Lounge
. "We have live music almost every night, and our business has really grown since we opened last year." Other busy nearby boites include Ship to Shore, Mariner's Harbor, and Mahoney's Restaurant and Tap Room.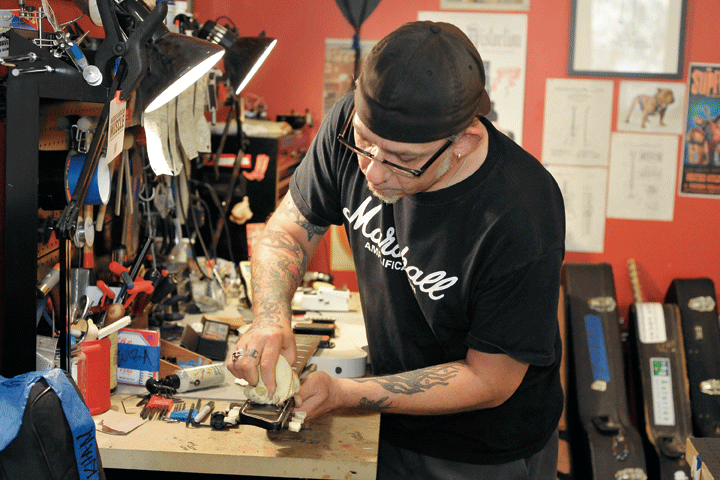 Jeff McCoy at Rosendale Guitars Repair and Restoration.
Built with Cement
The Rondout Creek flows south through Rosendale, which flourished as a producer of commercial cement from the mid 1830s to the early 1970s—much of it used in the construction of the Statue of Liberty's base, the Brooklyn Bridge, the Washington Monument, Grand Central Terminal, and the US Capitol. Towering over the town is Joppenbergh Mountain and a nonfunctioning, 150-foot-high iron railway trestle built in 1895 that's presently being refitted as a Wallkill Valley Rail Trail pedestrian walkway. Rosendale flirted with rebirth during its time as an artist colony in the '70s, but for decades its Main Street (Route 213) remained tumbleweed-ready, despite the comings and goings of many brave but unsuccessful entrepreneurs. Lately, however, there's been an undeniable feeling that the town has at last crested the hump.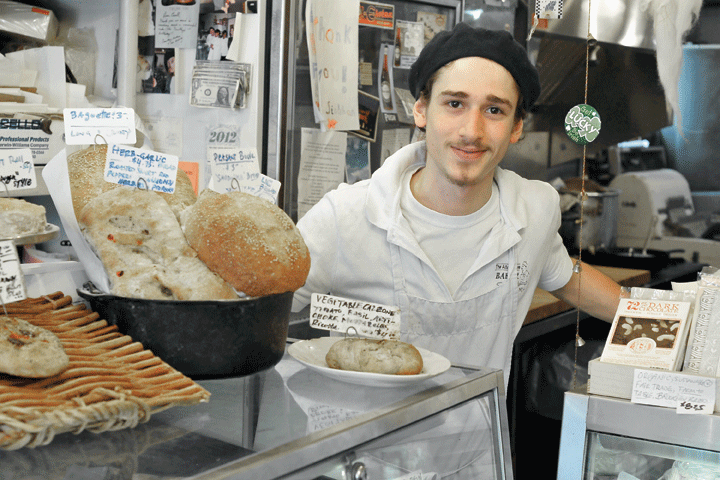 Arian Gutierrez-Zuckerman at Alternative Baker.
"I moved up here from the Lower East Side 10 years ago," says Jeff McCoy, whose
Rosendale Guitars
shop grew from a modest basement operation with a handful of guitars and amps into a full-service store that opened in January. "I love the town. In some ways it reminds me of the East Village." As evidence of Rosendale's current revitalization, he cites the openings of
Guts 'n Glory Ink
tattoo parlor, the renovated
1850 House & Tavern
bed and breakfast inn, and the new Associated Supermarket in Fann's Plaza on Route 32, and mentions news of a pool hall coming in. In addition to McCoy's shop, which repairs and carries new and vintage gear, other expanded businesses include the newly relocated
Rosendale Wine and Spirits
.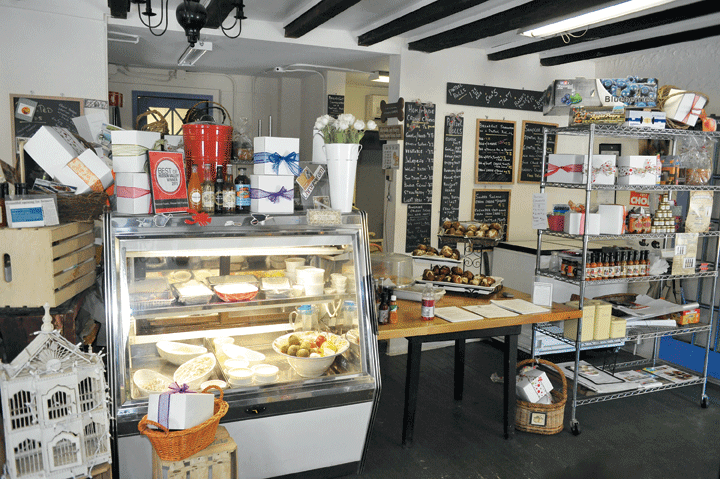 Twisted Foods in Rosendale.
Holding steady are singular village mainstay retailers like
The Big Cheese
, which offers domestic and imported cheeses, paninis, serving ware, and more; the
Alternative Baker
, an artisan bakery specializing in traditional and organic vegan and wheat- and gluten-free goods; and Favata's
Table Rock Tours
, a premier on- and off-road bicycle shop that organizes guided rides around the region. Also continuing to attract locals and visitors to charming Main Street are eating establishments like music meccas and restaurants the
Rosendale Cafe,
Market Market
, and their neighbor,
Bywater Bistro
,
which promises cocktails, wine, and microbrews, stellar cuisine, and creek-side tables. A source of town pride is the renovated and historic Rosendale Theatre, which is run by a volunteer collective and features movies, concerts, and theatrical productions.
Christian Favata at Table Rock Tours & Bicycles.
"Over the years I've heard a lot about [development] that never panned out, but this doesn't feel like another 'Rosendale up and down'" McCoy says. "This time, it feels like it really is happening."