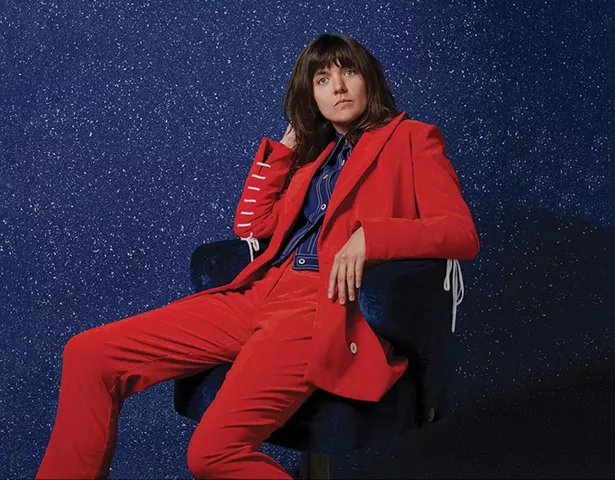 Courtney Barnett plays the Iron Horse January 24.
Acoustic Stardust '20 at Colony
January 11. Local musical and literary luminary Robert Burke Warren organizes sporadic events at
Colony
that pay tribute to some of modern music's greatest songwriters: Johnny Cash, Leonard Cohen, and, here for its second year, this one honoring David Bowie. As the night's name indicates, it's an acoustic-based affair that homes in on the genius running through Bowie's tunes and shows that they translate to any setting, as all truly great songs do. Joining Warren in his glamorous homage to the Thin White Duke will be a stellar band featuring Dennis Yerry, Mark Lerner, Nancy Howell, Ann Osmond, Peter Newell, and Cally Mansfield. (The Felice Brothers return January 3; Mames Babagenush dishes up klezmer January 19.) 7pm. $20-$22. Woodstock.
Bob Mould at Infinity Hall
January 22. A founding member of highly influential 1980s punk kingpins Hüsker Dü and '90s trio Sugar, guitarist and singer Bob Mould for some reason doesn't make it up to our neck of the woods very often—which makes this appearance at
Infinity Hall
a real don't-miss date. As a solo artist Mould has explored traditional singer-songwriter terrain, electronica, and more polished rock realms, but his most recent releases, 2016's
Patch the Sky
and last year's
Sunshine Rock
, find him back in familiar high-octane power-trio mode in a band that also includes drummer John Wurster (Superchunk) and bassist Jason Narducy (Verbow). Critics are hailing this current Mould mode as his best music in decades. (Albert Lee arrives January 24; Martin Sexton sings January 25.) 7pm. $39-$54. Norfolk, Connecticut.
Courtney Barnett at Iron Horse
January 24. Australian singer-songwriter Courtney Barnett's plainspoken style suggests the Outback of her homeland: dry, droll, rambling, and real. The songstress snagged influential ears with her 2015 debut
Sometimes I Sit and Think, and Sometimes I Just Sit
(featuring the single "Avant Gardener") and collaborated with Kurt Vile for 2017's
Lotta Sea Lice
; her 2018 sophomore album,
Tell Me How You Really Feel
, released on her own Milk! Records label, won that year's Australian Recording Industry Association Music Award for Best Rock Album. This intimate date at
Iron Horse Music Hall
is part of Barnett's first-ever solo-acoustic American tour. Hachiku opens. (Patty Larkin performs January 4; Son Little sings January 28.) 7pm. $45, $50. Northampton, Massachusetts.
Hannah Cohen at BSP
January 25. Born in San Francisco to a musical and literary lineage—her father is a jazz drummer, her grandfather was the poet Bertie Rogers—waifish singer-songwriter Hannah Cohen unveiled her third album,
Welcome Home
, last April on the Bella Union label. With touches of folk and contemporary R&B, the dreamy disc was produced by her partner and musical foil Sam Evian and radiates with enough breathy, confessional earnestness to fill the forlorn nights of passed-over high school girls the world over. Evoking her new record's title, the now Woodstock-based artist arrives home, or close enough, anyway, to play a rare local show at
BSP
. (Patch Road pulls in January 11.) 7:30pm. $10, $12. Kingston.
The Levin Brothers Band at Senate Garage
January 25. Led by local legends Tony (bass) and Pete Levin (piano) and featuring Jeff "Siege" Siegel on drums, the Levin Brothers Band revisits the classic 1950s cool jazz stylings that inspired the band's namesake siblings to pursue music as kids. Tony, of course, is well known for his years with King Crimson and Peter Gabriel, and has recorded as well with John Lennon, Pink Floyd, Lou Reed, Alice Cooper, and a long list of other giants; Pete has worked with Miles Davis, Gil Evans, Dave Brubeck, Charles Mingus, Annie Lennox, Jaco Pastorious, Wayne Shorter, and many more. The familial unit floats in for this cozy concert at the Senate Garage presented by consistent promoters
Jazzstock
. 7:30pm. Check website for ticket prices. Kingston.
Irvington Folk Festival
January 31-February 1. New this year to fill the winter music festival void is the Irvington Folk Festival, which brings a full two nights of folk magic to Westchester County's
Irvington Theater
. Headlining the first night is beloved regional tunesmith Dar Williams, supported by Antje Duvekot. Topping the ticket the following night is the Dustbowl Revival, preceded by Joe Crookston, Nora Brown, and Divining Rod. A VIP reception and whiskey tasting presented by Kings County Distillery and a nearby songwriting workshop led by Crookston add to the festivities. See website for schedule and ticket prices. Irvington.