Each summer, the "Artists of the Mohawk Hudson Region" exhibition is the big party on the Capital Region art scene. As with the Salon of the old French Academy, many apply, but only a select group of works is chosen for the show. Artists know that being included in the Regional depends to a certain degree on who the year's juror is, yet while the juror changes each year, and the exhibit moves on a revolving schedule among the area's leading art institutions, many of the same artists are selected again and again. This A-list of talent lends continuity to the exhibit, which is now in its 71st year. At the same time, an ever-changing roster of new names gives the show a feeling of perpetual discovery.This year's Regional is hosted by the Albany International Airport Gallery, which is not only one of the best galleries of its kind in the country, but also, under the leadership of director Sharon Bates, one of the most innovative art venues in the area. Of 191 entrants, 40 were named by juror Leah Douglas, art-program director at the Philadelphia Airport. While most of the artists are from the immediate Mohawk-Hudson region, there are participants from Oneonta, New Paltz, and Johnstown, New York and Holyoke, Massachusetts. The show Douglas chose, while possessing the Regional's usual variety, is perhaps more weighted toward craft than is usual for a contemporary art exhibit—craft, in this sense, meaning the expert use of materials as a defining element of the work. From Ginger Ertz's chandelier made of pipe cleaners to Roger Bisbing's fastidious miniature model-making to Torrence Fish's video installation of himself building his video installation, much of the emphasis is on handwork. This too harkens back to the 19th-century Salon, when painters of unassailable technique ruled the exhibit while the upstart Impressionists were refused entry. There may well be a population of young genius refusés waiting to take over the regional art scene. If there is, no doubt many of them aspire to having their work accepted into a future Regional. For more information: www.albanyairport.com. The exhibit is on view through September 30.
FOUR ARTISTS ON THEIR WORK
Ginger Ertz, Soft Chandelier (pipe cleaners and steel)
I had made a piece a couple years ago for the Brattleboro Museum and Art Center in Vermont, a site-specific piece of a giant eight-foot diameter pipe-cleaner doily. It was for a show of people using unusual material in a neo-Pop spirit. After that show, I wanted the doily to live on in a more three-dimensional way. When I saw in the prospectus for the Regional this year that the airport was requesting proposals for a sculpture to stand in the stairwell I felt this was a great opportunity. I took the original doily and I added a new structure to it. The bottom part is the original piece, and everything above it is the new structure I built to make it a chandelier. The chandelier has about 10,000 pipe cleaners in it, plus or minus. I started using pipe cleaners with a group of Girl Scouts who were working on their sculpture merit badge. The troop leader called and asked me if I could help, and I designed an activity using pipe cleaners, and my hands just fell in love with them. Within a week I ordered my first 10,000. I've been through many tens of thousands since. They're really great because the armature and the surface are contained in one material. There's a kind of humor, hominess, comfiness to them, and because we associate them with kids, a childlike quality too.
Brian Cirmo, Idiot Pool (oil on canvas)
Most of my work is derived from cartoon-based art. When I was in art school, high modern art was an influence. Then my interest in the Sunday funnies started to mix with issues of abstract painting, so I blended the two together. I always wanted to tell stories with the paintings, albeit ambiguous stories. That's always been my enjoyment, to build this other world, this weirder world. This bald head has become my character. Just like Peanuts had Charlie Brown, this character continues through each painting, in different landscapes, different setting. I like the idea of cartoons where the character can keep dying, gets smashed, blown up, torn apart, then comes back in the next story. Idiot Pool began as a bunch of stupid heads floating around in a pool, then it became more grotesque, more violent. They began to feel like soldiers left for dead. I don't have blueprints when I sit down to make my paintings, but the things we live with day-to-day make their way into the work. I'm not a political artist, but in a way it's hard not to be. The painting does feel more political, more about the world of war and politics.
Jim Flosdorf, Cabins II (color photograph)
I found the cabins on Route 20, west of Albany on the way to Sharon Springs. It was late in the afternoon on a March day, a dark overcast day, and we stopped to look. The sun popped out just long enough for me to click my shutter, two frames, no more than 60 seconds. Just long enough for me to get the picture. That was it for the day. I was really taken by the old cabin, and by the grass, the way the winter had pressed the grass into that sweeping shape. I remember there was still ice on the ground. I use a very small point-and-shoot digital camera. It fits into an Altoids box. That's why I bought it, so I can carry it with me all the time in my pocket. The picture is made up of two frames. The software for panoramic pictures is no good, so I blend them together by hand, almost pixel by pixel. I would guess I probably spent four or five hours at the computer working on it. I added an element [to the scene], a cat. The reason I put that cat in is, I like to have some warm-blooded life in the picture. Somehow or other I just prefer to include some living creature in my pictures. I've been doing large photographs for a long time. I've always leaned toward large prints. I really like the viewer to be able to move around inside the photograph. A small photograph you can take in all at once. I'd rather have the viewer wander in the field of the picture. The only constraint I have on the size is what fits in my car.

Michael Oatman, Ventriloquist (mixed media)
I have been fascinated with the Pioneer and Voyager programs at NASA. Three weeks before Pioneer 10 was set to launch in 1972, Carl Sagan, the astronomer of Cosmos fame, and Frank Drake, who started the SETI [Search for Extra-Terrestrial Intelligence] program, decided they were about to miss an incredible opportunity to communicate with other beings, [and so they included] images on board the spacecraft as it explored the solar system. I've been making video work around this for about 10 years, and last fall decided to make a piece that included the audio that was added on Voyager 1 in 1977. The Voyager Golden Disc had earth noises, human sounds, music and recordings of people saying hello or some other greeting in 55 different languages. The music was everything from Beethoven to the Beatles to traditional music from the Congo. You could make the argument that it was the first world-music record, and it was made by NASA scientists. My piece imbeds a six-minute loop of the greetings (which also includes whale sounds) into two gigantic dice. Each speaker is backed by a globe half, the northern and southern hemispheres. The two speakers face each other, effectively making the piece a giant set of earphones. The audio is playing though an iPod connected to a 1973 Pioneer amplifier. That was my little wink to the Pioneer spacecraft.
Timothy Cahill
_Soft Chandelier_, pipe cleaners and steel, Ginger Ertz
Timothy Cahill
_Idiot Pool_, oil on canvas, Brian Cirmo
Timothy Cahill
_Cabins II_, color photograph, Jim Flosdorf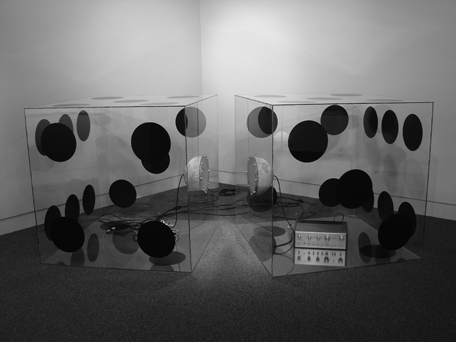 Timothy Cahill
_Ventriloquist_, mixed media, Michael Oatman