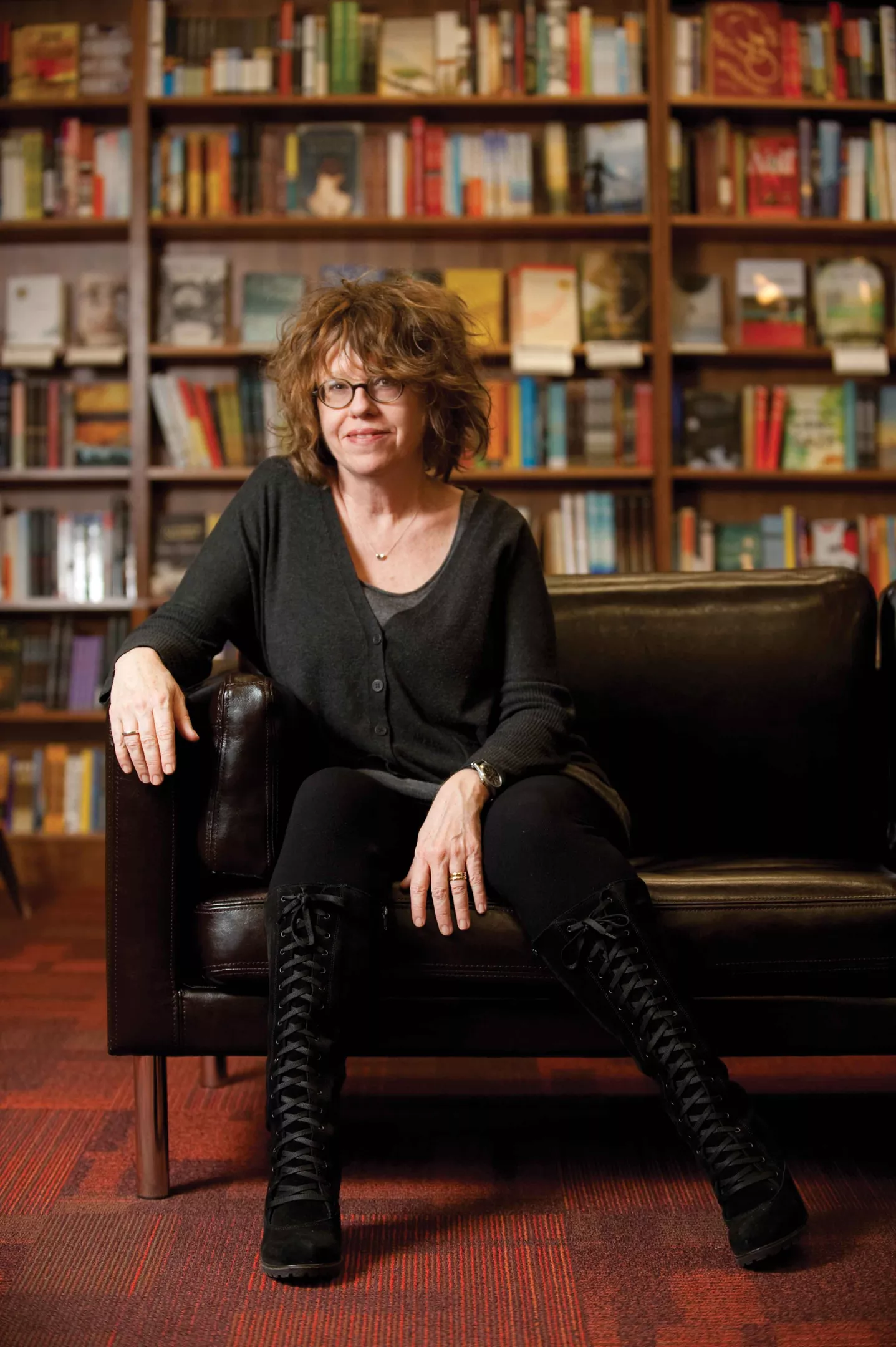 Jennifer May
Judy Blundell at Oblong Books & Music in Rhinebeck.
I don't know how many books I've written or how many pseudonyms I've used. I do know I have a basement full of cartons." Judy Blundell isn't boasting, just stating the facts. After a point it gets hard to keep track.
The prolific author's first titles were teen romances, celebrity bios, and TV tie-ins; the names on their covers were usually chosen by publishers. Under the long-running pseudonym "Jude Watson" (her married surname), the Katonah resident has written dozens of Star Wars spin-offs and two volumes of the
New York Times
bestselling series
The 39 Clues
. A hundred or so books into her career, at her editor's urging, Judy Blundell finally published one under her own name. Her breakthrough teen noir
What I Saw And How I Lied
(Scholastic, 2008) won a National Book Award.
Blundell's not boasting about that, either. Indeed, it's hard to imagine a more down-to-earth superstar. In layered black, with a yellow-and-gray-striped scarf and windblown red hair tumbling over her glasses, she suggests the grownup version of some Molly Ringwald geek princess. She's come to Oblong Books & Music to speak to the Hudson Valley YA Society about her new novel
Strings Attached
(Scholastic, 2011), but before the event, she squeezes in a swift photo session ("There's no way to look 10 years younger or 20 pounds thinner, so I've learned to just give it up") and a warm, rambling chat.
Blundell grew up in a Queens neighborhood much like the one where
What I Saw
opens. Her father was a doctor, her mother a housewife; Judy was the youngest of three. When she was 14, she broke her leg and spent several months in an unwieldy cast. Friends drifted away. "I couldn't hang out at the movies, I was too cumbersome to cut classes with," she explains. "And I was too embarrassed to say I couldn't handle a cafeteria tray and crutches, so I ate out of vending machines for months, which is not as much fun as it sounds."
When the cast came off, former friends started calling again, but she wasn't interested. "I found out my friends weren't really my friends."
"I spent all that long summer alone. I developed a secret life. After midnight, I turned on the TV and watched movies all night: screwball comedies, drawing room comedies, dramas. I became a movie nerd. I fell in love with Cary Grant, idolized Irene Dunne," Blundell says. "That was the summer I became a writer, even though I never wrote a word."
It would be years before she started writing. An ardent reader, she devoured series like Nancy Drew and Trixie Belden. "I loved being able to follow the same characters over many stories." Later, seduced by Jane Austen and Trollope, she switched her college major to English. After graduation, she worked as a slush reader for Simon & Schuster and an editorial assistant at Silhouette. "I was very, very timid at that time," Blundell recalls. "I was such a reader that I felt writers were very much smarter than I was, that there was some magic key I didn't have." Reading unsolicited manuscripts helped boost her confidence, but not by much. "I would think, well, I'm not as good as
this
one, but I'm better than that one. The height of my hubris was to aim for the middle. Isn't that an awful idea? I would never let my daughter do that!"
Eventually, she summoned the courage to write a teen romance, setting herself an achievable goal of one page a day. She submitted her manuscript pseudonymously to an editor she respected, and soon became a writer for hire. "Once I got started, I was very intent on turning in the tightest, best manuscript I could," Blundell says. Her work ethic paid off—she turned out book after book, often under very tight deadlines. (The shortest turnaround she can recall was two weeks.)
Many of her early books were published by Scholastic, where she worked with
Babysitters Club
editor David Levithan on a series set in a galaxy far, far away. The Star Wars Wookiepedia credits "Jude Watson" with 50 titles, including journals for Princess Leia Organa, Queen Amidala, and Darth Maul, along with three Jedi series.
Meanwhile, Levithan worked his way up from associate editor to executive editorial director of Scholastic Fiction. Blundell kept saying, "David, you're
not
giving up Star Wars!" Though "anyone else would have," they had too much fun working together. So when Blundell approached him with something completely different, Levithan didn't hesitate.
What I Saw
's acknowledgments thank the "hunk of heaven" editor "who took me to lunch and listened to a coming-of-age story involving blackmail, adultery, and possible homicide and said, 'Cool!'" In
Strings Attached
, she writes that without his guidance, "I would have been facedown in the clam chowder."
Both books are period pieces.
What I Saw
takes place in 1947, and
Strings Attached
during the McCarthy era. "I'm interested in times on the cusp of a change," says Blundell. "As a writer, you get to go back and capture things: the glamour of the `40s and `50s, the sense of possibility postwar."
Strings Attached
began with the image of "a young girl in the chorus line of a very bad musical, with hardly anyone in the audience. She looks out and sees one face, and is scared." Blundell was fascinated by "kids coming to New York on a bus with fifty dollars in their pockets—aspiring dancers, actors, writers. I thought about how exhilarating and scary it would be for a young girl to operate as an adult in that adult world. You're really out there alone, with no tether."
Kit Corrigan is the most ambitious of performing triplets raised by a Providence widower. Moving to New York to seek her fortune on Broadway, she is taken under the wing of the shadowy, mob-lawyer father of her troubled boyfriend.
"It's a novel about family secrets, a girl who makes a deal with the devil," says Blundell. ("Not literally," she adds quickly; given the predominance of the paranormal in YA, this is hardly a given.) Kit's deal starts with favors and gifts, smoothly escalating to a request to keep tabs on a nightclub patron who winds up dead. Suddenly, even the people she loves can't be trusted.
It's not the first time Blundell's covered this waterfront.
What I Saw and How I Lied
is also a noirish coming-of-age with a body count, set in a sweltering pre-air-conditioning Florida. "It's about lying and how it corrodes relationships," Blundell says. She found it easy to channel a teen point of view. "I'd sit and think, and it would come back very viscerally. I'm very in touch with humiliation, despair, and hubris." She loves writing YA because the emotions are so intense. "I like
drama
."
She also likes doing research and immersing herself in an era. Though she uses the Internet, she prefers to read period newspapers and magazines ordered from Ebay, reveling in the musty smell and vintage ads. She keeps a notebook with research notes on one side and citations on the facing side, so she can revisit her sources as needed.
Judy Blundell's process differs from her alter ego's. "Jude Watson's outlines are much more meticulously planned," she explains. "I'm very aware of cliffhanger chapter endings, the need to keep pages turning." With
What I Saw
, she promised herself that she'd keep going forward no matter what—no going back to rewrite yesterday's work. "I can't say I never cheated, but that was the plan. I had a clear idea of where I was heading–there were plot points I had to hit—but I wanted to leave myself that freedom."
Which does she prefer? "I like going back and forth. I prefer whichever I'm not doing at the time." She laughs, adding, "They both have their challenges."
She's currently orchestrating the story arc for the new
39 Clues
series
Cahills vs. Vespers
, which will incorporate more interactive web content. "I try not to do more than one project at once, but since I became a mom, I can work amid more chaos. 'I must have silence!' is over." Blundell often totes her laptop to nine-year-old daughter Cleo's basketball practice, "just squeezing it in, as every mom learns to do."
She starts writing as soon as she gets out of bed, pausing for breakfast with her family, then returning to work till the schoolbus arrives. "And now I take weekends off," she avers.
Well, sort of—it's Sunday, and she's at an author event. But her audience includes her husband, Katonah Museum director Neil Watson, and Cleo, sporting a rakish fedora. Blundell's face lights up when she sees them. She says her daughter loves
The 39 Clues
, but is too young for
Strings Attached'
s morally compromised universe. "YA as a genre just has its elbows out, pushing in all directions. The boundaries are changing so fast. You can do things you couldn't do five years ago."
Blundell has a new story on the back burner, but she's not ready to discuss it yet. "When an idea comes at you and you know it's a book, it's like fireworks going off in your brain, like the world stops turning. I'm afraid of it, I can't even look—stay
away
from me, I'm not ready yet! Then I start to sneak looks at it."
Is it set in the past? Judy Blundell isn't saying. But for the noir-minded, she offers a clue. "I think it's really fun to write for teens who don't have cell phones. If you get into trouble, there's no one to text."