Photo by Shannon Greer
Artist Reggie Madison's work will be shown as part of "Jewel the Wound"
As the coronavirus pandemic caused businesses across the country to shutter, storefronts in cities like New York City and San Francisco provided artists with a new type of canvas: plywood. The boarded-up windows offered space for messages of hope at the height of the pandemic and called out rising inequality, police brutality, and systemic racism after the deaths of Breonna Taylor and George Floyd.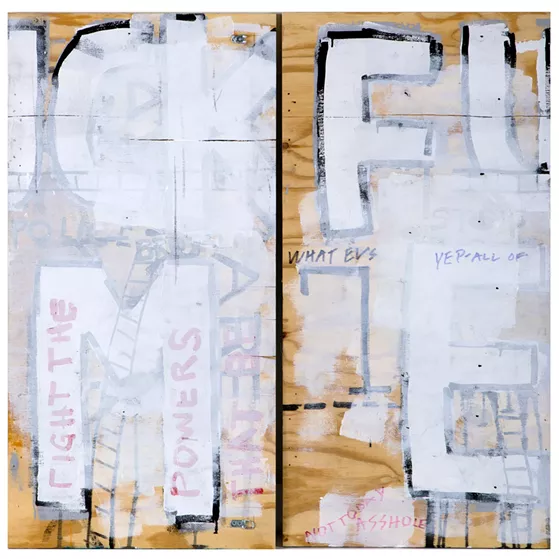 Photo by David McIntyre
Art by Pauline DeCArmo
"Plywood is the canvas of the movement," says Myron Polenberg, whose work on plywood will be exhibited alongside those of over 25 other Hudson Valley artists as part of the exhibition "Jewel the Wound."

The group show, which runs October 3-November 6, will be presented in-person at the Hudson Milliner Art Salon and virtually at Hudson Art Fair, an online gallery created at the beginning of the pandemic for collectors and art-lovers to view and purchase artwork directly from Hudson's artists and in support of local charities.
Photo by David McIntyre
Art by Michael Larry Simpson
According to artist and Hudson Art Fair founder David McIntyre, "The title 'Jewel the Wound' refers to the unique ability of art and artists to illuminate injustice, societal wrongs, and trauma. Just as we jeweled the wounds of 9-11 by shining lights in the sky, we are jeweling the wounds of police brutality and systemic racism, converting them into beacons for change and transformation."
Photo by Shannon Greer
Artist Charlotta Janssen with her entry for "Jewel the Wound"
The show brings together a diverse group of world-class, emerging, and underrepresented artists, including: Tschabalala Self, Huê Thi, Michele Quan, Myron Polenberg, Chris Freeman, Scout Pines aka Brian Bruno, Lucy Welch, Baju Wijono, Ife Cobbins, Charlotta Janssen, Chiarra Hughes, George Spencer, Pauline Decarmo, Ntchota Badila, Louise Smith, Tom McGill, Sienna Reid, Jane Ehrlich, Shannon Greer, David McIntyre, Jessica Willis, Gail Peachin, Andre Juste, Jeremy Bullis, Reggie Madison, Michael Larry Simpson, David Konigsberg, and Terence Mulligan.
Photo by David McIntyre
Art by Jessica Willis
The show is supported by the City of Hudson Tourism Board and at least 25 percent of each work sold will be donated to local and regional organizations fighting racial, social, and environmental injustice. The opening reception for "Jewel the Wound" will be held at the Hudson Milliner Art Salon on Saturday, October 3 from 5-8pm.