There's a thriving community where arts colonies, academia and DIY crafts scenes meet. It's here that established jewelry artists with international reputations can be found alongside entrepreneurs who offer a personalized buying experience. And the Hudson Valley location proves pivotal.
Franco Vogt
Select rings by Adel Chefridi, modeled by Anni Kruerger
"I was in the middle of the city, but I'm more productive here," says Adel Chefridi, whose jewelry is available in more than 75 stores and galleries in the US, including the Sundance Catalog and Clouds in Woodstock. With his bustling studio in the woods just a short walk from the heart of Woodstock, Chefridi can focus and feed his creativity. His Shimmer gold wedding band won the NICHE Award for 2014, a prestigious honor in a competition crowded with entries. Raised on the Mediterranean coast, where he combed the beaches for ancient mosaic tiles of stone and glass worn for thousands of years by history and the sea, Chefridi's multicultural sensibility informs his designs. Sourcing recycled gold and natural stones from all over the world, he knows that jewelry is an emotional purchase and wants his to be part of a larger positive engagement. Recently, he placed his gold order with an artisanal mine in Peru, hoping to support a burgeoning, sustainable industry. In his workshop, he's looking for design assistants rather than bench jewelers and feels lucky that the SUNY New Paltz metals program, where he often finds interns, is nearby. "The program is very thorough. You get people who have both theoretical knowledge of metals and the processes of making jewelry, and the hands-on training that's required to do design work."
Jamie Bennett Studio
"Bonticou Crag" by Jamie Bennett
Jamie Bennett can attest to that, having just celebrated his retirement as Professor Emeritus after 30 years with SUNY New Paltz. He, along with Professor Myra Mimlitsch-Gray, ran the metals program so successfully that the MFA program was ranked #1 by US News and World Report in 2009 and 2012. Recently, New Paltz was the first non-European university to organize an exhibition of current grad students' and alumni work at the Pinakothek der Moderne in conjunction with opening night of the Schmuck (German for jewelry) annual conference in Munich. Bennett coordinated it through his connections in the fine art jewelry world. Bennett creates one-of-a-kind, wearable art with handbuilt framing, hardware and chains, which are represented by three international galleries and included in collections at the Hermitage Museum and the Met. "I've always balanced professional practice with teaching," explains Bennett in his studio in Stone Ridge, as he fingers a pair of beautifully colored enamel earrings with an abstracted motif influenced by an Islamic tapestry.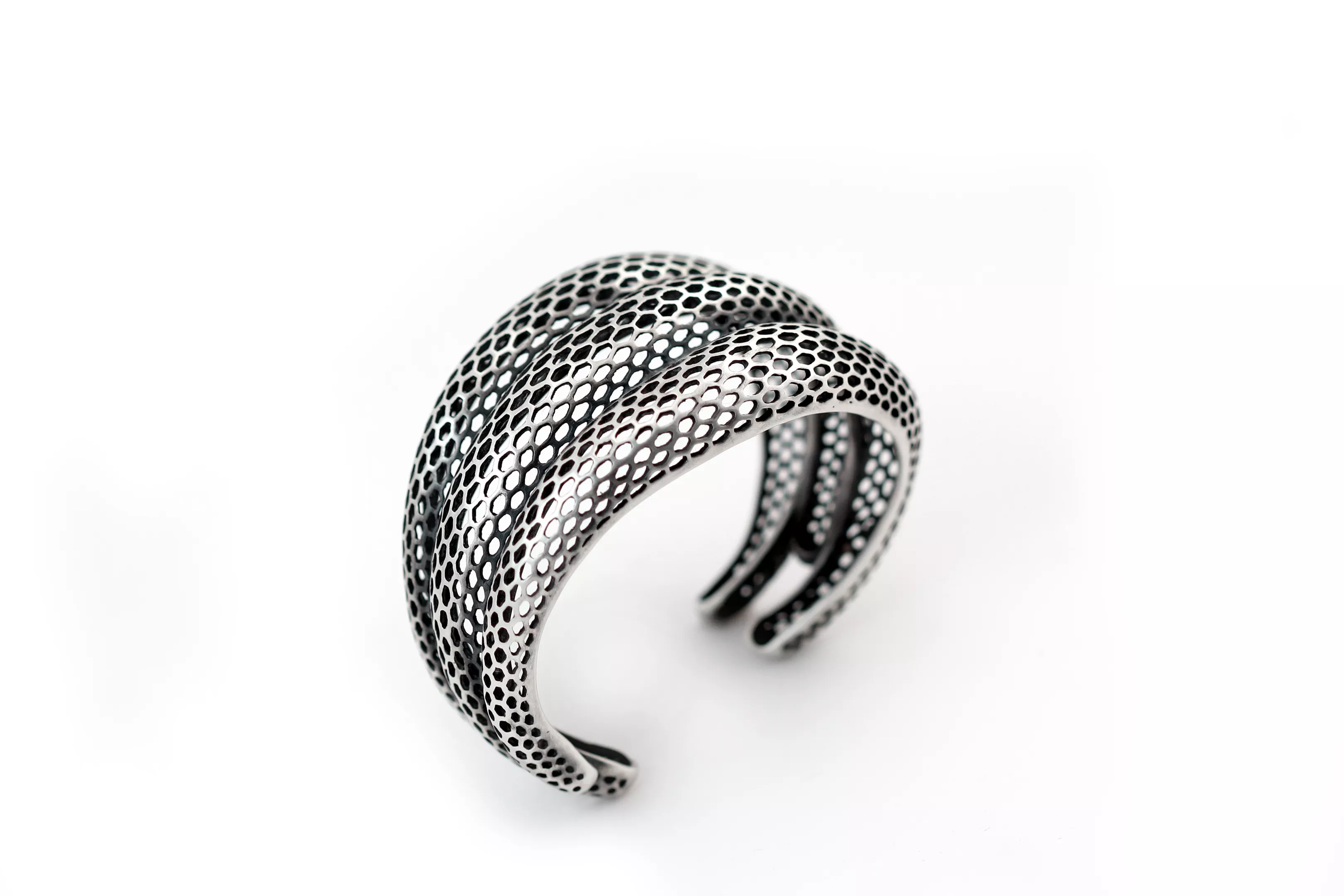 RachelAtherley.com
"Triple Snakeskin Bracelet" by Rachel Atherley
New Paltz alumna, Rachel Atherley, says the program encourages metalsmithing as a medium to push jewelry and small sculpture to another level. Originally from Montana, Atherley creates nature-inspired, everyday jewelry, like durable snakeskin bangles and earrings, which were based on a backyard find and designed to retain a fragile look. She remained in the Hudson Valley because of its access to important wholesale shows, crafts fairs and collectors. "Here I'm two hours from New York City, four hours from Philly. Everything is within driving distance." But often, Atherley's work attracts notice at home. When weekenders were lunching at Lucy's Tacos in Saugerties, they noticed Atherley's leopard earrings on the waitress and scheduled a private trunk show. Three friends, sipping champagne, bought thousands of dollars worth of jewelry on the spot. Atherley notes that smaller jewelry designers offer a customer-service based approach, with better warranties and custom options. Her clients are often looking for tantalizing stories of artisans rather than commercial status symbols.
Providing a personal buying experience is also at the heart of the holiday crafts fair, the Hudson Valley Hullabaloo, which ran the past two years in Kingston. A design- and small-business-focused event, it exposes local shoppers to current work they haven't seen before. "The curatorial process takes more time for jewelry because we get a lot of applications in that category," says Danielle Bliss, one of two organizers, and the owner of Wishbone Letterpress. Tasked with supplying a healthy mix of vendor types, they also blend fine and fashion jewelry with accessible price points. Last winter, Rebecca Peacock's casually luxurious Black Diamond Ring, a solid gold band with delicate diamond setting for $280, was available at one booth, while Pulp Sushi's vintage-inspired Victorian Pendant with Rose Necklace, a deconstructed antique pendant with chain for $30, was at a booth nearby. Bliss says sights are set on adding a June Hullabaloo for 2015.
For those wishing to round out their jewelry collection with sustainable, fine art and artisanal pieces, the Hudson Valley may be the mecca.