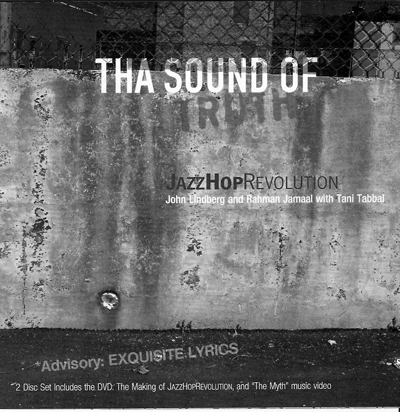 JazzHop Revolution Tha Sound of Truth
2007, Planet Arts
Spoken word is the voice of thinkers. Sometimes the voice of the people, sometimes the ruminations of a single thinker, sometimes the seed of revolution, clarification or a cry for reason, beauty, anarchy, balance or questions unanswered. Word and music together creates a hybrid art form that one might call highly bred. Surely the best of songwriting can be poetry with music. But when stripped down to words sharing space with sounds there is an artistic level rarely reached in standard song form.
JazzHop Revolution features Hudson Valley bassist John Lindberg and drummer Tani Tabbal and also introduces Chicago hip-hop wordsmith Rahman Jamaal to my ears. Jamaal has done his homework. Creative, interactive, thought-provoking, rhythmically deft, respectful of the space musicians need, and playful. He comes at you from all kinds of angles with all kinds of voices. His words keep turning you down corners, telling stories you haven't heard, weaving landscapes, and then bringing you back home again. With the music here he's dealing with irregular time patterns, non-repetitive bass lines, no samples, and no drum machines.
Tabbal is understated but extraordinarily supportive. His groove is well informed and inspired, always responsive to the rhythms being fed by his mates. Lindberg is at the height of his mastery. His huge, powerful acoustic bass is aided by processors, drumsticks, and vocal-sounding effects. As a fan of the freedom of both playing in and listening to creative trios, I can say that this one never fails to go deep. Included in the package is a "making of" DVD. www.planetarts.com.