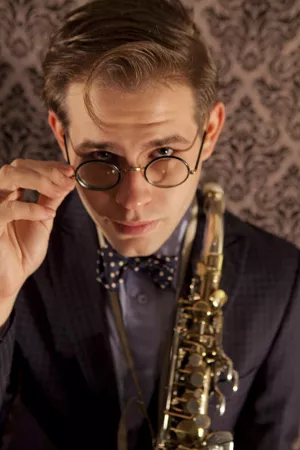 To many listeners, jazz and opera wouldn't seem to have anything in common. For a start, improvisation, which is fundamental to jazz, is anathema to opera, which focuses on adhering to the notes of a written score. But the two share more than might meet the ear. And the similarities are central to "Puccini Meets Bechet: Parallels in Opera & Jazz," a program presented by the Route 23 Initiative and the Catskill Jazz Factory in Tannersville on January 19.
Opera is of course part of the classical tradition, and classical music has long informed jazz—and vice versa—from the influence of ragtime on Debussy to jazz's influence on George Gershwin to the symphonization of jazz by early big band leaders like Paul Whiteman to the classical flavor of Third Stream jazz in the 1950s and so on.
For this appetizing event, a chamber group consisting of operatic vocals, piano, clarinet, and soprano saxophone led by multi-instrumentalist Aaron Johnson will explore the parallels between Italian composer Giacomo Puccini's bel canto operatic tradition and the sounds of Sidney Bechet's New Orleans jazz.
Opera aside, this 2013 video captures Johnson's decidedly jazz-oriented quintet live at Lincoln Center:
"Puccini Meets Bechet: Parallels in Opera & Jazz" will take place at Mountain Top Library in Tannersville, New York, on January 19 at 7pm. Admission is $10. For more information, visit http://www.23arts.org/#.
To find out about more events in the Hudson Valley, subscribe to our weekly newsletter 8-Day Week.