Deborah DeGraffenreid
Jan Harrison and Alan Baer in their dining room, with a feline named Sox in the window.
We've been together 34 years," says artist Jan Harrison, who, together with her partner, architect Alan Baer, owns an 1869 three-story townhouse on Hunter Street, opposite Cornell Park, in the Rondout section of Kingston. "I grew up in Florida, and Alan's from Mount Airy, North Carolina—you know, Mayberry, it's the town on which the '60's television show was based—but we met in Cincinnati," says Harrison. Baer had gone to architecture school in Ohio, and Harrison had found her way there via a previous relationship after attending college in Georgia and graduate school in California. They met at an art event.
"A friend suggested we look into Kingston because it was becoming an important arts center and the historic real estate was still somewhat affordable," says Harrison. "We just fell in love with the Hudson Valley," she adds. "It was meant to be. Some of the circle we first met all those years ago are still part of our core group of friends, and this area is filled with the most interesting and creative people."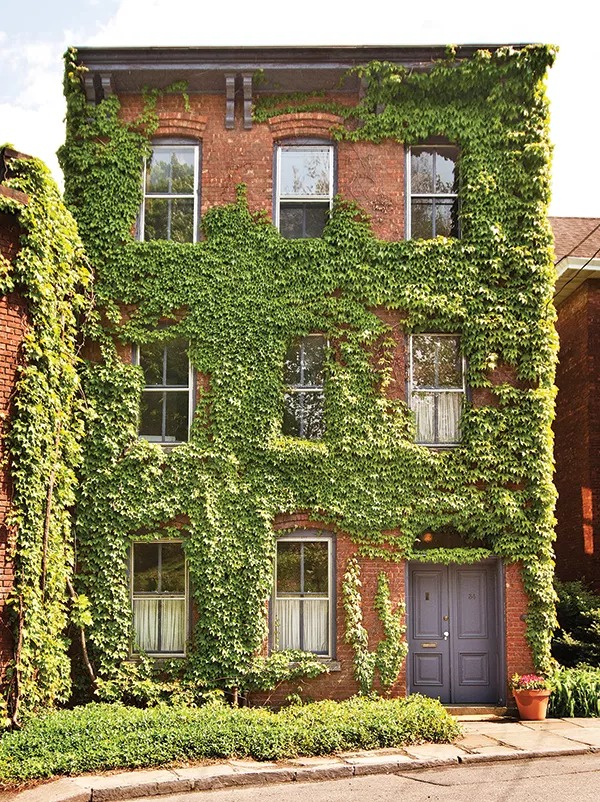 Deborah DeGraffenreid
Vine covered 1869 three-story brick Italianate townhouse in the Rondout section of Kingston.
The partly renovated townhouse they purchased in 1989 was one of the first properties they were shown by their realtor. The couple declined to disclose the purchase price, but said they had paid something of a premium for its location, charm, and solid condition.
It's Not the Size of the Kitchen
"It's about 2,100 square feet, plus a basement and a fenced backyard, but it seemed smaller back then because all the trim had been painted turquoise," says Baer. "When we undid a few of the improvements that were neither historically accurate nor exactly contemporary, the space really opened up visually; it has proportionately high ceilings and lots of natural light," says the architect, who's an ardent proponent of high-quality white paint. "The kitchen is tiny, and the baths are small. But we've figured out how to do everything; we used to have a huge annual Christmas party, a tradition that's currently on hiatus," he adds. "It's not the size of your kitchen that makes things possible. We once poached four whole salmon for a dinner party."
"Alan's a fabulous cook, his key lime pie is amazing, although these days we're mostly vegan," says Harrison.
While the house is very handsome, with quality details such as pocket doors, it's essentially a well-preserved steamboat-era middle-class Kingston home, built to last and within walking distance to the Rondout neighborhood, whose waterfront is bustling during the warmer weather.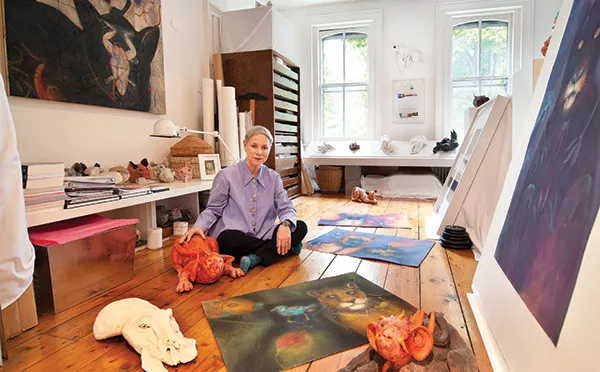 Deborah DeGraffenreid
Harrison in her second-floor studio.
"The only thing that's really Italianate about this house is the bracketed cornices; it's always been a residence," the architect explains. "We've met a number of people who lived or visited here, it's woven historically into the fabric of Kingston. The building next door was a soda-pop bottling plant, and although the exteriors look alike, they have always been owned separately," adds Baer, who's a member of Kingston's Historic Landmarks Preservation Commission.
Deborah DeGraffenreid
The entry floor is original, with boards of maple and black walnut.
Over the years, they've put on a new roof, upgraded the electrical and plumbing systems, refinished the floors, installed a ceramics kiln in the basement, and had gas put in the kitchen for a proper stove. Their only grievance is that the house has minimal built-in storage.
A Secret Garden
They know most of their neighbors. Sometimes children come over and play in the fenced backyard the couple calls their secret garden. "In many ways, our private oasis is a compression of all of nature in one spot," says Baer, who sometimes curates art exhibitions and is deeply interested in the environment. "A little boy who came over recently told me he'd had the best day of his life there, and then told his grandmother, in my presence, that I was his very close friend," says Harrison, amused and touched.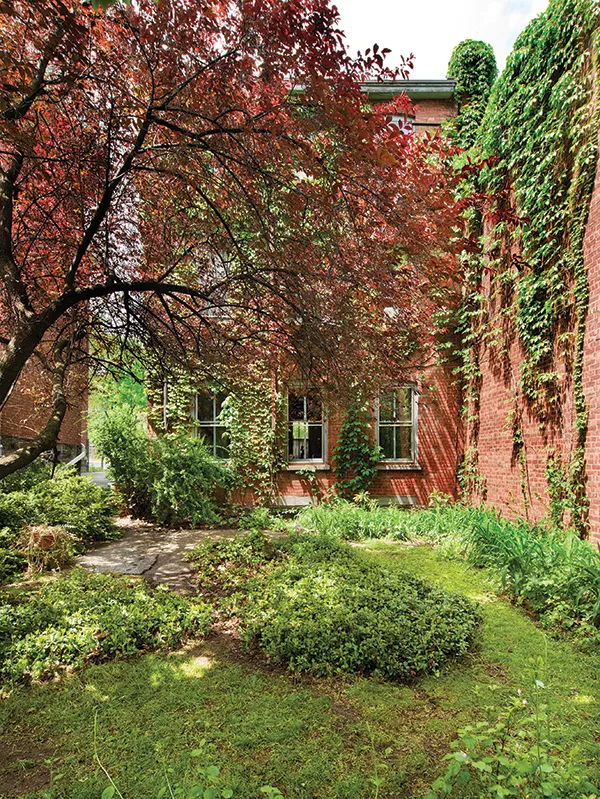 Deborah DeGraffenreid
The back yard.
Harrison and Baer feel that their house has some kind of an esoteric spirit that seems to appreciate their considerate and respectful presence. Eventually they plan to sell it, however, because building a dream home in the mountains is on Baer's bucket list. "It's something I have to do in this life," says Baer. "And it will have lots of storage."
"We'll start on that when we find the right piece of land," says Harrison.
The couple, who do not have children, move intellectually and physically in a cheerful synch. They spend most of their time together. They like to hike and look at art, often traveling to New York.
Deborah DeGraffenreid
Rustic handmade cabinet circa 1870.
Her studio is organized and expansive, a dramatic floor-through space fashioned from two second-floor bedrooms, with halogen track lights. "When Alan really likes a new piece of art I'm working on, he stands on his head," says Harrison. His office is on the third floor and has a view of the park. "It's an exercise in controlled chaos," he says, "but when I look at the treetops I feel almost like we're living among them."
Baer's in private practice these days and mostly works on museum exhibition design, cultural centers, home renovations, and sophisticated restaurants. He recently designed a bandstand for Cornell Park, a project that's currently on hold.
A Dining Habit
"This is where we spend much of our time together when we're not working," says Baer, dexterously setting the handsome 1970s handsome olive ash burl Parsons table acquired in North Carolina. They eat off real china with sterling flatware and use cloth napkins. Lunch today is open-faced salad sandwiches, served with Bangkok tea from Harney & Sons in Millerton.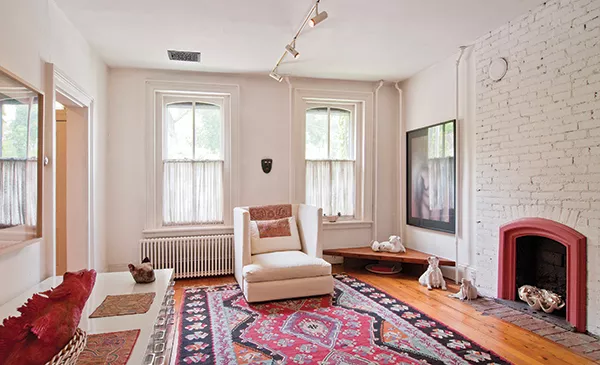 Deborah DeGraffenreid
The living room.
The home has a safe, solid, cozy feel, despite—or perhaps because of—the haunting, feral animal faces that characterize much of Harrison's artwork, displayed all over the house. For example, on the floor in one corner of the living room, there's a life-size ceramic sculpture of a dachshund whose legs appear to be disintegrating. "It's called Dog with No Legs," she says.
Deborah DeGraffenreid
Storage tubes line the walls of Baer's third-floor architectural studio.
Cat Lovers
As an artist and human being, Harrison is profoundly interested in the human-animal interface. She even speaks and sings in a unique animal language that sounds much like speaking in tongues. (And no, she was not raised Pentecostal.)
"I discovered I could speak in animal tongues the same year we met," says Harrison. "I actually saw Alan from a distance at a Laurie Anderson concert and thought, What an attractive guy. We met a few weeks later. I owned a large historic home in Cincinnati that I made into an installation called Nest Building, A 20 Room House as a World," says Harrison, showing me the catalogue. "The wine cabinet in our dining room is from that residence," says Harrison. "It's about the same age as this house, and we use it mostly to store tableware."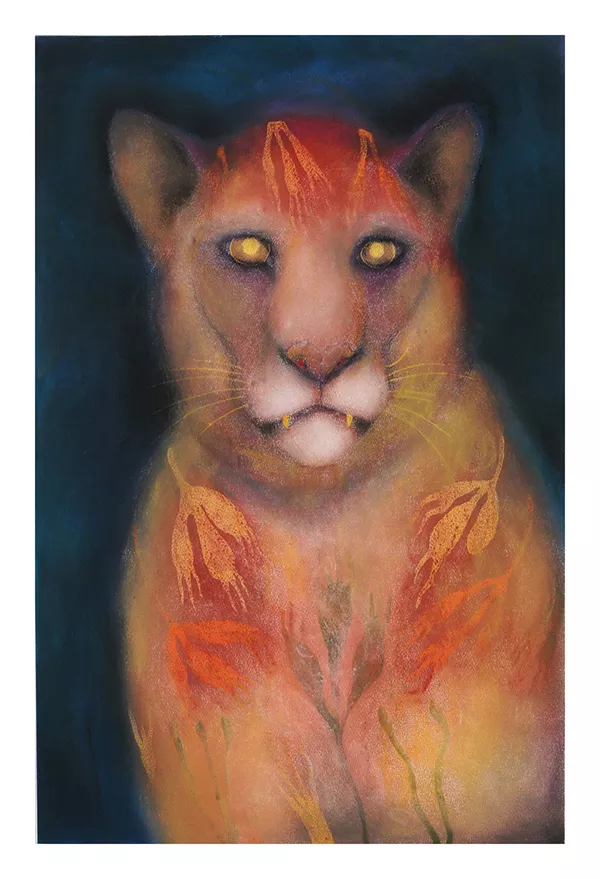 Nancy Donskoj
Big Cat: Mountain Lion with Foliage Fur, a painting by Jan Harrison.
The couple say living in a three-story house keeps them in shape. They also have five cats, all rescues. "'The cats provide so much inspiration for my art, and they've been really important in our relationship, too," says Harrison.
Harrison's painting of a mountain lion with foliage fur is on the cover of the exhibition catalogue for "The Animals Look Back At Us," curated by Sara Lynn Henry, a group show displayed this spring at the Kleinert/James Center for the Arts in Woodstock. It will travel to the Williamsburg Art and Historical Center in Brooklyn in late September.
"This house, town, and region have been a perfect home base for us personally and professionally," says Baer. "My career is really international at this point, I've had over a hundred exhibitions in about 16 countries," adds Harrison. "There's a certain magic to the Hudson Valley."