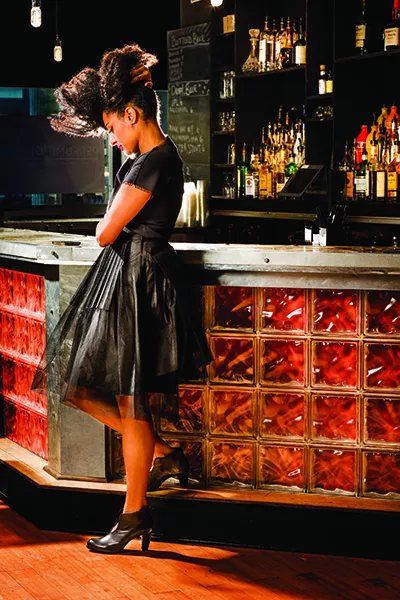 Franco Vogt

Simi Stone in Comme des Garcons Noir kei ninomiya paneled tulle skirt ($440); Issey Miyake PLEATS PLEASE black top ($325); Reinhard Plank Monaca leather ankle boot ($560). Clothing from Kasuri, Hudson; Kasuri.com.

Woodstock native Simi Stone just inked a deal with UK-based label Reveal Records. Her first solo album is scheduled for release in late spring 2015.
For this season's fashion shoot, we gathered eight local musicians into BSP Kingston for a nightlife-themed shoot by Franco Vogt. BSP Kingston is run by a group of old college friends who climbed out of basement parties and into the local music scene, giving BSP an underground yet intimate feel. They've built a reputation around maintaining close ties with artists; these connections have brought big acts like Future Islands, Kurt Vile, and Titus Andronicus to Kingston.
From the Congolese roots of Young Paris to the kindie rock music of Tim Sutton's duo, Ratboy Jr., a diverse group of musicians came together for the shoot. Lindsey Webster, Simi Stone, Maria Todaro, Sarah Perotta, and School of Rock founder Paul Green are featured, as well as Anthony Molina, musician/producer. We decked them out in local designers and retailers, including original designs from Haldora in Rhinebeck, Juda Leah Atelier in Saugerties, and Mau Conceptional Clothing in Kingston. Ecosystem in Woodstock and Kasuri, Hudson Clothier, and de Marchin in Hudson also furnished clothing. Gina Truhe Makeup provided hair and makeup services.