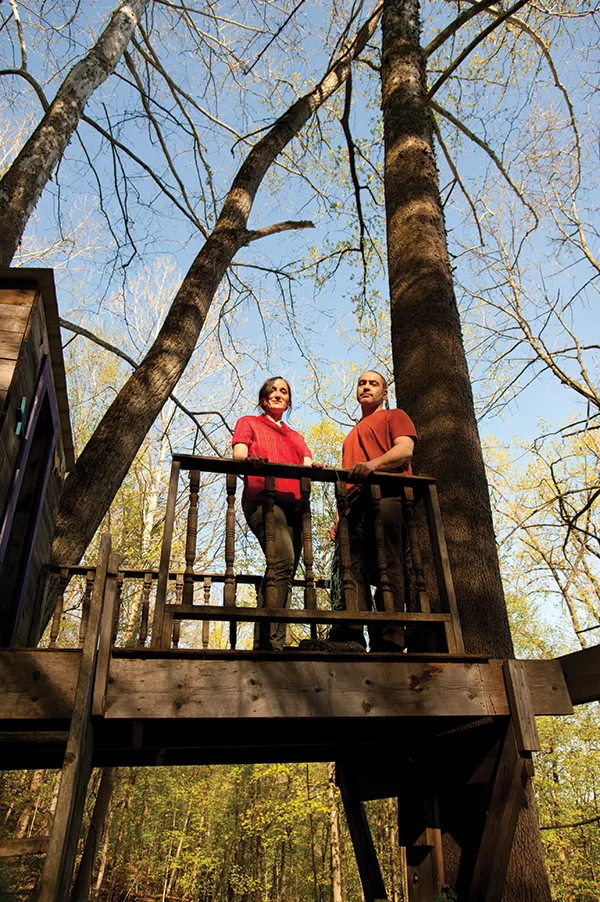 Many a Hudson Valley homeowner has been plagued by an overabundance of ladybugs. You won't hear that complaint from Jacky Davis and David Soman, the Rosendale writer-illustrator team whose 2008 bestseller Ladybug Girl launched an empire of red and black spots. There are six books in print and two more on the way, plus board books for toddlers and merchandise ranging from character dolls to pajamas.
All this stems from a dress-up outfit their daughter concocted a decade ago. But before telling the origin story, Ladybug Girl's parents serve snacks. Davis slices pastries from the Alternative Baker while her husband foams milk for stovetop cappuccino. "David's the Italian mama, I'm the Jewish mama," she says with a characteristic wry smile.
Davis grew up in Minneapolis. A communications major at the University of Wisconsin, her first New York job was in the marketing department of Simon & Schuster's children's division. "I've always loved children's books. They stay with me over the years, even past childhood," she says of such favorites as Eloise, Amelia Bedelia, and Harold and the Purple Crayon. Hopscotching from job to job, she did graphic design for various publishers and TV shows, including Nickelodeon's Wubbulous World of Dr. Seuss; she also sold barbecue sauce.
A native New Yorker, Soman's childhood favorites included The Snowy Day, The Story of Ferdinand, and "definitely Go, Dog. Go!" Though he comes from a family of artists, he studied political science at Oberlin, following up with "the usual waiter/bartender service jobs." The first book he illustrated, Angela Johnson's 1989 Tell Me a Story, Mama, was a hit. Other books followed, and he landed a job teaching illustration at the School of Visual Arts; he's stayed there for 22 years.
The couple first met at an unlikely venue: a fashion show both were attending with friends. Their fish-out-of-water status may have brought them together, but New York real estate sealed the deal. "He had a really cool apartment," Davis reports. Soman had a loft in prehipster Williamsburg ("You'd go for a run on Kent Avenue past burned-out cars and dead dogs," he recalls.) When Davis lost her East Village lease, she moved in.
"It was supposed to be temporary, but she just never left," Soman laughs. He turns to his wife. "You found an apartment that you were supposed to move into, remember? And we both got really sad. We just knew."
They moved upstate in 1999. "Jacky made me," says Soman, grinning, and Davis responds, "David didn't realize you could live anywhere but the city."
She found a house at the end of a dirt road in Bearsville, where the reluctant ex-New Yorker had "the best year of my life. I was like a 10-year-old boy. I had this dog Henry, I was running in the woods, painting and drawing and cooking." Davis continued her series of jobs, including a brief stint at Chronogram. They moved to Rosendale, where their daughter Lucy was born.
Soman kept teaching, but he took a break from illustration. "I was drawing our daughter a lot in crayon," he recalls. "My older books were realistic and very complicated. I wished I could do something more like these drawings." He and Davis talked about writing something together, but parenthood took center stage.
When two-year-old Lucy stomped downstairs one morning in an ensemble of tutu, rainboots, and spotted red wings, Davis greeted her with, "Hello, ladybug girl!"
"And we looked at each other," says Soman. "We thought, 'That's a great name. We should do something with that."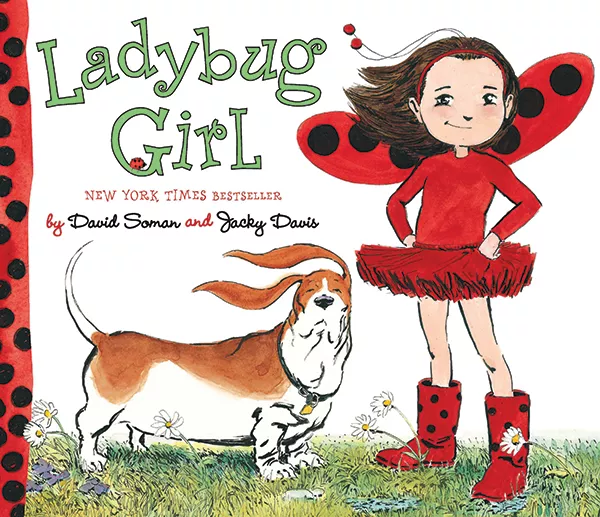 "We were totally inspired by the character: a strong, active girl who likes playing outdoors, whose spirit was that she would not be denied," explains Davis. The fictional character took on a life of her own: Lulu was two years older than Lucy, and her best friend was a basset.
"The first thing kids ask is, 'Is Bingo real?'" Soman says. (Yes and no: their family dog, Pico, has freckles and much longer legs.) His stand-in is so popular with young readers that Soman and Davis bring a giant plush basset on school visits. "Bassets are great to draw," Soman says. "The long curving body."
"The ears mimic antennae," Davis adds. "Plus you can just project emotion."
"Bingo's anthropomorphized, like Bambi," says Soman, dropping his voice as if revealing a trade secret. "Their mouths don't really do that."
This good-natured banter seems to echo the way the pair works as co-authors. "It took us a while to develop a rhythm," says Davis. "Sometimes we'd sit together, sometimes one would write and the other would rewrite. Eventually we found a way of going back and forth."
Once they'd polished the text, Soman did illustrations. Davis packaged the book proposal inside bright red folders, which they sent to editors and art directors they'd worked with. "Responses ranged from 'No' to 'No, but...,'" she says drily. One editor, Liz Waniewski at Dial, offered them useful feedback. Over the next eight months, they reshaped the story under her guidance and landed a book contract.
More than a year elapsed before publication. Davis gave birth to their second child, Sam. Meanwhile, Dial drummed up prepublication excitement from Borders, Barnes & Noble, and Target.
The spunky girl who rescues ants and leaps across shark-infested puddles in tutu and boots struck a chord with young readers, offering feminist parents a welcome respite from passive princesses. Still, when Ladybug Girl vaulted onto the New York Times' bestseller list and stayed there for months, "It was a total surprise," Davis says.
"A shock," Soman echoes. "A very happy shock."
They started a sequel. Young as he was, Sam noticed that Daddy was making lots of drawings of a girl who resembled his sister. "We had to get Sam in there to preserve domestic harmony," Soman quips. Ladybug Girl and Bumblebee Boy was followed by Ladybug Girl at the Beach, Ladybug Girl and the Bug Squad, The Amazing Adventures of Bumblebee Boy, and Ladybug Girl and Bingo. Ladybug Girl and the Big Snow will come out in September, a Halloween story in 2014. Davis and Soman have worked with the same team throughout; their art director is one of Soman's former students. "There's a real family feeling," he says.
How do Lucy and Sam, now 12 and 9, feel about this cottage industry? Davis says, "They've grown up with it. They're very good sports about the whole thing." Soman adds that they're careful to maintain a distance between their kids and the characters. "They were both littler than the characters when the series started. Now the characters' ages are way in the past." Still, Davis points out that the stories are often inspired by issues that came up at the playground or with friends. "We totally raid our children's lives," Soman admits, grinning.
Is there ever discord between the co-authors? They look at each other and laugh. Davis says, "Never. As long as David listens to me."
"It's hard to write with someone else," he says.
"Especially someone you're married to," Davis teases. They're clearly enjoying this. Soman concludes, "For something as usually solo as writing, we did really well. There were times that were difficult, but we learned to trust each other."
"And to compromise," Davis adds. "Not to be attached to something just because it's yours." It's the sort of lesson that might make a good story for Ladybug Girl. The character has become so beloved that kids often show up in red and black cosyumes for author events. "Sometimes whole classes," marvels Soman. "More than anything else, that's been unbelievable."
"It's really fun," Davis says. "People send photos, or tell us their daughter went as Ladybug Girl for Halloween."
"We're very lucky," Soman says. Davis agrees. "We get to work from home, to work together. It's very nice to have as a part of our life."
On the way out, Soman offers a tour of the studio he built himself from a FirstDay Cottage kit. He leads the way up the steep hillside, crossing a shaggy lawn covered with violets and fringed by wild berry bushes. "This is my commute," he sighs appreciatively, opening the door of the airy post-and-beam structure. Its west wall is covered with paintings for his solo project Three Bears in a Boat, forthcoming from Dial.
"I'm trying to squeeze it in between Ladybug books," he explains. The illustrations are lovely, awash with watery blues and natural light. The characters—all bears—don't resemble his family at all. "No tutus, no polka dots," he smiles at his wife. "And no red."