Page 2 of 3
A Health-Enabling Landscape
Give a person room to grow on 500 acres of farmland and transformation is inevitable. Fernandez witnessed big changes in her son in his first year at Triform. "The first thing we noticed about Alex is that he lost like 25 pounds," she says. "He's much more physically active now than he was before. Eating better and being physically active just did what it was advertised to do: It made him fitter and leaner and healthier." And while many people on the autism spectrum are very set in their ways, Fernandez notes that Alex has become a lot more flexible and adaptable, expanding what he eats and trying new foods. Perhaps because Triform is a low-media environment, without the constant stimulation of screens, "Alex is a lot calmer; he's not as excitable as he was." He has become more independent, doing things without being told. And he's expanded his social world, bolstered by the spirit of community that surrounds him. "It's been great to see him socialize, because that's a tough one for kids with autism. He's been terrific about making friends, just laughing and doing guy stuff with them, which is really wonderful."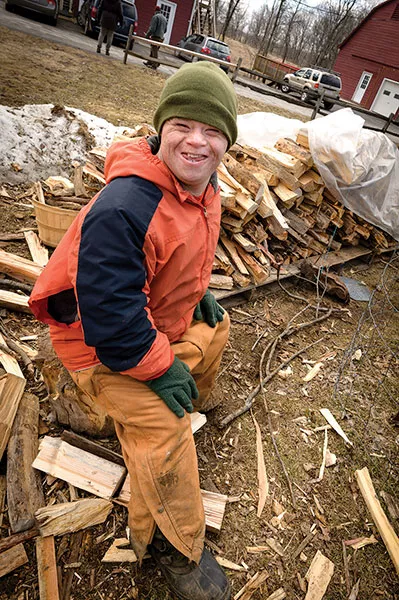 Jeff, a land work apprentice in the day program
Fernandez hasn't thought too much yet about what the next step will be for Alex, but she wouldn't be surprised if another therapeutic farmstead was in his future. In fact, many Triform "graduates" end up only about 15 minutes away at Camphill Village USA in Copake—the country's largest and oldest Camphill community, in operation since the 1960s. The Copake facility's larger population (about 250 people total, including some 100 developmentally disabled adults), spread across 615 acres, gives it a real village feel, with life revolving around the biodynamic farm, gardens, livestock, and array of artistic workshops. "We have a woodshop, a candle-making studio, a weavery, a bookbindery, a stained-glass workshop, a bakery," says Christine Pizzuti, communications and PR manager for Camphill Village. Just like at Triform, the model is communal. "Everything is shared. We have a little market with vegetables harvested from the gardens, where everyone from the village can come and grab what they need." Open to the public for tours, Camphill Village also has its own coffee shop and a two-acre healing-plant garden, which yields herbs that villagers transform into salves, lotions, soaps, and other products for sale at the on-site co-op and local markets.
Idyllic, But Far from Isolated
One thing that's unmistakable about both Triform and Copake: The people who live here are happy. "We have a nice time doing what we do here," says Pizzuti. And yet, Camphill communities and similar facilities for people with special needs have come under tough scrutiny in recent years. "We're challenged by a federal ruling that will come into effect in 2019 called the Olmstead Act, which in essence says that rural communities like this are isolating and shouldn't exist," says Henderson. The ruling came about as a response to a few bad-egg rural facilities (most famously, Willowbrook in Staten Island, which in the 1960s and `70s housed some 6,000 developmentally disabled people in horrific conditions, using overmedication and restraint). "But Camphill is so porous. We're so open to the outside world, so in touch with social workers and inspections. There's not much going on here that's not visible."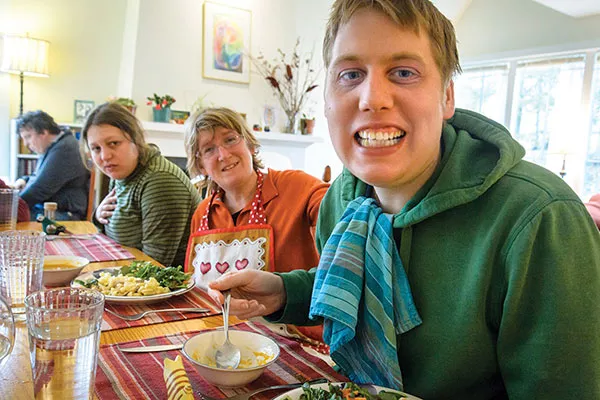 Ironically, the very thing that the Olmstead Act aims to prevent—the social isolation and institutionalization of the developmentally disabled—is exactly what you will not find at a Camphill community. "There is a move to bring people closer to Main Street," says Pizzuti. "But this village is anything but isolated. You have people walking all over, riding bicycles, going to see friends. We have music groups, a village choir, lots of clubs and things to do throughout the week. We also have a lot of festivals, and a lot of outings. One of our houses is going to India soon. Last year a bunch of people went to Brussels. We do a lot." In many ways Main Street is a more isolating experience, while connection thrives in the farm village setting, where people serve to lift each other up. "Here you have the unique experience of being able to realize your full potential," says Pizzuti, "which is not necessarily something that everybody, with or without developmental abilities, is able to do."