The Triform community at the Church Town dairy, managed by the Triform community
When Carol Fernandez's son, Alex, was in his late teens, she could hear the clock ticking. It was time to figure something out. Alex has autism, and while the Individuals with Disabilities Education Act ensures public education services for people like him, those would end when he turned 22. "He graduated from high school on time, but he needed more services," says Fernandez, an attorney who raised Alex and two daughters with her husband, a professor, in suburban Boston. "He wasn't ready to go out into the world. When they're in that 18 to 22 bracket, you start to wonder, what are they going to do? Where do they go? You're staring at this precipice, and you're left to untangle an unholy mishmash of competing agencies. It's very complicated to figure it out."
Marc Bryan-Brown
Ben, a farmer and member of the Triform Bell Choir
Yet while his parents fretted, Alex seemed to know exactly what the plan would be all along. From as far back as eight or nine years old, he had started talking about living on a farm. "He would say, 'My mom and dad are going to buy a farm, and I'm going to live on it.' My husband and I are both from New York City, and it was like, no way! That is not happening," laughs Fernandez. But Alex stuck with the story so consistently that his parents couldn't ignore it. A few years ago, Fernandez googled "farms and autism," and to her surprise she discovered a world of options. One of them blew her mind: a 500-acre biodynamic "farm village" in Hudson called Triform Camphill Community, where young adults with various developmental disabilities live and work side by side with resident families and a corps of volunteers. Now 22, Alex is moving into his third year at Triform, and his days are filled with working in the vegetable gardens, taking classes in the pottery and weaving studios, helping to cook meals, and hanging with his friends. Even when it's not his job, sometimes he will wake up early to milk the cows—just because he can.
Where Lives of Potential Take Root
Tucked into the bovine-dotted fields of Columbia County, where driving directions might include "turn right after the round white barn," Triform is a pastoral vision painted in the spirit of Rudolf Steiner, one of the community's main influences. The early-20th-century Austrian philosopher and social reformer had many devotees, and one of them was fellow Austrian Karl König, who translated Steiner's anthroposophical teachings into a way of living for people with special needs. König's "Camphill Movement" of the 1940s planted the seed for an international assortment of intentional communities; today, there are over 100 Camphills worldwide, 10 of them in the United States—all independently operated but united in their mission to offer lives of purpose, connection, and meaning to everyone who resides there, abled or disabled.
Community square dancing event in the Phoenix Center
Triform has upheld the Camphill model since the early 1980s, when founders Hans and Sophia Kunz developed the Hudson farm as a place to balance vocational work, community and life-sharing, and artistic and cultural experiences. "It's a really well-rounded approach to taking in the whole person's needs in the social, therapeutic, and work realms," says Triform's current director, Meg Henderson. Today Triform is home to about 100 people—a fully integrated mix of families, long- and short-term volunteers, as well as 35 resident "students" with mild to moderate developmental disabilities such as Down syndrome, cerebral palsy, and autism. (Triform also hosts 11 day students through Solaris, a Camphill urban outpost in downtown Hudson.) All are involved in some way in the rhythms of the farm, in keeping with the cycles of nature. Students train in various vocational areas, from animal husbandry to working in the on-site bakery; among the artistic offerings are eurhythmy (expressive movement), painting, and drama. Families, volunteers, and students all live together in a collection of houses scattered about the property, making home economics a built-in program as everyone plays a role in running a household.
As a self-supporting community that produces most of its own food and lives communally (no one at Triform receives a salary), Triform values the contributions of all its members—yet it places particular emphasis on supporting the growth of a special-needs population that is entering the new terrain of young adulthood. "The best age for coming to Triform, our most populous age, is around 21 to 25, but we do have individuals in their 40s and 50s [who have stayed on], and also some who start at 18," says Henderson. "The hallmark of everyone who comes here is that they have exactly the same aspirations and dreams as their siblings. They want to move on in life; they want to experience a setting where they can grow up and be independent, and explore being an adult. There's very little opportunity for that for developmentally disabled youth."
A Health-Enabling Landscape
Give a person room to grow on 500 acres of farmland and transformation is inevitable. Fernandez witnessed big changes in her son in his first year at Triform. "The first thing we noticed about Alex is that he lost like 25 pounds," she says. "He's much more physically active now than he was before. Eating better and being physically active just did what it was advertised to do: It made him fitter and leaner and healthier." And while many people on the autism spectrum are very set in their ways, Fernandez notes that Alex has become a lot more flexible and adaptable, expanding what he eats and trying new foods. Perhaps because Triform is a low-media environment, without the constant stimulation of screens, "Alex is a lot calmer; he's not as excitable as he was." He has become more independent, doing things without being told. And he's expanded his social world, bolstered by the spirit of community that surrounds him. "It's been great to see him socialize, because that's a tough one for kids with autism. He's been terrific about making friends, just laughing and doing guy stuff with them, which is really wonderful."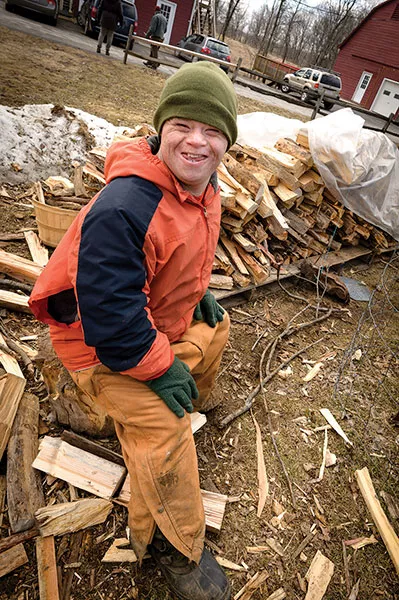 Jeff, a land work apprentice in the day program
Fernandez hasn't thought too much yet about what the next step will be for Alex, but she wouldn't be surprised if another therapeutic farmstead was in his future. In fact, many Triform "graduates" end up only about 15 minutes away at Camphill Village USA in Copake—the country's largest and oldest Camphill community, in operation since the 1960s. The Copake facility's larger population (about 250 people total, including some 100 developmentally disabled adults), spread across 615 acres, gives it a real village feel, with life revolving around the biodynamic farm, gardens, livestock, and array of artistic workshops. "We have a woodshop, a candle-making studio, a weavery, a bookbindery, a stained-glass workshop, a bakery," says Christine Pizzuti, communications and PR manager for Camphill Village. Just like at Triform, the model is communal. "Everything is shared. We have a little market with vegetables harvested from the gardens, where everyone from the village can come and grab what they need." Open to the public for tours, Camphill Village also has its own coffee shop and a two-acre healing-plant garden, which yields herbs that villagers transform into salves, lotions, soaps, and other products for sale at the on-site co-op and local markets.
Idyllic, But Far from Isolated
One thing that's unmistakable about both Triform and Copake: The people who live here are happy. "We have a nice time doing what we do here," says Pizzuti. And yet, Camphill communities and similar facilities for people with special needs have come under tough scrutiny in recent years. "We're challenged by a federal ruling that will come into effect in 2019 called the Olmstead Act, which in essence says that rural communities like this are isolating and shouldn't exist," says Henderson. The ruling came about as a response to a few bad-egg rural facilities (most famously, Willowbrook in Staten Island, which in the 1960s and `70s housed some 6,000 developmentally disabled people in horrific conditions, using overmedication and restraint). "But Camphill is so porous. We're so open to the outside world, so in touch with social workers and inspections. There's not much going on here that's not visible."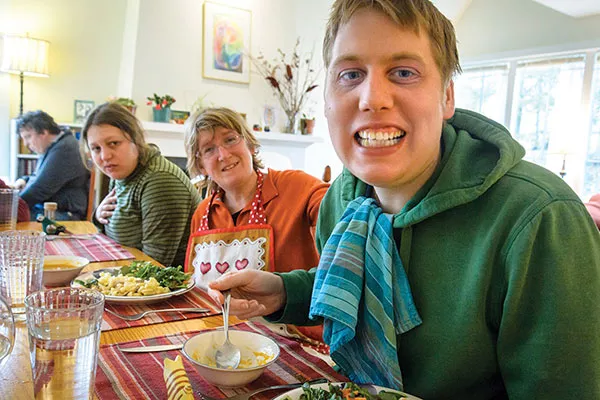 Ironically, the very thing that the Olmstead Act aims to prevent—the social isolation and institutionalization of the developmentally disabled—is exactly what you will not find at a Camphill community. "There is a move to bring people closer to Main Street," says Pizzuti. "But this village is anything but isolated. You have people walking all over, riding bicycles, going to see friends. We have music groups, a village choir, lots of clubs and things to do throughout the week. We also have a lot of festivals, and a lot of outings. One of our houses is going to India soon. Last year a bunch of people went to Brussels. We do a lot." In many ways Main Street is a more isolating experience, while connection thrives in the farm village setting, where people serve to lift each other up. "Here you have the unique experience of being able to realize your full potential," says Pizzuti, "which is not necessarily something that everybody, with or without developmental abilities, is able to do."
Meanwhile, with autism on the rise (one in 68 US children, and one in 42 boys, are on the autistic spectrum), we need more choices for a special-needs population that's growing quickly in this country. "It really calls for a societal response," says Henderson. "Maybe we have to develop ways to live that are more autistic friendly." Intentional communities like Camphill could offer a solution—one that destigmatizes people with special needs by putting everyone on an even playing field.
Living Beyond Labels
"There's something very freeing about being able to live beyond labels," adds Henderson. "We don't call ourselves staff; we volunteer our time. Of course, you can be paid to do a job and love it, but you can't pay somebody to care. Here you're not being paid, so you really have the freedom to offer what you can without having a price tag attached to it. And you find that the very people you are supposed to be caring for are also caring for you." As an example, Henderson talks about a woman who has lived with her family in a Triform household for many years. If Henderson's younger daughters are getting ready for soccer practice, she's in the basement looking for their shin guards; if her older child is feeling upset, she'll make a cup of tea. "She does what she can to give. And at the same time [my children] give her the experience of being loved and needed and respected."
In the farm village, health care for the disabled is not a Big Pharma industry or even a job. It's a way of living, and that is exactly why it is so effective. "This really does become your family," says Henderson. "There's a real love and appreciation for people beyond their abilities. It's not just what they do—it's who they are. There's a respect for a person's intrinsic qualities and spirit. That's a very loving thing."
RESOURCES