Deborah DeGraffenreid
Finishing work and floors by local contractor JH Construction.
Ed Gerard Himberger, a musical-talent manager, and wife Brigid Walsh, director of special events and partnerships for Vogue, divide their time between Manhattan and Saugerties, where his family has lived for five generations. His client roster includes jazz star and Woodstock resident Cassandra Wilson; pop-flamenco masters Gipsy Kings; and six-time Grammy Award winner Dr. John. She's originally from Temecula, California; he's a native of Brooklyn, born to Saugertesian parents. Himberger and Walsh have known each other for 20 years and have been married for eight.
Recently, the departure of a long-time tenant, who had lived for 13 years in the two-bedroom, one-bath 1850s farmhouse on winding Fish Creek Road gave the couple a chance to renovate the property. Built by and for bluestone industry folks when mere survival was a real challenge, the pert 1,100-square-foot clapboard two-story had weathered the years and elements with much grace. Nevertheless, it hadn't been substantially freshened in 30 years.
The timing of the vacancy was fortuitous. This summer, the busy couple had schedule space and money to invest in the income-producing property, which Himberger owns outright. (He bought it from his uncle Henry Furboter in 1984.) The talent manager doesn't remember exactly what he paid for his first house, but Uncle Henry financed the deal. "We're family like that," says Himberger. "I own Impact Artist Management with my brother; we've been in business together 25 years."
Another catalyst for renovation: Hudson Valley real estate market conditions are finally improving. And in particular, both fortune and fashion have lately smiled upon centrally located "Saugerstock," the semi-bucolic residential area east of Woodstock and west of the Thruway. Some of the couple's friends own homes they rent lucratively on a short-term basis to the HITS hunter-jumper show crowd.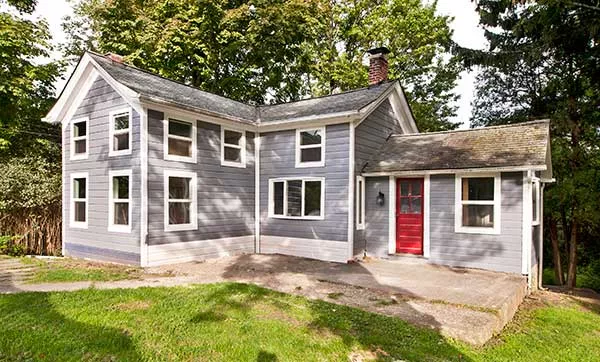 Deborah DeGraffenreid
The 1850s farmhouse on Fish Creek Road.
To The Irish, The Land They Live On Is Like Their Mother
"I never get tired of hearing about old Saugerties and Ed's family," says Walsh. "Every weekend we go driving around, it seems like I learn something new. Ed's heritage is Irish-German, and mine is mostly Irish—see the red hair—but we did some research and it turns out our ancestors came from practically the same 'patch of sod' back in the old country."
"We just had a family reunion. I think we have ties, past or present, to at least 20 houses still standing along Fish Creek and its side roads," says Himberger. "In recent years, Fish Creek's become the principal artist's row, too, I think five homes here were on the annual Saugerties Artists' Studio Tour," says Himberger. "But my brother and I and our area relatives descend from stonemasons originally from Kilkenny, Ireland, who settled right here, along the creek, in the 1850s. My Uncle Henry, my mother's brother, lives in a stone house on nearby Echo Hill that one of them built. It used to be part of a 64-acre tract they owned. Henry knows everything there is to know about our family and its various real estate holdings over the years around here."
According to Gerald O'Hara in Gone With the Wind, to anyone with a drop of Irish blood in them, "the land they live on is like their mother."
Deborah DeGraffenreid
Himberger, Walsh, and Chester the yellow lab on the porch.
Certainly the deep affection the Himberger-Furboter-Lanigan (Uncle Henry's mother's maiden name) clan has for Fish Creek Road proves the adage.
They Live in a Bigger House, Directly on the Water, a Few Houses Away
Himberger and Walsh live in a larger and more contemporary home on the same street. Their residence is "farmhouse style," built in the `40s, and sits directly on the creek.
Walsh says she and her husband don't like to have a lot of stuff around. "No clutter," she says. "Hate it. That's probably part of the reason I'm so in love with the way Ed's rental house looks right now."
Himberger's extremely handy, and Walsh is resourceful, thrifty, and good with color. They're also plugged into a network of reliable building-trade professionals and trusted materials suppliers.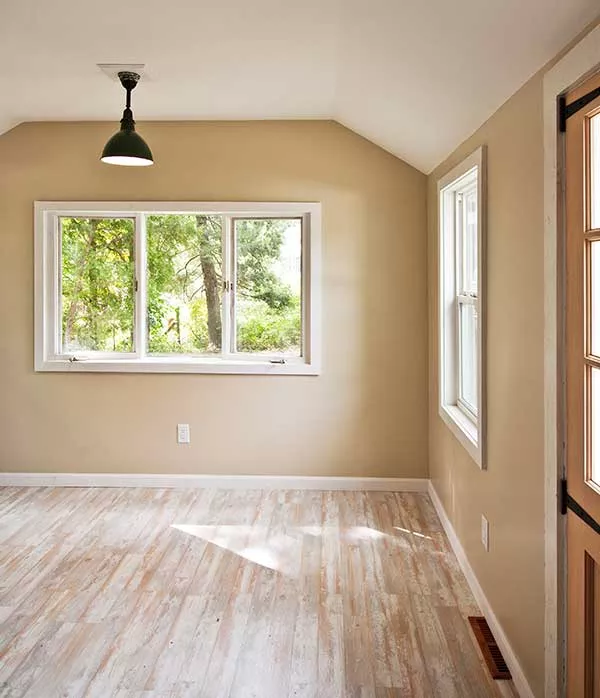 Deborah DeGraffenreid
Light colors allow the outdoors to pop into the room.
"We're all about buying and hiring locally," says Himberger. "I'm an ice skater and I still play community hockey over at the Kiwanis Ice Arena. I didn't have a lot of money growing up, I worked lots of odd jobs. I know what it means to people to spend our money right here in Saugerties."
Dior Gray and Alice Cooper
Ten weeks and $30,000 later, Himberger's old bachelor pad has been lovingly updated into a soothing—and newly swanky—rural getaway.
Immaculate, comfortable, and wheelchair accessible too, the now-gleaming mismatched antique pine floors were refinished and stained dark with Minwax "Jacobean." Most of the hardware, including cast-iron thumb latches on the doors, was replaced. The refurbished antique lighting fixtures in the kitchen, $60, came from Fed-On Lights on Market Street in Saugerties. The new stainless steel appliances throughout the house all came from H. L. Snyder & Son Inc., also in Saugerties. The house is freshly painted inside and out; the couple was very pleased with the quick, professional job done by Kellogg's Painting Company, based in Leeds. The exterior shade is Benjamin Moore & Co.'s Dior Gray, chosen by Walsh and purchased from P. C. Smith & Son Hardware, a Saugerties landmark.
Deborah DeGraffenreid
Bluestone foundation most likely quarried on Fish Creek.
"I thought the Dior was sort of appropriate, because of my interest in fashion," says Walsh. "This house has been in Ed's family for 50 years. It's now kind of high-low, like us, like the way I dress, mixing designer pieces with bargains from H&M," she adds.
"We updated the windows with top-quality vinyl replacement units for thermal efficiency, but where we could, we also kept the original wooden ones on the outside, to preserve the period look. We're going to put in a bluestone patio and maybe add some retaining walls, which will wrap around the front of the house," says Walsh.
Walsh points out names and initials carved into a pavement stone at the front of the house. "There's a lot of stuff like that, heritage artifacts, inside and outside of these homes around Fish Creek. Kind of makes you feel connected to all of them," she says, referring to Ed's ancestors and their long-ago neighbors, most of whom left some kind of mark on their surrounds.
Deborah DeGraffenreid
Period replica iron strap hinges were chosen to mimic the original style of the house.
"We've had a really great time doing this together, too. It's really satisfying to transform a place you already love into the best it's ever looked. Of course it makes sense financially, but it makes you feel good too," says Walsh. "Some couples go a little nutsy doing renovation projects, but we've discovered we really enjoy it."
"Being in the music business—I sort of got my start with Alice Cooper—I've really seen it all, and traveled everywhere. But there's no place as beautiful to me as the Mid-Hudson Valley, and no street more dear to me than this one," says Himberger.
Himberger says he enjoyed living in this house when he was single, before moving to California for his career. It's been easy to rent, also. Freedy Johnston, a New York-based singer-songwriter known for his craftsmanlike tunes about troubled loners—"Bad Reputation" was a minor hit in the `90s—rented the place for a couple of years.
"He really liked to come home here after being on the road," says Himberger. "And he was a great tenant. Hopefully we'll get someone like that in again. And lately I've been venturing into the movie business, so that's another potential rental market."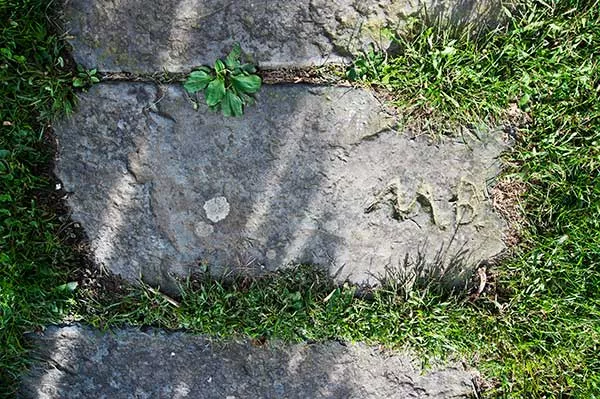 Deborah DeGraffenreid
The initials of Matthew Bambrick, who resided in the home in the early 1900s.